ISB sweeps Division I tennis titles
by
Rusty Bryan
October 17, 2003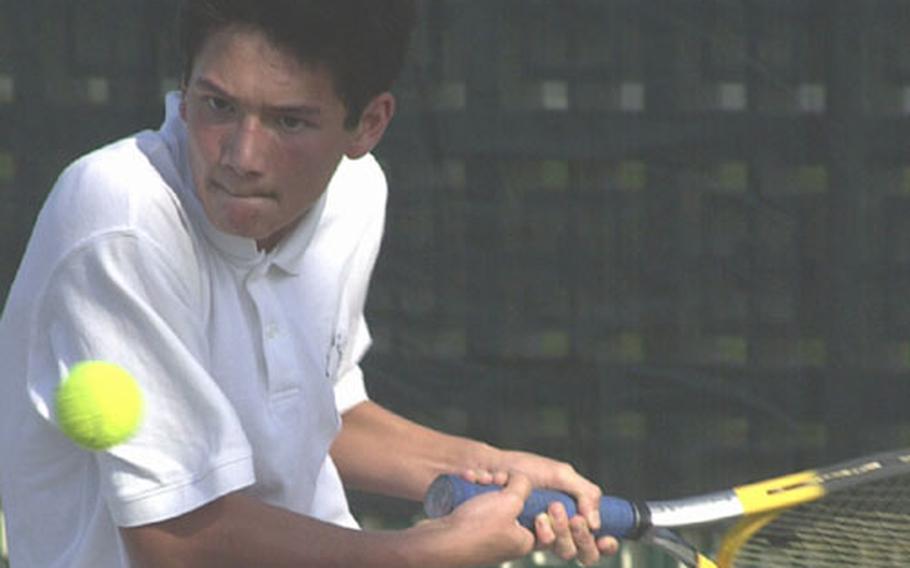 WIESBADEN-NORDENSTADT, Germany – The International School of Brussels celebrated its elevation to Division I by sweeping to the Division I high school tennis titles Thursday.
Jun Koide and Malee Wheat claimed the singles crowns. Janice Reinhold and Paula Glover captured the girls doubles title, and Vivien Luet and Victor Mathieu topped the boys doubles field.
Luet and Mathieu who were the only Raiders players not seeded No. 1 going in to the tournament. Unseeded, Luet and Mathieu defeated Wiesbaden's top-seeded Dani Lohmer and Ryan Lewis 7-6 (7-2), 6-0 in the championship match.
"We've only been playing together two weeks," said Luet, who stepped in when Mathieu's regular doubles partner was required to attend a mandatory field trip Thursday.
ISB's girls were practically perfect in every way Thursday.
Wheat, whose only loss this season came at the hands of AFNORTH's defending European champion, Jessica Blaesche, didn't lose a game. After a first-round bye, Wheat blanked fourth-seeded Magdalena Siebert of Würzburg in the semis and Heidelberg's second-seeded and previously unbeaten Patti Ro in the final with a display of baseline power and accuracy.
"That's pretty much my style," she said.
The Raiders' girls doubles champions, Reinhold and Glover, won their first two matches at love over Würzburg's Hali Butler and Noelle Ochinang and Lakenheath's Kallie Hedberg and Morgan Parkerson before dispatching Heidelberg's No. 2 seeds, Stephanie Best and Joy Pandolfi, 6-1, 6-1 in the final.
Koide, a power-hitter still smarting from his rain-soaked loss to Bitburg's Jordan Matthews last Saturday, beat a pair of Würzburg players, David Wolfe and Clayton Dingle, 6-1, 6-1 and 6-0, 6-0, respectively, before disposing of second-seeded Michael Sanchez of Heidelberg 6-1, 6-3 in the final.
"Outside was so bad last week," Koide said of the rain which slowed his ball down last Saturday at Bitburg. "I was bad, too. Today, I controlled the ball."
Both ISB singles champs said they were looking forward to the European championships here next Friday and Saturday, but for different reasons.
Koide anticipates a rematch against Matthews.
"I want to beat him," he said.
Wheat, too, has a shot at redemption, and said she's looking forward to playing Blaesche again, the AFNORTH ace's two-year winning streak notwithstanding. Wheat admitted to another reason, though, to anticipate next week's Europeans.
"We get to miss school," she said.