ISB improves but gets swept by Ramstein
---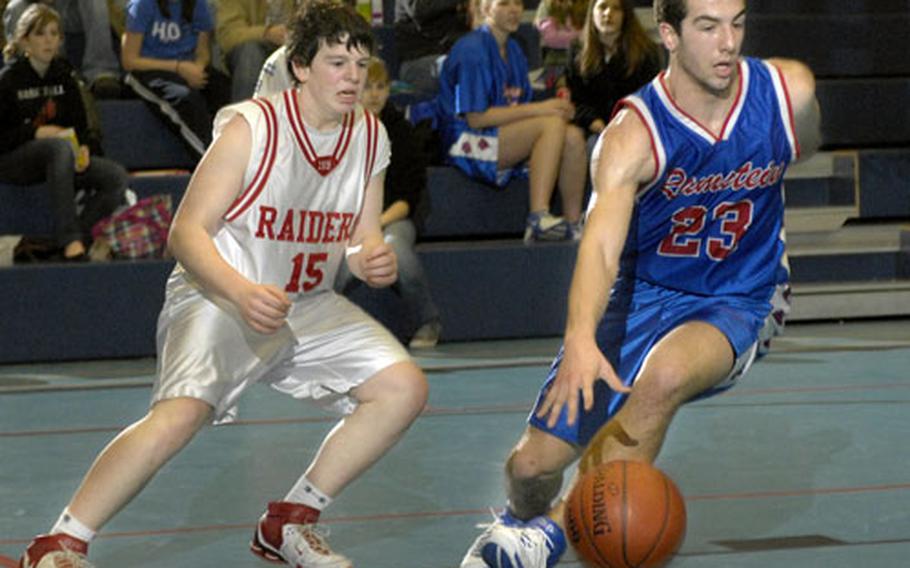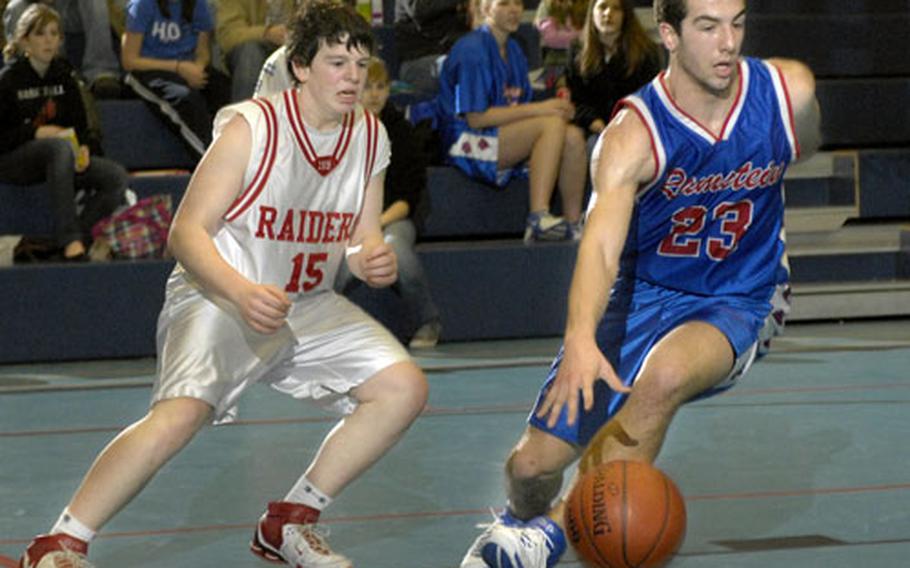 RAMSTEIN AIR BASE, Germany — International School of Brussels' head boys basketball coach Gil Grant acknowledged before Saturday's game against undefeated Ramstein that he expected a rough afternoon.
He was right. His Raiders lost 49-27.
But Grant found something positive in the game: His players didn't give up.
Despite injuries and coming off a 52-12 rout by Ramstein the day before, ISB came out and played a better game against an admittedly superior Ramstein squad.
"We scored more and we played better," Grant said. "In general, I'm happier with the team's performance."
Ramstein (10-0) never trailed and dominated most of the game but it was more competitive than Friday's. On Friday, coaches agreed to stop keeping score with 2:12 left in the third quarter. On Saturday, the courtesy rule didn't kick in for the two Division I schools.
While that might not be reason to celebrate, it was a bright spot for a team few gave a chance of competing. If not for some missed layups and a better job at the free-throw line, the score could have been closer.
In fact, ISB (4-6) was down only 14-11 early in the second period after guard Isaac Skelton made a three-pointer.
Then Ramstein began pulling away.
Ramstein junior center Brent Schuck pumped up the hometown crowd and the score with a nifty behind-the-back layup to put the Royals up 24-12. After Ramstein senior Scott Sublousky made it 40-16 with a layup shortly before the third period ended, the game appeared to be getting out of hand.
But the Raiders continued to hustle for loose balls and outscored Ramstein 11-9 in the final frame.
Senior center Ben Barnett and Schuck led the Ramstein scoring with 11 points apiece. Barnett also had six rebounds.
Junior Eric Hamblett topped the Raiders with eight points. Jameson Horton, a junior from Canada, added six.
Grant said this has been a difficult year. An injury to Skelton in the fourth period is the fourth injury his team has had in the last three weeks, a handicap ISB certainly did not need.
"We knew it was going to be tough," Grant said. "[Ramstein] has a lot of quickness and is a well coached team.… They're just solid all around."
And Ramstein head coach Len Tarnowski said the Royals are getting even better. He said they have a lot more confidence as they enter a tough stretch with games against Kaiserslautern, Heidelberg and Bitburg.
"The schedule will get tougher," Tarnowski said. "But I feel we can keep the same pace."
---
---
---
---