Interservice softball: Players say fastpitch-to-slowpitch is tough switch
---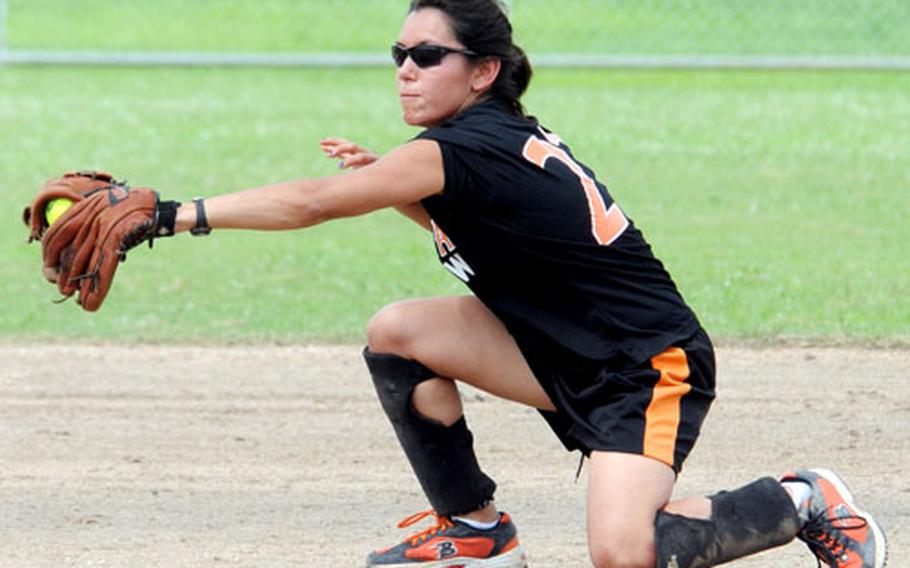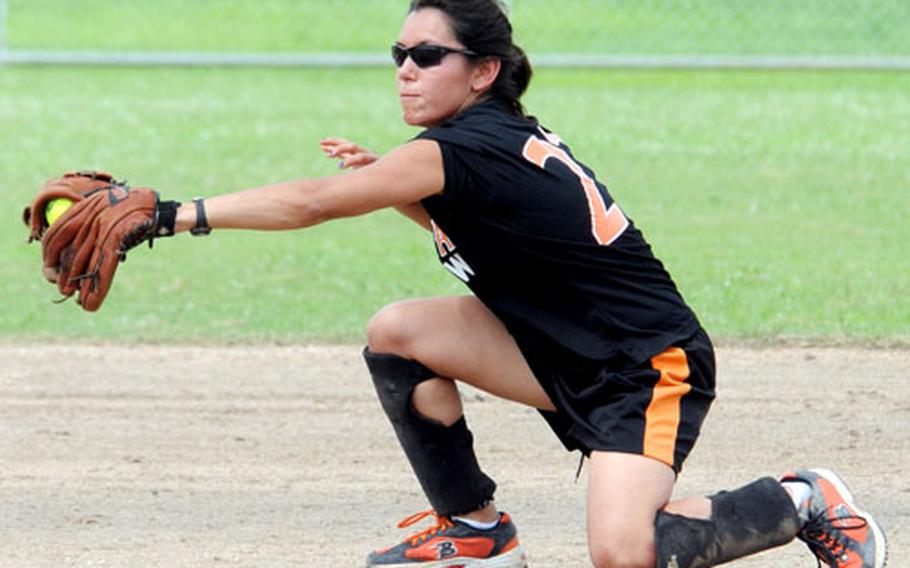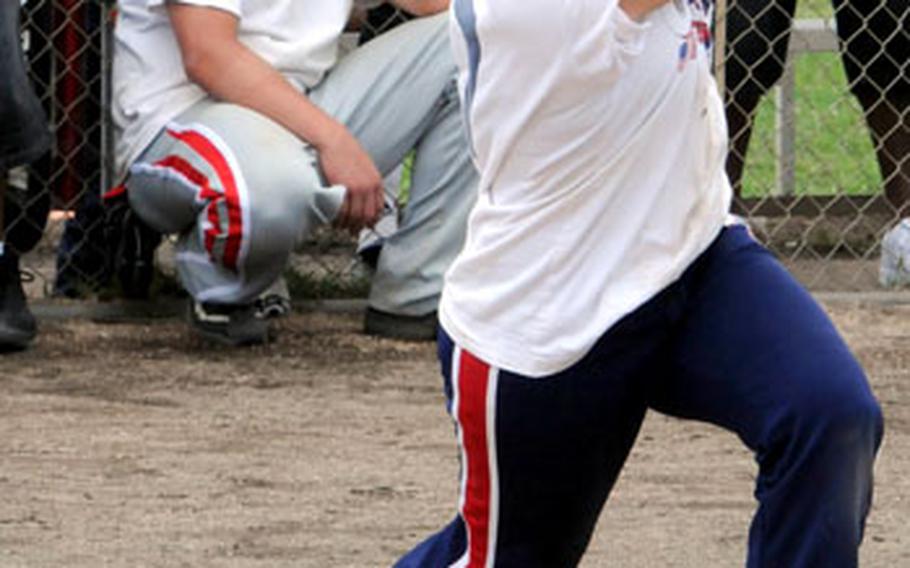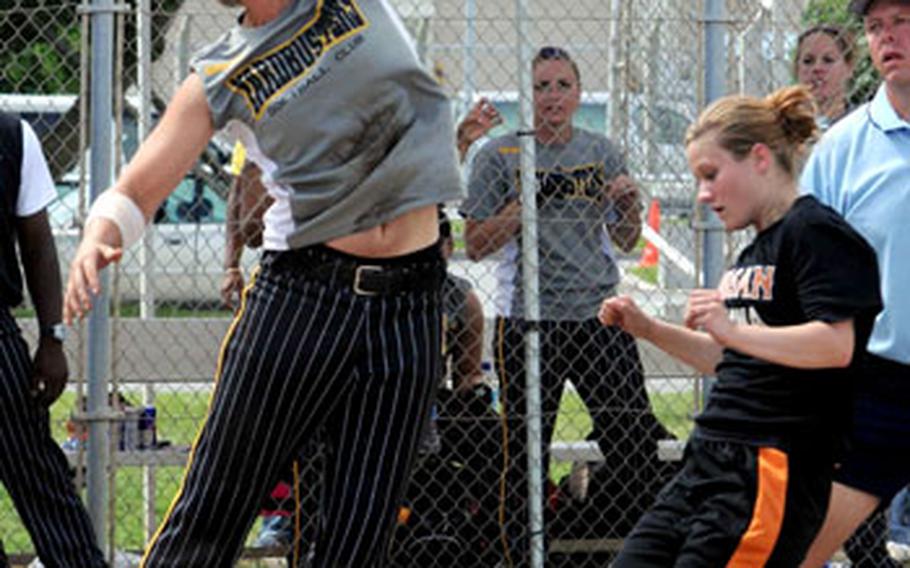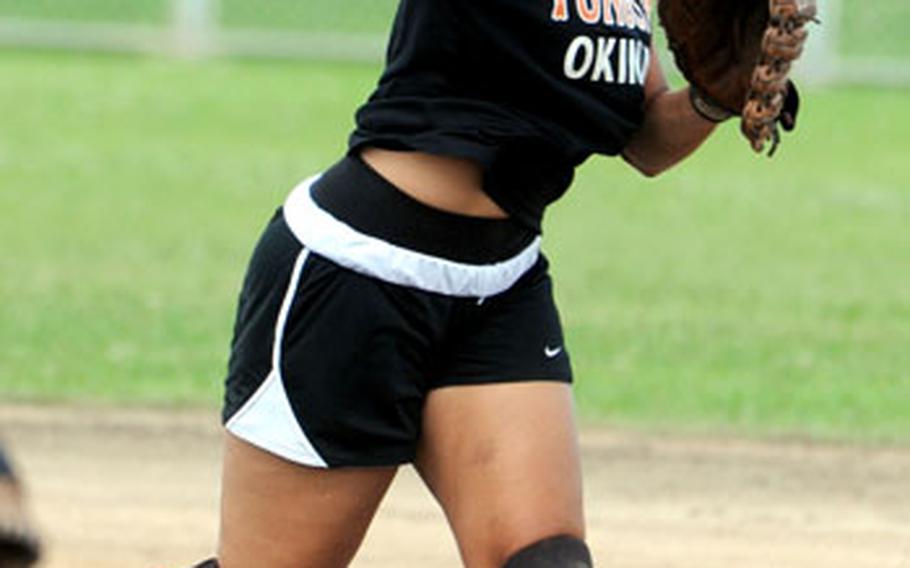 CAMP FOSTER, Okinawa — It's widely assumed that softball players can switch more easily from fastpitch to slowpitch than the other way around.
Don't believe it, said a handful of women's players in the Firecracker Shootout Interservice Softball Tournament. Adjusting to the speed of the game makes the transition difficult either way.
"Everything in slowpitch is slower and bigger. Everything in fastpitch is faster and shorter," said Maria Garcia, a senior who plays fastpitch at Seoul American High School and is playing second base for Yongsan Garrison in the Firecracker.
"The timing is a lot harder," said Tara Ballard, a first-year Marine playing for Okinawa's Yard Busters slowpitch team. She played four years of high school fastpitch and a year of college in North Carolina.
While fastpitch is played collegiately and internationally, slowpitch is considered a "lifetime" sport that most anybody can play well into their senior years.
Slowpitch is also played at the All-Armed Forces level, and has been since the services switched in the 1970s from fastpitch to slowpitch. Yet a quick survey revealed about 75 percent of players on the nine Firecracker women's teams played fastpitch in high school or college.
It takes much "unlearning," one player said, to ramp down from fastpitch to slow. While Amateur Softball Association rules now permit stealing in slowpitch, such nuances as the sacrifice bunt no longer come into play.
The big adjustment, players say, is timing at bat.
"Slowing down my swing," said Amanda Maestas of South Korea's Osan Defenders, a first-year airman who played outfield and catcher at Round Rock High in Texas, before joining the Air Force.
Fastpitch batters begin their swing just as the pitcher releases the ball; slowpitch batters wait two seconds for the ball to reach the plate. Fastpitch pitches come at the plate straight; slowpitch pitches arc from between six to 12 feet.
"It's a whole different swing," Maestas said. "It's a different strike zone. Your timing has to be perfect."
"The angle of the ball," said Ballard, a Yard Busters outfielder who played shortstop and third base at Swansboro (N.C.) High.
Pitchers also must make adjustments, said Lisa Stiger, a Yongsan slowpitch hurler and a first-year soldier who pitched fastpitch four years at Northgate High in Pittsburgh.
"The snapping of the wrist and the movement itself. The technique of pitching," Stiger said.
Told that a former Kubasaki coach once remarked that he could have a fastpitch team ready to play slowpitch "in one day," Garcia roundly disputed that claim. "If your team is really fast learning, maybe they'd be ready in a day," she said. "But I doubt it."
Which softball would they rather play, slowpitch or fast? "Either way, it doesn't matter as long as I'm playing ball," Ballard said.
---
---
---
---