Interchangeable hurlers keep Kubasaki winning
by
Dave Ornauer
April 22, 2010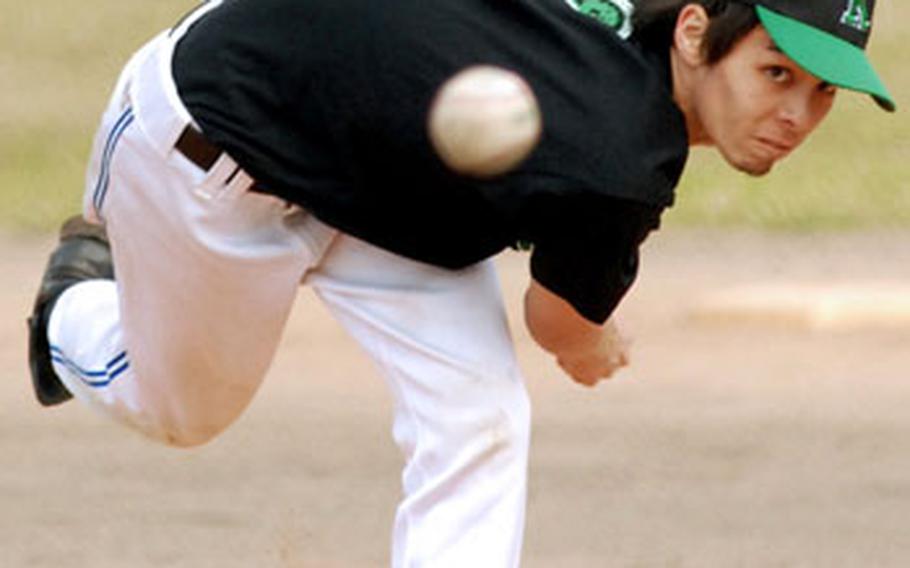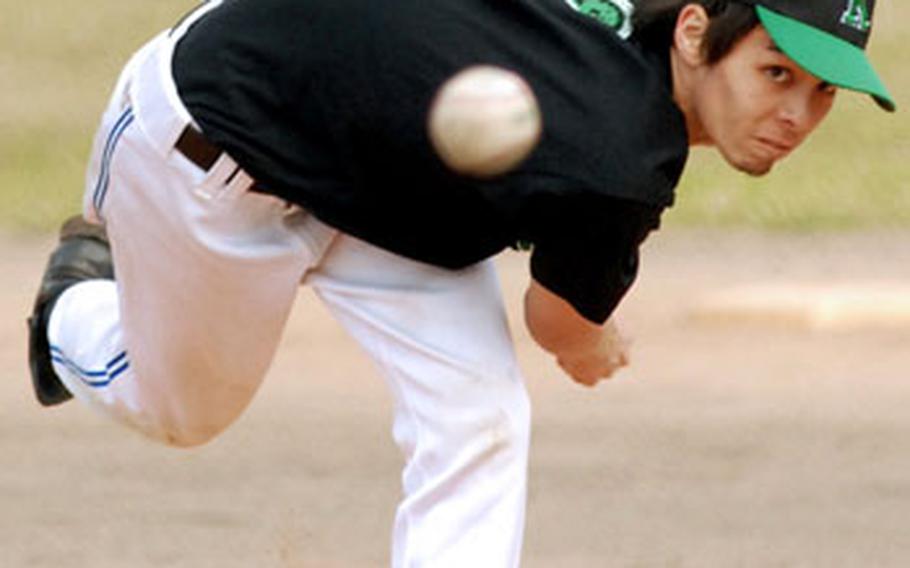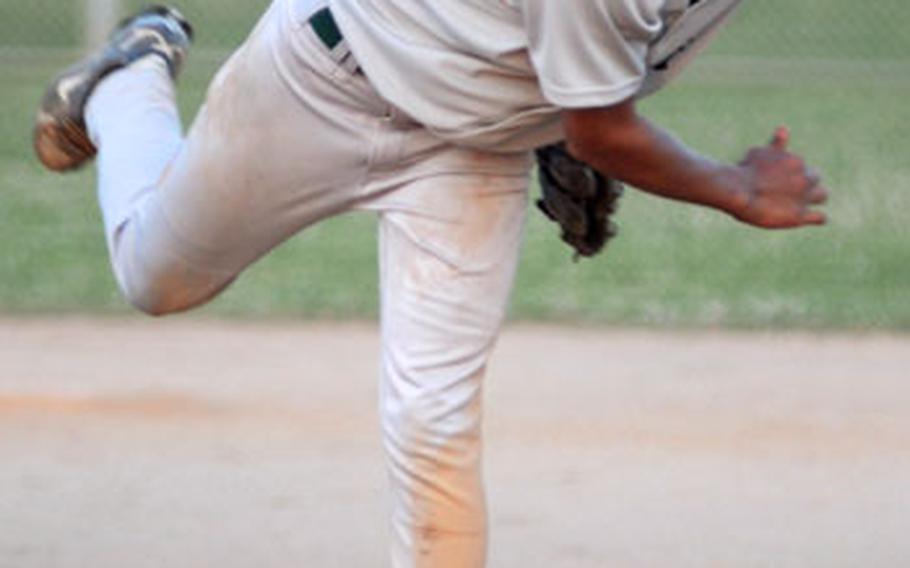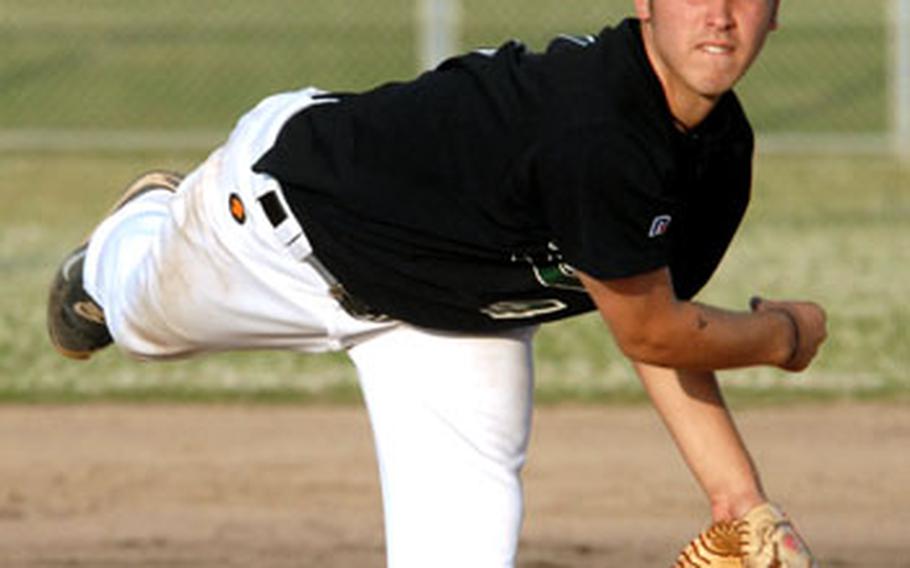 CAMP FOSTER, Okinawa — He jokes with his pitchers, Randy Toor said, that he tosses a coin before each game to determine which one will start.
But given the success of his starters thus far — 11-6 with a 3.84 ERA, with just one of the losses coming at the hands of an American team — Toor, Kubasaki's fifth-year coach, could very easily have just that luxury in seniors Patrick Duffy and P.J. Varner, junior Andrew Estes and sophomore Richard Allen.
"We're very fortunate. I have confidence in all four guys that they can go out there and throw strikes and battle and give us the best game they've got," Toor said. "And that's what they've been doing all season — throw strikes and trust their defense."
Duffy (career 12-2, 1 save) and Varner (career 5-3, 3 saves) have been at it a while for the Dragons, who've won the last four island titles. But with Allen's and Estes' progress this season (combined 5-3), Toor felt comfortable in moving ex-starter Kaleb Robinson to catcher.
Having such a luxury has the Dragons thinking beyond a fifth straight island title — being ready for next month's Far East tournament.
"Far East is at the end of the season, and if you have only one or two good pitchers, their arms are going to be dead," Estes said. "If you have four good pitchers, you can throw them back to back on consecutive days and not worry about getting rocked."
"All the coaches know they're going to need pitching," Toor said. "And we have these four guys who we're comfortable going with and throwing in any situation. We feel pretty good about that."
Though the four aces average just over a strikeout per inning, the object, Toor and Varner said, is to get as many outs with as few pitches as possible.
"They don't have to go up there and overpower guys and be fancy," Toor said. "As long as they can throw strikes consistently and get ground balls and fly balls. That's the position we're in right now; we have four guys who are willing to do that."
"If you can throw just two pitches, get a ground ball to shortstop, … it saves your arm" rather than go eight or nine pitches for a strikeout, Varner said.
The four pitchers have come to rely on the defense and vice versa.
"By now, everybody trusts everybody to make that play," Varner said.
From the very first day of workouts, "we've always tried to emphasize that defense wins championships," Toor said. "If you hold a team from scoring a run, all you have to do is score one."
It's with that approach that Kubasaki has come a long way from the first three years of baseball on the island, when Kadena dominated, losing just twice from 2003-05 under then-coach Allen Mizell.
Toor arrived on the scene in 2006, and since then, the pendulum has swung the other way. Kubasaki has gone 42-20 the last 2 ½ seasons, with all but two losses to Japanese teams which play year-round.
Players in 2008, such as Mike Fulwiler and Dillon Mach, "didn't like to lose," Toor said. "Although we were on the short end of the stick, they worked hard and instilled their work ethic in the younger guys" such as Varner and Robinson.
Long gone are the days when Kubasaki was expected to lose every game to Kadena.
"That's no longer in this program; we go out expecting to win," Toor said. "Things have been going our way, luckily."
While pitching and defense have served as storm anchors, Toor's lineup — which he called a concern prior to the season — has also come through. The team is batting .334 with 18 home runs and 99 RBIs with 70 stolen bases in 17 games so far.
In particular, the meat of the order — Allen, Robinson and Duffy (combined 57–for-142, .401, 11 home runs, 44 RBIs) — "have been swinging the bat pretty well right now," Toor said.
And for the first time in four tries, Kubasaki won its annual Spring Fling Tournament, going 4-0 including a 10-4 victory over Kanto Plain power St. Mary's International, in which the Dragons hit four home runs.
Longtime St. Mary's athletics director and assistant coach Tom Molina calls the Dragons "a tough team to beat."
"They have four pitchers who can keep them in the game, the defense is good, the infield is solid, the outfield isn't bad and they have power as well," Molina said.
Their success is a reflection of Toor, St. Mary's head coach Tim Vanderpool said. Despite the heavy turnover within DODEA Pacific, "he puts in a lot of time and hard work, and the kids respond," he said.
To be successful at Far East, however, means Kubasaki must change its power approach. The Dragons' home field is 275 feet to the fence, while the Far East fields at Camp Zama and Naval Air Facility Atsugi stretch more than 100 feet further.
"We want to focus on hitting the center of the ball, line drives, working on hit-and-runs, as opposed to parking it here," Toor said. "We're not expecting to do it up there."
Spring Fling gave the Dragons a "benchmark" to judge what they could have done better and improve before Far East, slated for May 17-20.
"By no means did we have a perfect tournament," Varner said, adding that Kubasaki "could have fielded and pitched a little better. We want to compete. That's all it is. We want to compete and do well."
Four of a kind
Senior Patrick "Duck" Duffy4-1, 2.41 ERA, 3 CG, 29 IP, 18 H, 10 ER, 22 BB, 27 SO.
Senior P.J. Varner2-2, 1 SV, 2.68 ERA, 4 CG, 34 IP, 29 H, 13 ER, 23 BB, 43 SO.
Junior Andrew Estes2-1, 3.89 ERA, 2 CG, 27 IP, 31 H, 15 ER, 23 BB, 28 SO.
Sophomore Richard Allen3-2, 5.83 ERA, CG, 18 IP, 21 H, 15 ER, 17 BB, 18 SO.