In military events, no place like home in '07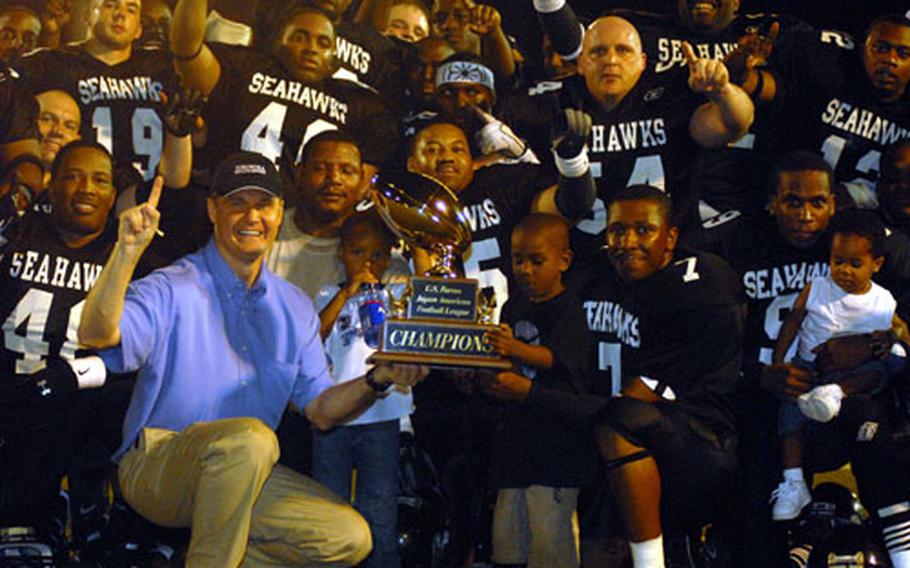 One thing many Pacific interservice championship teams had in common in 2007: They claimed their titles by performing well on home turf.
Take the Yokosuka Seahawks. In capturing their seventh league title in eight seasons, the U.S. Forces Japan-American Football League's perennial power capped their title drive by shutting out Yokota 7-0 on Sept. 8 in the Torii Bowl — on the Seahawks' own Berkey Field.
"There are many reasons you want to be at home," coach Robert Cole said before the game. He spoke of not having to worry about bus rides, finding places to stay and ensuring enough players can get off work to make road trips.
Appropriately for a team that allowed just 11 points in seven games, defense tacked on the only points of the Torii Bowl, in the fourth quarter when overtime seemed certain.
Seahawks cornerback Stryon Linder stepped in front of a pass by the Warriors' Leonard Ooten and ran it back 80 yards for the game's lone touchdown.
It was Yokota's third loss in three tries in the USFJ-AFL title game. And it was also the first played on artificial turf — Navy MWR laid field turf on Berkey Field, which opened in time for the Torii Bowl.
Others also enjoy comforts of home
Elsewhere on the gridiron, Army took three of four flag football games against Navy on Dec. 1, winning 14-8 at Seoul's Yongsan Garrison, 13-7 at Japan's Camp Zama and 40-21 at Torii Station on Okinawa, led by Allan Grinter's six touchdown passes.
Navy did prevail in the rivalry game on Guam 28-0 over Guam's Army National Guard and reserve team at Naval Station's Blue Jacket Field.
Home teams also won their share of championships on the Pacific's interservice open tournament circuits.
At Kadena Air Base, clutch hitting by Steve Nabor helped American Legion win three Grand Slam softball tournaments, running its overall total to nine.
Kadena's women's team welcomed a new coach for the first time in four years, David DeRemer, and ran its Pacific-record tournament haul to 20 by winning two of four Pacificwide tournaments.
Yokota's men won their third straight Kanto Kup title over Labor Day weekend, and captured the championship in the first USFJ league season staged since 1997.
Yongsan Garrison's men dominated the Korea Traveling League regular season, going 18-2, but failed to reach the final of the Koreawide post-level tournament. That was won by Camp Humphreys for the first time, 17-5 over Taegu.
Osan Air Base's women won both the regular season title and the post-level tournament, 6-3 over Taegu.
On the hardwood, sixth-man Kendrick Harris and MVP Hamadi Stewart paced Yokota to the championship in its own Warrior Classic 87-82 against Kadena on Oct. 11.
King of its own island but unable to win off Okinawa, Kadena did secure its second straight Joint Military Athletic Conference title and repeated its Kadena Classic tournament title on Nov. 9.
There, the Falcons turned the tables on Yokota, trouncing the Warriors 100-68 behind co-MVPs Markel Felder and Jarrod Butler.
Then in the last open tournament of the year, newcomer Brandon Hawkins shot 14-for-18 from the foul line, finishing with 21 points as the host Defenders won the Osan Pacificwide Holiday Classic 91-73 over Yongsan Garrison.
Breena Harrell (19 points) and Yongsan survived a tenacious Camp Humphreys team 74-68 in overtime for the women's title.
Osan's men ran the table in Korea in 2006-07, winning the Korea Traveling League and postseason tournament title, but losing to Kadena in the Kadena Classic last March.
Camp Humphreys was the surprise of the Koreawide post-level women's tournament, ousting favored Yongsan 77-62 in the title game.
Pacific shines on All-Armed Forces stage
On the All-Armed Forces stage, Osan's Wayne Wooley and assistant coach Norzell Harris of Yokota helped Air Force to a repeat men's basketball title by three games over the Marine Corps in November.
Wooley and Marcus Polarchy of Korea's Camp Henry then led the All-Armed Forces team to a third straight bronze medal in the Supreme Headquarters, Allied Powers Europe tournament in December in Belgium.
Behind Evevetta Crawford of Okinawa's Fort Buckner, Army went unbeaten and captured its 26th gold medal in the 30-year history of the All-Armed Forces women's tournament.
On the diamond, Kadena infielders Rayburn and Kat Braun and Osan's Carley Edwards paced Air Force to the All-Armed Forces women's softball crown at Hill Air Force Base, Utah.
Andre Elder of Korea's Camp Carroll and the Army men upstaged Air Force's bid for a fourth straight Armed Forces men's softball title. Army went 6-2, a half-game ahead of the Marines, at Eglin Air Force Base, Fla.
3rd MLG, Wing end Marine Corps Far East title droughts
Coach Nicholas Peters had come up short in three previous tries for a Marine Corps Far East Regional Soccer Tournament title.
His 3rd Marine Logistics Group lost 2-0 to Marine Corps Base Camp Butler in 2006 and 2-0 to 1st Marine Aircraft Wing in 2005. Two years earlier, 3rd MLG lost a 7-5 shootout to Hawaii.
Finally, Peters got his long-sought championship, as Miguel Aguayo scored three goals in 3rd MLG's 5-1 rout of Base in the tournament final on Dec. 13 at Okinawa's Courtney Bowl.
Likewise, Wing finally ended a lengthy title drought, coming away with the Far East Regional Basketball Tournament title with a 90-77 victory on Sept. 28 over 3rd MLG.
It was the first success in four tries in the tournament final for Wing's veteran corps of Kwan Cochrane and Thomas Johnson.
On the diamond, Base won the lowest-scoring Far East Regional Softball Tournament final in history, blanking Wing 3-0 on Aug. 16 at Camp Hansen. Tim Davis led the way, going 3-for-3 with a home run.
Compiled by Stars and Stripes sports reporter Dave Ornauer.
---
---
---
---