In lieu of official Far East meet, Petty continues to grow
by
Dave Ornauer
April 10, 2008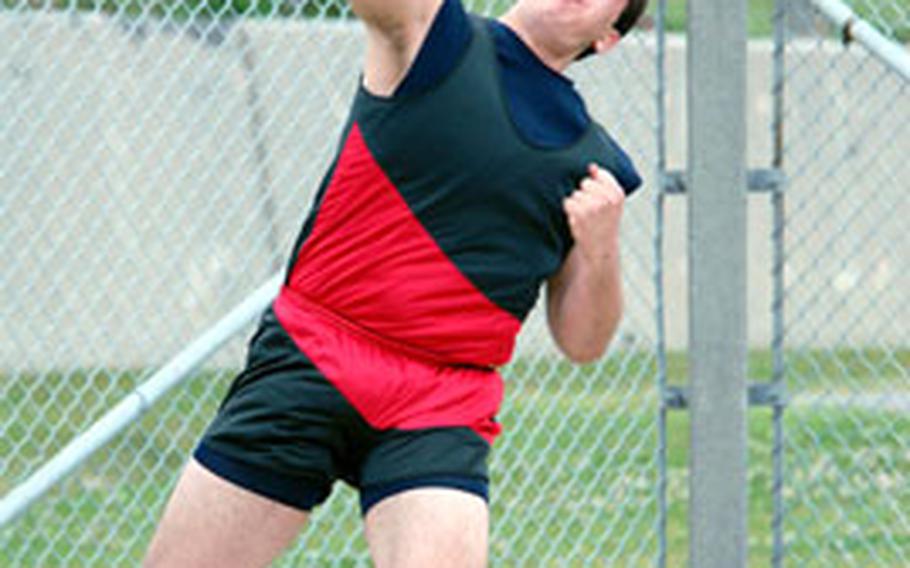 CAMP FOSTER, Okinawa — Charles Burns probably didn't envision this five years ago when he cobbled together a five-team invitational track and field meet at Kubasaki High School's Mike Petty Stadium:
Fourteen teams representing 16 schools, with more than 300 athletes parading past the Petty Stadium stands last Friday afternoon — the largest assemblage of track and field athletes in Pacific history.
The Alva W. "Mike" Petty Memorial Meet has evolved into a two-day mega-event. And in an unofficial way, it's answered the call for a DODDS-Pacific-sponsored Far East meet.
"We're a living, breathing organism," Burns said Saturday after the meet, in which six records fell and Kadena swept the team titles. "It's a monster. It has taken on a life of its own."
Since his arrival on Okinawa in 1990, Burns and other Pacific-area coaches pleaded, Burns said, with DODDS-Pacific elders for such a meet. Year after year, the same answers came back — not enough funding, and barely half of all DODDS-Pacific schools field track and field teams.
Rather than brood, the Kubasaki coach took matters into his own hands. Kubasaki athletic director Fred Bales did the same thing this school year to put the Rumble on the Rock wrestling tournament and Spring Fling baseball tournament on the map.
If DODDS-Pacific funding isn't available for Far East tournaments, "you look at workarounds," Bales said. "We've had great support" from the DODDS-Okinawa and Pacific offices, which didn't provide funding but have given the go-ahead to stage such events, Bales said.
"I earnestly desire this type of … dedicated people with a willingness to go above and beyond" in all sports, Bales said.
What began as a workaround evolved into the "grand workaround of all workarounds," Burns said of Petty, which along with next month's Kanto Plain Invitational have become bookends to the Pacific season.
The participating teams raised $300 to $700 per athlete to travel and for billeting on Camp Foster. That speaks volumes, Burns said, about the interest in Pacific track.
"This is going to live for a long time. We're beyond the original goal. They [DODDS-Pacific] can jump on the bandwagon or we will continue on. Petty will be the granddaddy of 'em all."
But the success of meets such as Petty and Kanto have not mollified those who believe at least one of them should be held on DODDS' dime. And that message should be conveyed to DODEA in Washington, one South Korea coach said.
"We have to scratch, scramble and grab for every dollar" to provide opportunities for track athletes to excel, Seoul Track Club coach Kevin Madden said.
While Kadena and Kubasaki on Okinawa and Edgren, Kinnick, Yokota and Zama in Japan have DODDS-funded track programs, the three South Korea schools do not.
DODDS-Korea officials have long said it's a numbers problem — there aren't enough athletes interested at the three schools, and no regulation 400-meter track exists on American compounds that host DODDS schools.
Far East Activities Council officials have told Stripes over the years that several issues would have to be resolved if Far East meets were considered. Those include meet length, number of athletes per team, segregation of teams by enrollment and whether international-school teams would be invited.
Madden, an Army colonel at Yongsan, formed STC three years ago and has some 50 members from Seoul American, Osan American and Daegu American high schools, plus Seoul Foreign. He feels there's enough interest for track programs at Seoul American, at least.
"I can't believe DODDS can't put together a Korea invitational meet, at least," said Madden, whose club trains without a jump pit, with hula hoops for discus and shot put throw areas and occasionally practices at Mok Dong or Chamshil Sports Complex.
"These kids overcome huge obstacles to compete, instead of doing nothing and getting in trouble," Madden said. "We don't have pits. We run on concrete and asphalt roads. These kids will put up with that sacrifice for two meets. That says it all."
Other DODDS coaches echo Madden's sentiments. The numbers at the Petty meet "show there is the interest out here for a Far East meet. I hope the funding can be found for it," Zama coach Mitch Moellendick said.
"You could do it over two days, you could have as many as 25 teams competing. That would be a true state championship" that could help athletes build scholarship portfolios, Moellendick said.
Whether such a meet occurs in the future or not, Burns feels the Petty meet will do quite nicely for now, and has a glowing future to boot.
"I envision someday this meet becoming 35 to 40 teams. Next year, we may not have enough billeting for everybody," Burns said.
"It will literally outgrow Mike Petty Stadium."