In Far East cross country, Kauzlarich leads pack
by
Dave Ornauer
September 29, 2005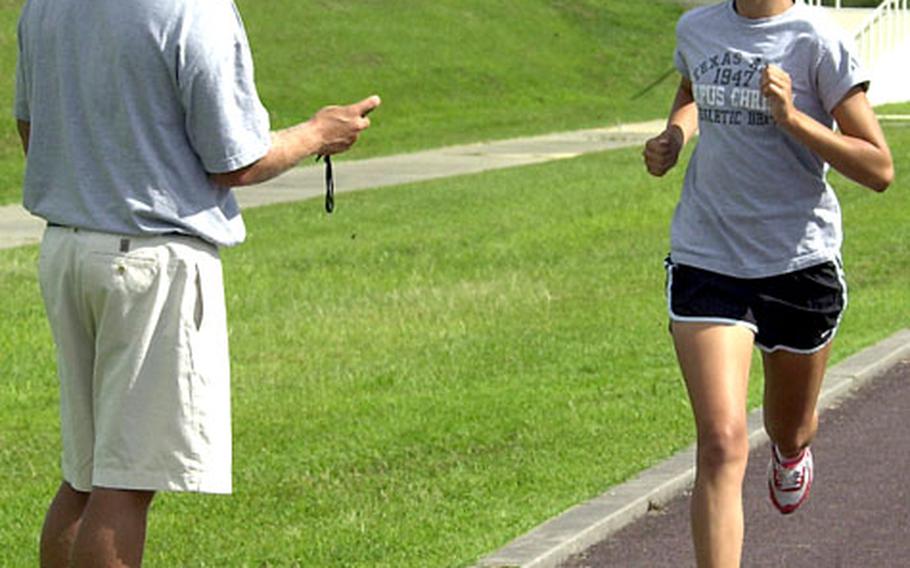 KADENA AIR BASE, Okinawa — She might hold the title of "defending Far East champion," but Kadena senior Niki Kauzlarich might not even be the fastest runner on the Panthers' cross country team this season.
That doesn't seem to bother her. Nor does it concern her teammates, who insist that their focus is on team goals.
"You're not just in it for yourself," said Kauzlarich, who won the 3.1-mile Far East race last November at Misawa Air Base, Japan, in 20 minutes, 45 seconds. "You need the support of your team. You can't just do it on your own. With the team, you feel like you have more of a push."
It's sort of a "chicken and egg" thing, Kauzlarich said. Strong individual runners push each other to strive for higher goals and overcome challenges, which boosts the sum of the parts. Then success as a team, in turn, motivates individuals to do even better.
It's that attitude, the runners and coach Tom McKinney said, that has brought so much success to Kadena, the only Department of Defense Dependents Schools-Pacific program to win a Far East team title.
At Misawa last year, the first year of DODDS-only Far East meets, Kadena won every individual honor possible, with Kauzlarich and Jon Turner claiming the top spots. The Panthers also placed all eight of their runners in the top 10, won the team relay and captured the boys, girls and overall team titles.
They're pursuing a championship, rather than defending what they've already won. Resting on their laurels is out of the question. And always, team goals come ahead of everything else.
"It's nice to think of individual medals, but you can't be selfish and think of yourself," said senior Dianne Abel, who beat Kauzlarich in the first race of the Okinawa Activities Council season at Camp Hansen. "If you put the team before yourself, the individual goals will come."
"Individuals win medals, but teams win championships," said McKinney, in his second season with the team. "It takes a team."
For McKinney, the team-building is anything but seasonal. He works tirelessly, throughout the year, he says, to recruit runners, from within the school and also opening the team's doors to runners from Kadena Middle School with quick feet and vast potential.
He constantly compares his runners' times to those elsewhere in the Pacific and their stateside counterparts, and he pores through books and the Internet, seeking new ways to "challenge my runners to better themselves at what they do."
With the Far East meet at Misawa six weeks away, McKinney estimates that his team is "three to four weeks" ahead of where it was at this point last season.
"These kids are stronger. They run faster," he said.
The building of individuals as runners involves a rigorous regimen that Kauzlarich says helps her achieve all-around success.
"Athletics give me structure," she said. "I don't just go home and sit around and do nothing. I wake up, go to school, do sports, homework and then sleep. And I stay in shape."
A 4.0 student, Kauzlarich, who has applied for the Naval Academy, balances Junior ROTC leadership with a breakneck class schedule and with active participation in her church youth group.
She began running only three years ago, as a freshman, "to stay in shape for soccer." Since then, she's been part of Kadena's two-time Far East Class AA Soccer Tournament champion team, plays basketball and also participates in "Ironman"-style aquatic and aerobic sports such as ocean swimming and triathloning.
On a typical day, she rises at 5:30 a.m., goes to school from 7:30 a.m. to 2:05 p.m., then hits the Panther Field track for workouts ranging from 3 miles on average days to 5 or 6 miles on hard training days, including distance workouts and sprints.
So far this season, Kauzlarich and the rest of the Panthers have won every Okinawa Activities Council individual race, but as always, they look at having the fewest team points as the goal.
"Of course, I'm looking to win. But it's not so much having that No. 1 popsicle stick in your hand" when the race ends, said fellow Kadena senior Aaron Zendejas, who has two first-place finishes and one seventh so far this fall.
"We have the team goal in mind. That's more important. On any given day, some guys are good on hills, some guys are good on flats, but at the end of the day, you're a Panther."
Bearing that in mind, McKinney's main goal is to bring a fourth Far East team banner to the Panther Pit.
"In the end, we don't care who wins the medal as long as it's a Panther," he said.