Hurdles high for creation of a Far East track meet
by
Dave Ornauer
April 13, 2006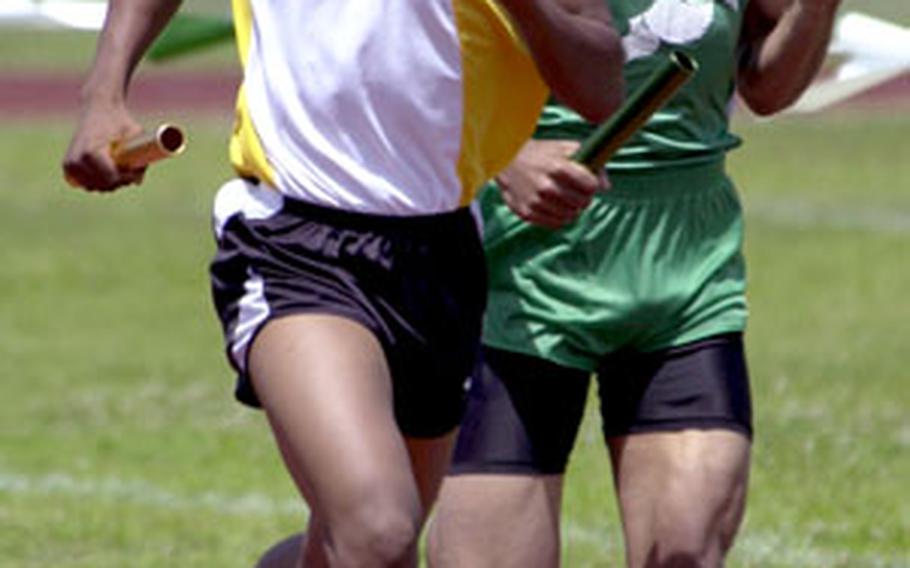 CAMP FOSTER, Okinawa — A real Far East high school track and field meet remains a distant dream for Department of Defense Dependents Schools-Pacific athletes and coaches.
The Far East Activities Council simply lacks the money for such an event, DODDS-Pacific officials say. And just three DODDS schools in Japan and two on Okinawa have track teams.
But Kubasaki coach Charles Burns, Kadena coach Sergio Mendoza and a few others buy neither argument. Fresh from last weekend's fourth Dr. Alva W. "Mike" Petty Memorial Meet, with 13 teams and 255 athletes, they contend the sport isn't getting its due.
Mondoza challenged DODDS officials "to take a look at these kids and tell me what makes them so different that they can't have a Far East."
Said Burns: "Don't give me budget. We had 255 competitors here. We've grown by three teams each year we've had this meet. I just want to know … the real reason."
The Petty meet, however, included mostly non-DODDS schools and athletes. Only Kadena and Kubasaki competed of the five schools that have track programs.
Still, one of Far East track's most vocal proponents, Burns proposed a Far East meet at the DODDS-Pacific Far East Activities Council's March meeting. It was tabled.
The reasons are real, said DODDS-Pacific Far East Activities Council chair Don Hobbs, starting with finances.
"There's just no money," he said. "Right now, we need to feel fortunate that none of the other Far East events were axed. There are all kinds of budget cuts. Let's keep our fingers crossed."
Burns countered that his proposal addressed budget concerns. It called for holding a meet at Yokota. With most existing track programs in the Tokyo-Kanto Plain area, travel would have to be funded for just Kadena, Kubasaki and Guam High, which currently does not even have a track program. Each school would be limited to just its top two league or district finishers and the meet would be held on Friday and Saturday.
Still, there are just five schools with track teams, far fewer than other activities for which there is a Far East event.
And then there are the questions as to the type of meet and who would be invited.
"And we haven't even gotten to that point yet," Hobbs said.
One athlete sympathetic to both arguments is Kadena junior Jeff Morton, who competed in the last two Colorado state track and field championships before transferring to Kadena High over the summer.
"It would take a lot of money to organize this," he said. "But I would want it, to see where I would rank" with athletes throughout the Pacific. "It's a great idea. If you can do it in other sports, you should recognize track."
Said Burns, "You can't dispute the fact that we're servicing a large number of kids" and a Far East tournament might attract more. Some who might otherwise qualify for a college scholarship in track and field aren't, he argued, "because those kids aren't getting exposure."
"Why not treat all kids and all sports equally?" Burns asked rhetorically. "'No child left behind' is not just an expression."
Grant said, "They have to come up with better reasons than what they gave us. … We'll keep pushing it. I'm not going to let it die."
Hobbs said DODDS-Pacific empathizes with Burns, Grant and Morton's arguments.
"We are listening and sympathetic," he said. "If we had bottomless pockets, we would try to work it out."
---
---
---