DODDS Sports Europe
Hunter swung into action to save Bucs softball
---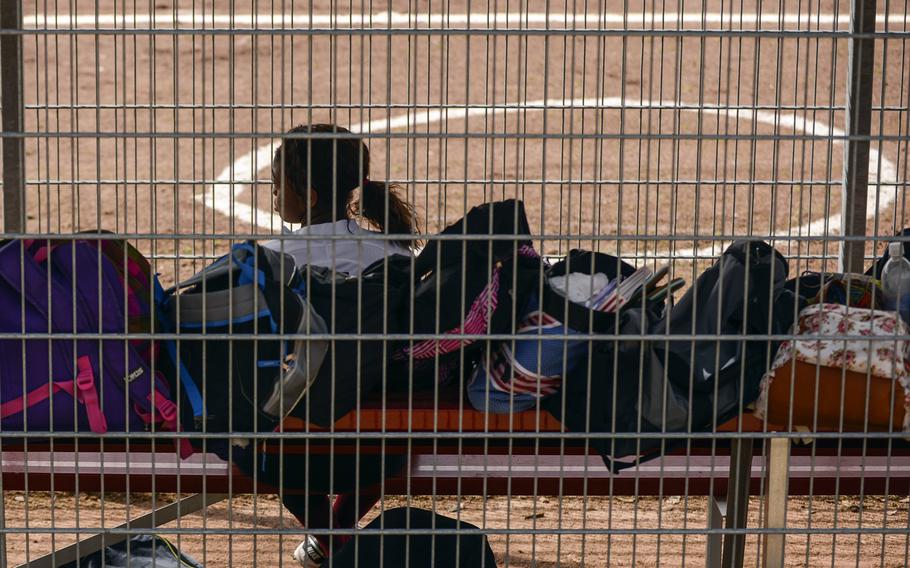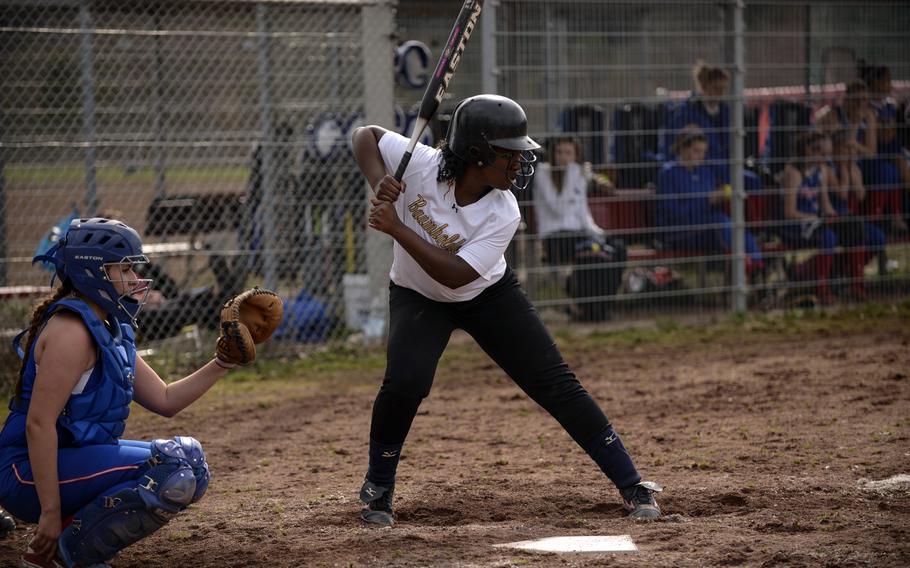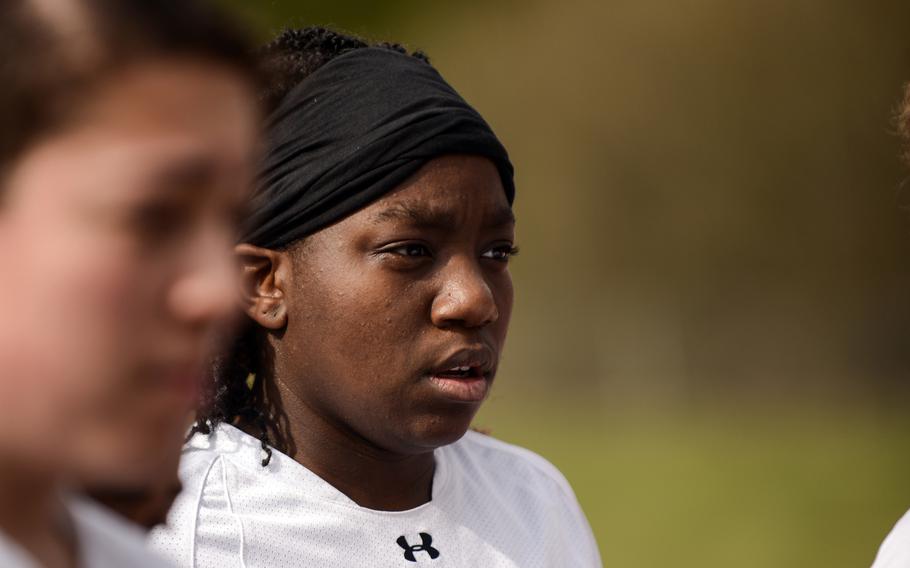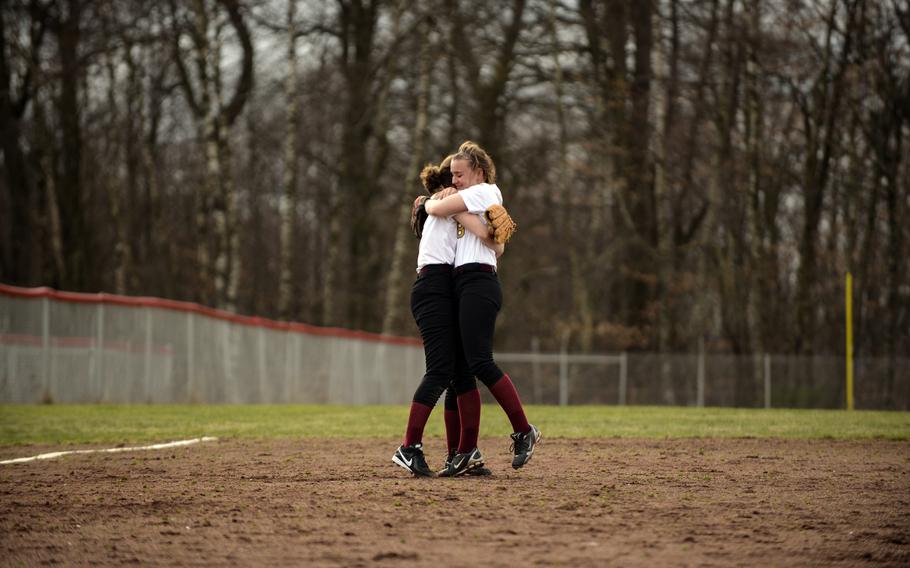 BAUMHOLDER, Germany – Baumholder senior Key'lanna Hunter refers to the Bucs softball team as "my girls." She should; Hunter is the reason the team exists at all.
"All my girls are amazing, equivalent and unique," Hunter said on a recent Tuesday afternoon between the two games of Ramstein's overwhelming sweep of Hunter and her girls. "And I love it."
Not even the humbling stomp of the visiting Royals — DODDS-Europe's largest school and its most dominant softball program — extinguished the joy Hunter felt to crouch behind home plate on opening day, peer through her protective catcher's mask and see 10 classmates transformed into teammates.
The sight reminds her of the day in the Baumholder cafeteria that this team was born.
"I went to lunch and I spoke to everybody at the table," Hunter recalled. "And I said, 'I don't want any drama. We're going to have fun here.' They went with it."
Such tales are not uncommon at the Division III level, where school enrollments hover a little less or more than 100 and the basic arithmetic of sports — 11 players on a soccer side, nine on a baseball or softball lineup card and at least five to form a track team — can present problems worthy of an AP calculus class.
"We have athletes," Baumholder athletic director Stephanie McDowell said. "We just have to convince them to do more than one sport."
Like almost all faculty members and administrators at DODDS-Europe's smallest schools, McDowell's primary job begets other responsibilities. She also serves as cross country coach and physical education teacher, the latter role providing the opportunity to elevate kids from gym class heroes to uniformed Bucs.
"I know what you do in class, you have the skill. Just try it," she said of a typical conversation she will have with a student. "If you like it, you've got another sport. If you don't, that's OK too."
The military's ongoing drawdown and rearranging of European forces has had an outsized effect on Baumholder, which was moved from Division II to Division III for the 2012-13 school year. Still, the school is managing to field very competitive teams.
Ben McDaniels, the prototype of McDowell's multi-sport contributor, led the Bucs football team to a Division III title in November in what was likely the final European championship game played at Baumholder's historic Minick Field. McDowell oversaw a boys cross country championship last fall. The boys basketball team reached the European title game in February.
But the concurrent sports of spring, embodied by the dueling rosters of boys and girls soccer versus baseball and softball and track, present unique challenges. Baseball was the casualty of this spring's crunch.
"The boys did want a baseball team," McDowell said. "We said, 'If you bring us the numbers, we'll make it happen.' It just wasn't enough to do that."
And so any diamond glory headed Baumholder's way will be achieved by the Bucs softball team, a disparate group of newbies headed by Hunter's refusal to be sidelined as a senior. It was hard to posit a Baumholder championship as Ramstein effortlessly circled the bases of Baumholder's Aulenbacher Field like the Gas-House Gorillas of the famous Bugs Bunny cartoon. The Royals, an elite group of committed players culled from a student body on the cusp of 1,000, eased off considerably and still won 28-0 and 12-0.
Bucs head coach Eric Vincent sees only teaching opportunities, small signs of progress and a team's unflappable optimism. Between games, Vincent presents an alternate-reality vision of triumph – without this picked-off runner or that swing at a ball far outside of the strike zone, things look very different, he tells his charges.
"They're still having fun, still cheering," said Vincent, a Baumholder social-studies teacher and youth baseball coach at Ramstein who Hunter convinced to coach the team. "I don't even think they know how bad they're down.
"They know their limitations, but they come out and play anyway."
Between halves of the doubleheader, Bucs and Royals alike are queued up at the window of a well-timed ice cream truck. As the second game neared, Hunter reflected on what she has gotten her friends and classmates into.
"They have to learn," Hunter said. "You can't always win every game."
broome.gregory@stripes.com Twitter: @broomestripes
---
---
---
---