Howell replaces Buck atop football league
---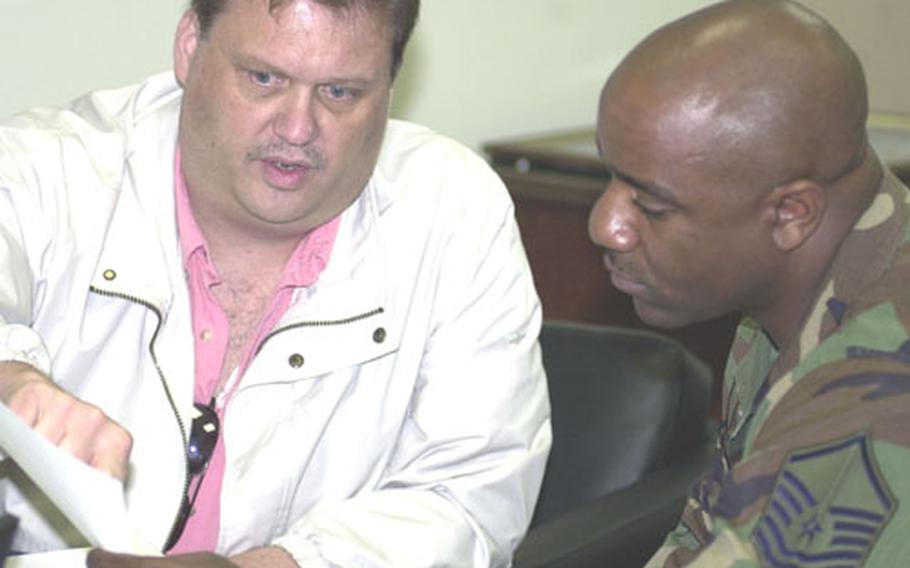 YOKOTA AIR BASE, Japan — Tuesday was a red-letter day for Joseph Howell.
At a 9:30 a.m. meeting at 374th Airlift Wing headquarters, Col. Mark E. Stearns, wing commander, notified the Air Force master sergeant he'd been named the service's command post senior NCO of the year.
About 45 minutes later, the former player/coach of the Yokota interservice football team became the commissioner of the U.S. Forces Japan-American Football League.
Howell replaced Tim Buck, who resigned after three years in the position. Buck is transferring to the U.S. this spring.
"I've got some very big shoes to fill," said Howell, 36, of Shelby, N.C., who has been involved with the Raiders since arriving at Yokota in 1998 and headed the search committee for a commissioner in spring 2000.
That hunt led to Buck, a civilian attorney living at Atsugi Naval Air Facility the past three years.
Buck's stewardship gave the league "hope and a vision for the future," Yokota linebacker and former player/coach Greg Powell said.
From four teams in 1999, the league grew to six for the 2000 season and plans to add teams from Camp Hansen and Futenma Marine Corps Air Station on Okinawa, creating two divisions for the 2003 season, which opens on May 24.
None of the league's members had base sponsorship when Buck's tenure began. Now, the Yokosuka Seahawks and Yokota Raiders have full command support, and Misawa officials purchased 40 sets of helmets and shoulder pads for the Marauders.
The league also made progress toward playing regularly against Japanese X-League semi-pro teams.
Former Yokosuka quarterback Robert Sloan signed with the X-League's Renown Rovers last summer and wound up starting.
And earlier this month, the league's 2002 offensive player of the year, Yokosuka's Chris Bolden, earned a scholarship to Concord College, an NCAA Division II school in West Virginia — becoming the first league player to earn a scholarship during Buck's tenure.
It hasn't been all moonlight and roses, though.
The Raiders and the Okinawa Giants suspended operations during the 2002 season because of a player shortage. Duty commitments and transportation problems forced the forfeiture or rescheduling of nine games.
Howell a league manual, containing proposed season schedules, league rules, regulations and bylaws — along with a running account of all his actions as commissioner.
Howell said he would like to see more players recruited by colleges, additional plans for league expansion and wider base support for teams. He may also designate a league representative on Okinawa to assist Southern Division teams, should one form.
"When [Buck] first started, all we were were teams trying to play football. My main focus is to continue what Mr. Buck started and not let it die," Howell said.
---
---
---
---