Hospital team snaps 10-year softball tourney slump
by
Dave Ornauer
July 11, 2003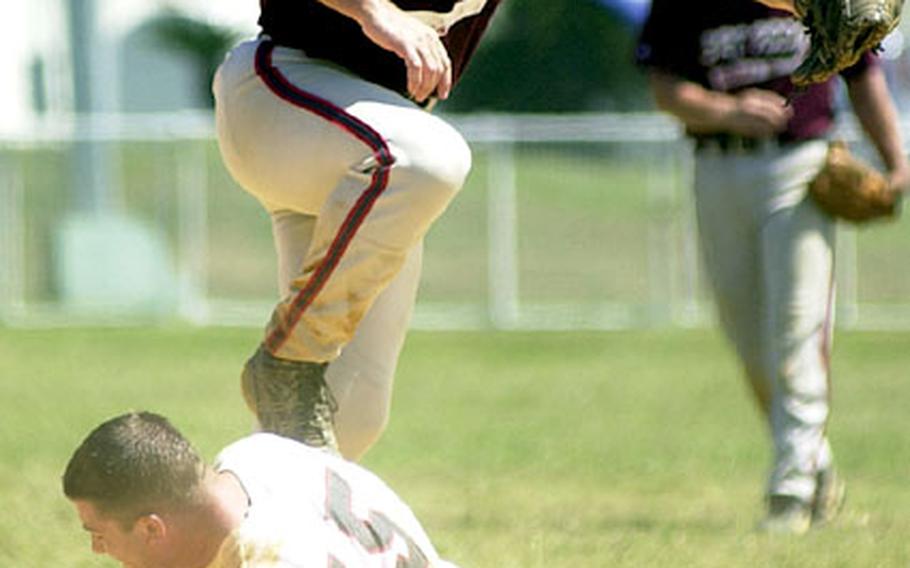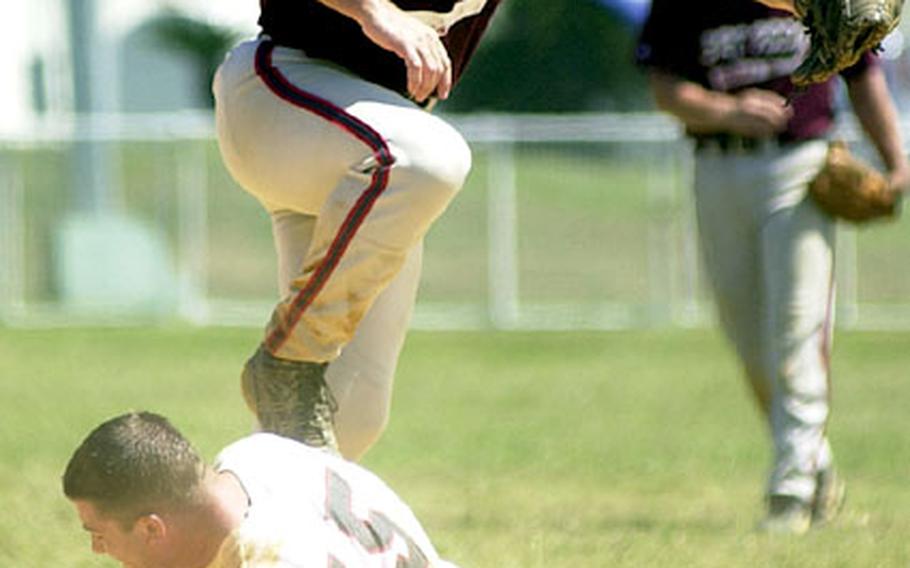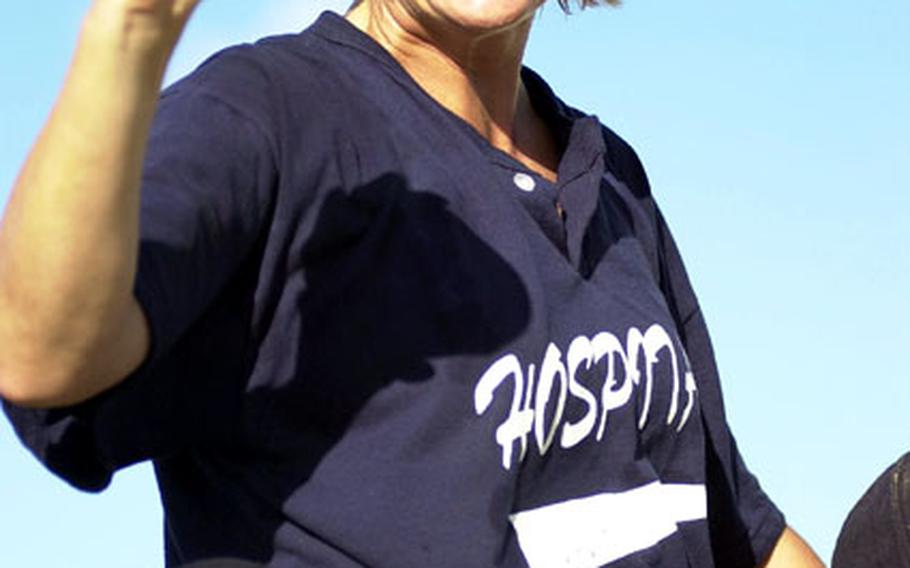 CAMP FOSTER, Okinawa — Drew Messer's week began as one he'd like to forget. He helped make Wednesday a day to remember for U.S. Naval Hospital Camp Lester.
Messer came off the bench to hit a double and run-scoring single in an 11-run sixth inning that pushed Hospital past Iwakuni Air Station 17-15 for its first victory in the Marine Forces Pacific Regional Softball Tournament since 1993.
"What a team! What an effort!" Messer said amid the postgame celebration.
"We aren't coming off this high any time soon," added Robert Preston. "Slump's over. It's gone."
So is a history of failure that spanned nine tournaments and the first two days of this year's regional. Hospital had lost 82 straight games dating back to two victories in the 1993 tournament.
"After a while, the pressure's not there anymore," said Ed Tennison, one of seven players who've been on the team at least a year — and endured the frustration. "The close losses become painful. So you give it everything you've got."
Painful could describe the tournament's first two days for Messer, a lieutenant commander from Philadelphia and the island's only child psychologist.
On Monday, Messer, the team's regular pitcher, fielded a screaming line drive off the bat of 3rd Force Service Support Group's Benji Hammond. The hit bent Messer's wedding band, a gold-platinum composite. Later, warming up for another game, he caught a ball and felt his watchband break apart.
All that on top of losing those first four games.
"It was that kind of week," Messer said.
On Wednesday, Hospital trailed Iwakuni 14-4 and seemed doomed to lose its 83rd straight tournament game until Messer led off the sixth with a double. Hospital send 14 batters to the plate in the inning.
"To be down by 10 and come back with base hits, it's a total team effort," said coach Mel Harris, whose pinch-hit sacrifice fly put Hospital ahead to stay. "We said before the game, the past is the past and we need to keep plugging away. Finally, after 10 years, we did it."
"This is great, fantastic," said Hospital pitcher Rachelle Smith, a lieutenant who works as the hospital's family dentist and the only woman in the tournament. "We're not going to stop now, either. Like the little boy taking his finger out of the dam."
A handful of distraught Iwakuni players declined to comment on the loss, but cleanup hitter Luther Gibbs offered praise.
"They played well," he said. "Year after year, they came out to play and never gave up. Good teams find a way to win, and they found a way."
Hospital's winning ways ended quickly with a 21-0 loss to Marine Corps Base Hawaii.
Also Wednesday, Maurice Finley slammed a three-run pinch-hit walkoff homer to lift 3rd Force over defending champion Marine Corps Base Camp Butler 18-17 in a game that featured seven lead changes.
The win gave 3rd Force a 6-0 round-robin mark and the top seed in the double-elimination playoffs, which begin Thursday.
The seldom-used Finley told Hammond he would "keep the scorebook, be the extra hitter, catch, whenever he needs me, it doesn't matter," he said. "It feels great."
The top seed has been a kiss of death in past years. From 1997-2001, the top seed failed to win the title, with 3rd Force falling in a two-game championship bout in 2001.
"Not this team," Finley insisted. "Up and down the line, we have good players. I have a good feeling we will go all the way."