Hornus, Essick first in Spangdahlem cycling race
---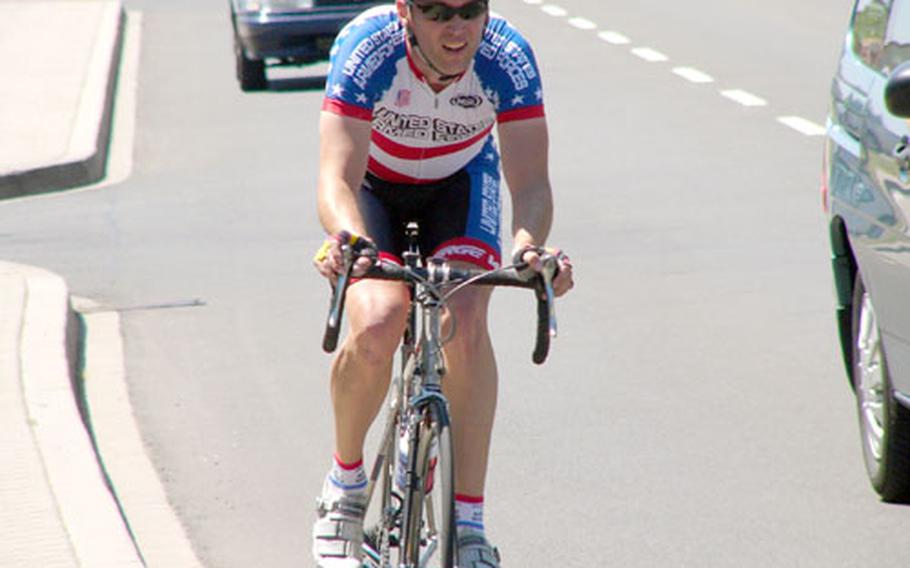 SPANGDAHLEM AIR BASE, Germany — Two of the most familiar names in U.S. military cycling in Europe claimed titles Saturday at the 45½-kilometer Spangdahlem Road Cycling race, the second of four races in the 2005 U.S. Forces Europe Road Cycling Series.
U.S. Armed Forces rider Trent Hornus of Ramstein easily topped the seniors category for riders aged 30-39 in 1 hour, 9 minutes and 6 seconds, best time of the day and three minutes faster than runner-up Kirk Winters of Heidelberg.
Perennial champion Thomas Essick, also based in Ramstein, took the open title with a clocking of 1:12:06, same time as Winters and open runner-up Mark McClay of Spangdahlem.
For Hornus and Essick, Saturday's U.S. military community-only race, usually small stakes when compared to the international races both contest regularly, fitted in nicely this week.
"It was a good workout," said Hornus, whose next race will be as a member of the U.S. team at the International Military Sports Council (CISM) championships next weekend in Poland. "It's fun to be able to come out and support the guys."
Hornus, a reservist who's been living and racing in Europe since 1994, will need some support of his own in Poland, where the Americans will face future professionals.
The other nations all have conscription, and, for the athletes they draft, special sports units so they can spend their workdays training, Hornus said. "It's hard for us to keep up with them," he added. "Most of their riders from last year have turned pro."
Even though Saturday's race was the second in the 2005 series, neither Hornus nor Essick was able to race in the first event, held in Aviano in April. Commitments to their German racing clubs kept them from journeying to Italy.
"I ride in a lot of German events," Hornus said. "They have deeper fields. I'm kind of taking the weekend off this week."
Commitments to his Radsport Club of Kaiserslautern kept Essick from Aviano, but come July 30, he'll be able to ride in both German and American races in Kaiserslautern, where his club is organizing a race around the University District that the U.S. Forces organizers will use for the third stop of this year's road series.
"We'll run the U.S. event in the morning and the main A-B race in the afternoon," Essick said. "I'll be required to ride in both. The Germans are very intense about their racing."
Essick saw Saturday's event as a good way to end some travel-induced inactivity.
"I just got back from the States," he said. "I haven't trained in two-and-a-half weeks. I wasn't ready for a German race."
Finishing just behind Essick, Winters and McClay was masters champion Herbert Crites of Vilseck, who clocked 1:12.16. Crites was just under two minutes ahead of runner-up Bryan Boyea of Landstuhl and third-place finisher Maraneo Santos of Ramstein. Both clocked 1:14:04.
Biggest margin of the day went to women's champion Ursula Cunnenn of Spangdahlem, who completed the women's 27.3-kilometer course in 48:12, 13:52 ahead of runner-up Martha Lockwood of Ramstein.
---
---
---
---