Hoop tourney participants' biggest foe may be lack of air conditioning
by
Dave Ornauer
July 17, 2003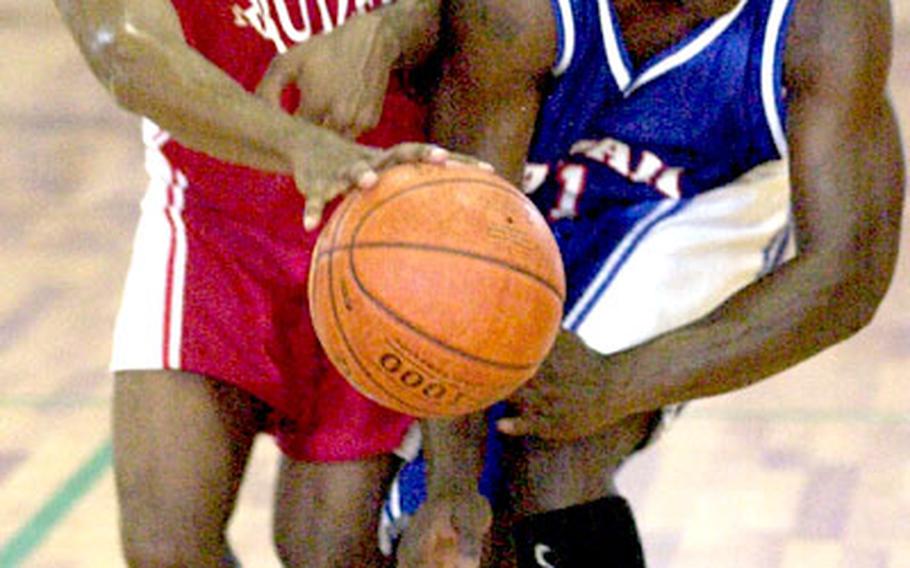 (Summaries of Tuesday's games at end of story)
CAMP KINSER, Okinawa — The referee whistled for a timeout. Players made their way to the water buckets behind their team's benches.
They drank cup after cup while toweling beads of sweat from their heads, arms and legs. A few trotted toward electric fans located in the corners — which just circulated the hot air permeating the gym.
It's been that kind of week in the Marine Forces Pacific Regional Basketball Tournament in Kinser Gym, a sprawling 8-year-old facility air-conditioned throughout … except in the spacious three-court basketball area, which has the ambience of a steam bath or pressure cooker.
Daytime temperatures on Okinawa in July average in the high 80s. Despite the fans and open doors along the sides of the gym, the air inside felt at least that hot.
"I think we could get a better facility to hold regionals," 3rd Marine Division/Expeditionary Force coach Timothy Toney said. "There's a safety issue. Later this week, we're going to see some heat issues, cramps and stuff like that."
Actually, there isn't an air-conditioned basketball court at any Marine Corps Community Services athletic facility on Okinawa.
The regionals would normally be played in September or October. This year they had to be held in July so Armed Forces sports can hold its basketball tournament Aug. 16-24 at Camp Lejeune, N.C., in preparation for the International Military Sports Council's (CISM) World Military Games Sept. 13-23 in Catania, Sicily.
The All-Marine tryout camp is set for July 27-Aug. 15, also at Lejeune. That left Pacific regional tournament director Mike Walker with few options.
"It's bad timing," he said. "But there's nothing anybody can do."
Nothing except try to keep cool by drinking plenty of water and basking in the air-conditioned environs elsewhere in Kinser Gym when games are done.
"We're doing everything we can," Toney said. "We've been purchasing Tang and Powerade for the players out of our own pockets. You take care of your own, to prevent injuries before they occur, and hope for the best."
Tuesday was a bit more breezy than Monday, offering relief to players and spectators.
Still, "these are unbearable conditions," Toney said.
Double duty
Dan Sullivan of 3rd Force Service Support Group and Eric Shropshire of U.S. Naval Hospital Camp Lester are doubling their regional fun.
After playing in last week's regional softball tournament at Camp Foster, the two donned basketball jerseys.
"It's a lot of fun," said Sullivan, who helped 3rd Force win the regional softball title. "It's almost like coming out and playing ball at lunchtime. I know most of these guys, because we play at lunchtime and we have a lot of fun."
The 34-year-old master sergeant from Columbus, Ohio, who works for the Kinser maintenance battalion's communications company, notes differences between his softball and basketball teammates.
"The basketball guys are mostly younger. They make mistakes, but they have energy," Sullivan said. "The softball guys are mostly veterans. You smell a lot of Ben Gay after the third round-robin game."
Shropshire, who helped Hospital to its first two regional softball tournament victories in 10 years, is finding the going rougher on the hardwood. Hospital lost three times by a margin of 157 points and forfeited a fourth contest Tuesday when only five players showed up. The rest had duty commitments.
"Most people don't understand when they ask us, why we can only suit up six people to play basketball," said the 29-year-old petty officer second class who works in the hospital's operating room. "We're there to take care of them. It's patient-care first, then comes basketball."
Tuesday's games
3rd Force 83, Iwakuni 63
3rd Force raced to a 49-26 first-half lead and never looked back. Jay Salyers led the way with 15 points and Reginald Brown hit three 3-pointers to finish with 12 points as 10 of 12 3rd Force players scored. Iwakuni's Winfred Murphy had a game-high 18 points, with 13 coming in the second half.
Hawaii 115, Base 79
The islanders broke the century mark for the third straight game, which featured 62 fouls, but no foulouts. Nathan McQuirter shot 8-for-10 from the line and finished with 20 points to power Hawaii. Base's Vincent White topped all scorers with 28, going 8-for-10 from the line.
Division 83, Hospital 34
Two-time defending champion Division got its first win, scoring the first 11 points and leading by 51 down the stretch. Norman Capers scored 20 of his game-high 24 points in the first half. For Hospital, which forfeited to Wing earlier in the day, Teo Pardo had 10 points.
3rd Force 79, Wing 76
Jay Salyers' three-point play with 23.9 seconds left and a steal with .8 seconds remaining lifted 3rd Force to victory in a game that featured 14 lead changes and eight ties. Salyers had 17 points, including 5-for-7 from the line. Wing's Kevin Cochran hit six 3-pointers and led all scorers with 31.
Iwakuni 85, Base 81
Julius Johnson's 3-pointer from the key with 1:45 left put Iwakuni ahead to stay. Scott Goldsmith led Iwakuni with 20 points and Johnson added 17. Jack Kennedy topped Base with 19 points in a game featuring six ties and nine lead changes.
Hawaii 76, Division 61
Hawaii was held under 100 points for the first time in four games but finished the day unbeaten, leading by as many as 23 in the second half. Nathan McQuirter led five players in double figures with 14 points, 10 in the first half. Paul Davis was high for Division with 12.