Far East basketball preview
Hoop teams set for revamped tournaments
---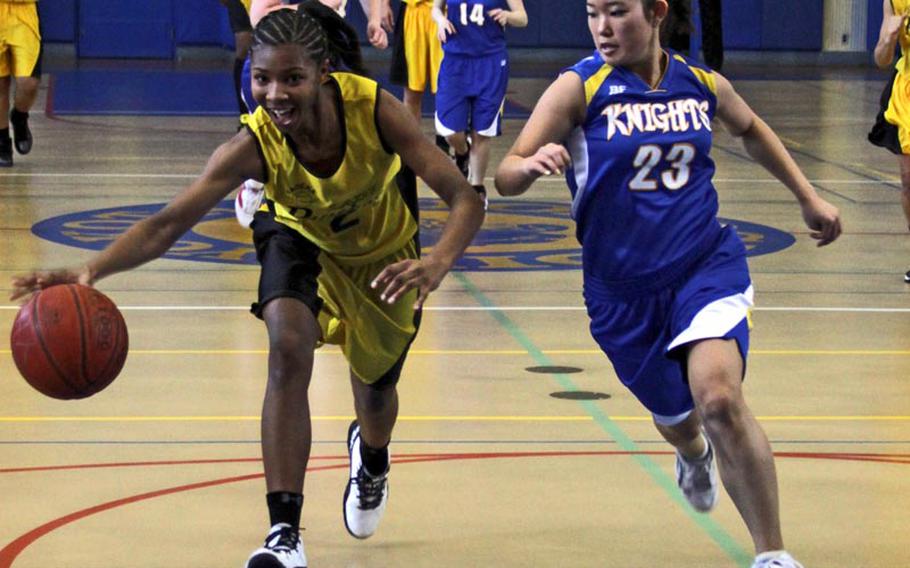 Since 1987, pool play to help determine seeding into the playoff rounds was as much a staple of Far East High School Basketball Tournaments as cream with coffee and bacon with eggs.
No more.
"Budget realities," DODDS-Pacific spokesman Charly Hoff said, was the chief reason for Far East tournaments to be shortened by two days each, with a strict double-elimination format replacing round-robin games, followed by elimination play.
For the most part, coaches — many of whom were outraged when the decision was announced in December — remain unhappy, but have come to terms with it and are ready to play.
"Most coaches aren't happy" with the move away from pool play, "but it's what we've been told we have to do," said Jon Fick, coach of two-time defending Boys Division I champion Kubasaki.
D-I tournaments are scheduled for Monday-Thursday, boys at Kubasaki and girls at Yokota. The D-II tournaments finish a day earlier, at Zama American for boys and Robert D. Edgren for girls.
Not everybody was as charitable in their assessment of the change as Fick.
"By all means" DODDS should have retained pool play, Nile C. Kinnick boys coach Robert Stovall said. "It takes the opinion, discussion and debate out of play" in determining seeds for elimination play.
"It gives the teams a chance to feel each other out" and scout them better in advance of the elimination playoffs, said coach Phillip Loyd, whose Daegu boys won their first league title in 23 years.
"We don't know what the level of competition is out there; not all of us see each other play until Far East."
During last month's New Year Classic at Yokota, Fick said other ways could have been found to save money without taking away pool play. But he said he's accepted the change and moved on.
"It is what it is. Now, you just have to play the tournament," he said.
With either type of tournament, fouls, injuries and illness can be major factors in a team's success. Add matchups to that equation now, Fick said.
"Many top teams have gone down because of one of those things," he said.
Though Kubasaki is viewed by observers as a three-peat favorite, "it would be foolish to enter a tournament thinking you'll win hands down," Fick said.
"But I think Kubasaki has a decent shot," he said of a team that's 14-10, but has four losses by one point in games the Dragons led and played four games without their three best players. "It could easily be 18-6 or 19-5."
"Whoever can play consistently well will be in it," Stovall said, citing Kinnick, Yokota, American School In Japan, 2010 champion Kadena and Kubasaki as the chief contenders.
Stovall and Loyd each feel the D-II boys field, dominated by Morrison Academy the last four years, should keep sharp watch on an Edgren team that just won the DODDS-Japan tournament, beating Zama, Yokota and Kinnick the same day.
"Sometimes, it's who's hottest" entering a tournament, Loyd said. Among the favorites, he cited Morrison "obviously," Zama "with its body of work," Edgren "which won DODDS-Japan, that's a big deal," St. Paul Christian of Guam "which always works and goes forever," as well as his own Warriors.
Stovall feels Zama and Edgren have a chance to meet in the finals.
"I was impressed," by both teams, he said.
Seoul American girls coach Jesse J. Smith feels his Falcons, Okinawa champion Kadena, DODDS-Japan champion Kinnick and Kanto Plain champion ASIJ have the best shot at Girls D-I. Among them, it's "pretty even, no one-sidedness," Smith said.
Defending Girls D-II champion Daegu, which lost game-changing center Maleah Potts Cash to graduation and is on its fourth coach in three seasons, faces a hard road if it hopes to make it two straight and three titles in four years, Smith said. Morrison is the prohibitive favorite to win its second title.
"They work. They come out and hustle," Smith said of Daegu. "They may surprise some people, but they're not the same caliber team as last year."
---
---
---
---