Home Team: Hitting the fair way
by
Rusty Bryan
September 27, 2007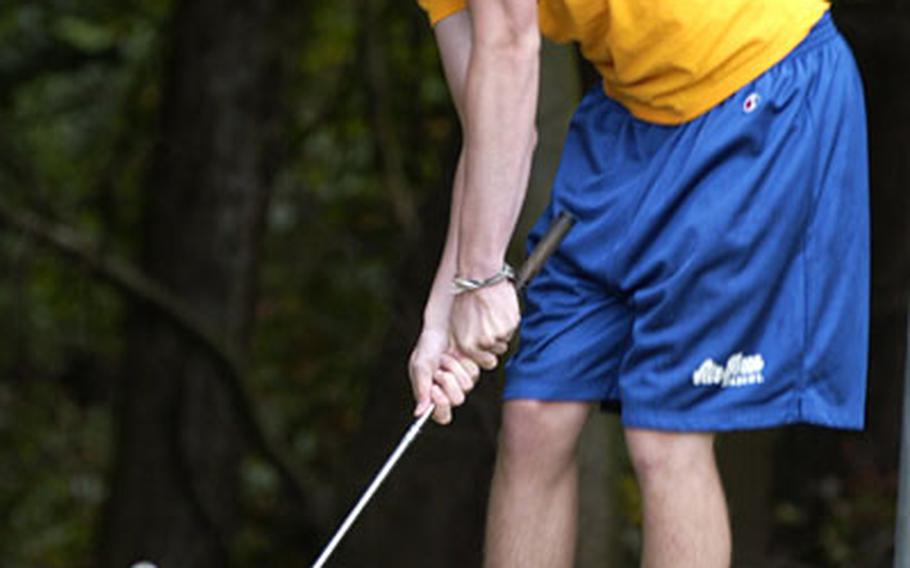 For Ramstein golfer Stephen Braden, the choice Friday at Heidelberg was simple.
His scorecard was incorrect, and he had to have it changed.
No ifs, ands or buts.
No matter how many officials he had to pester.
No matter what.
Braden, however, wasn't seeking a change that would improve his score.
Just one to make it right.
Braden, a 15-year-old junior, had been credited with a bogey when he knew that he had scored double-bogey on the hole in question. The discrepancy bothered him enough that he went from tournament official to tournament official after the match pleading the case against himself.
Say what?
"I really don't like it when someone messes up a scorecard or cheats," Braden said Wednesday by telephone. "It messes up the truth of the game."
Even if, as in this case, the truth of the game got soiled inadvertently.
"What happens is that someone else counts your strokes and puts it down on the scorecard," Braden said. "In this case, the person missed one of my strokes."
On purpose or not, the tenets of the game's ethical core that Braden had learned from rounds played with his father and grandfather wouldn't let him accept a false score.
Neither would the instructions of Ramstein coach Jeff Pellaton, who drills the importance of the integrity of the game into his players.
"I've been coaching for a long time, and once you've had some success you worry all the time about how the kids represent themselves, their parents and Ramstein High School," Pellaton said Wednesday by telephone. "Not a day goes by that we don't mention it. We talk about it nonstop."
Braden said circumstances Friday worked against his learning about the error until after he had signed his scorecard.
"This was my first tournament of the season," said Braden, a qualifier for last year's European tournament. "I'd been sick, so I was placed in a slower-playing group. We didn't get to play the entire 18 holes."
Scoring in high school golf in Europe is modified Stableford, under which points are awarded for outcomes ranging from double-bogey to ace. Braden, who finished with 33 points over 15 holes, in effect spotted the seven golfers who finished ahead of him his points-potential on the three unplayed holes in addition to the point he demanded be taken away from him.
When all was said and done, Braden finished nine points behind teammate and tournament winner Kevin Langford.
But that does not mean it was not a good round.
"Golf is a self-adjudicating sport," Pellaton said. "We want to instill that our athletes represent themselves honestly.
"You might go out and shank three shots from 40 yards out, but by being able to be honest, you've still had a successful day."