Football AOY
Holland starred for Royals on both sides of ball
by
Gregory Broome
November 15, 2018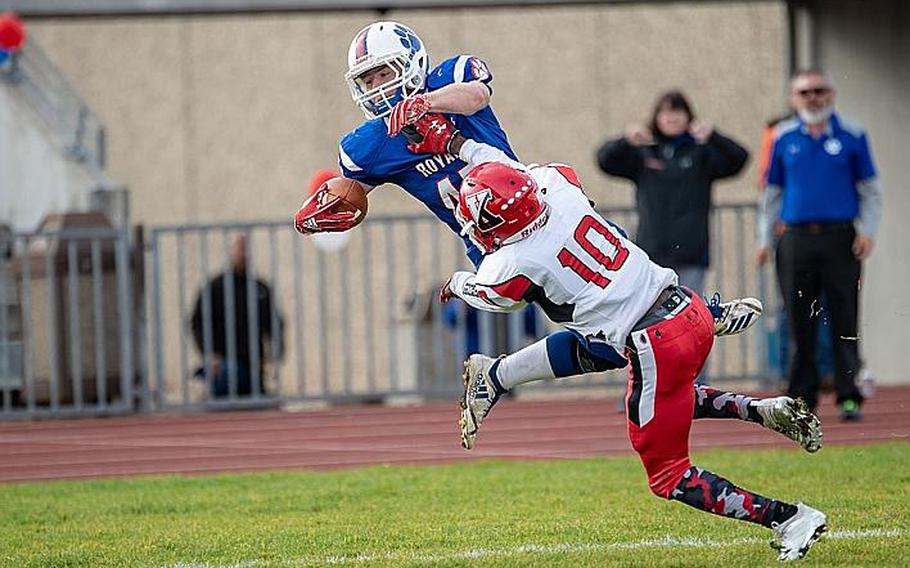 It's not uncommon for a DODEA-Europe athlete to play iron-man football. It's uncommon to play it as well as Ramstein Royals senior Bailey Holland.
Holland, the 2018 Stars and Stripes football Athlete of the Year, was a centerpiece of the undefeated European champions on both sides of the ball, leading the team's suffocating defense from the key middle linebacker position while contributing productive carries as a hard-hitting fullback.
"I just felt like my role was to do whatever the coaches asked of me, and/or whatever the team needed of me," Holland said. "Whatever to make the team better."
The Royals asked a lot of Holland, and he consistently delivered, in both tangible and intangible ways. Linebackers coach Kevin Smith called Holland "the hardest-working player on the team," while offensive coordinator Andrew Short cited Holland's "enormous passion" for the sport.
"He is dedicated to making everyone around him a better player and citizen," Short said.
The Ramstein coaching staff's trust in Holland extended well beyond straightforward senior leadership. Royals head coach and defensive mastermind Carter Hollenbeck allowed Holland to adjust coverage in real time. True to form, Holland brought the same team-first approach to that assignment.
"If I saw something different...I'd change the play and rearrange the defense, put my teammates in a place where they can succeed, even if that meant I wouldn't be able to get into the play," Holland said. "As long as we were stopping them, that was what we wanted. I feel like I did that well."
On offense, Holland fit in seamlessly with the high-powered Royal offense. Short said Holland was "a hard inside runner which helped set up the outside running game."
Holland was more concerned with his team's success than his own individual accomplishments, but he ultimately reaped plenty of both.
The Royals went undefeated in the regular season and outlasted Lakenheath 30-12 on Nov. 3 for the Division I European championship. Holland finished the season with 80 rushes for 520 yards and six touchdowns on offense along with 68 total tackles, a sack, an interception and a blocked punt.
As those diverse statistics suggest, Holland was eager to jump into any role the Royals offered.
"I was excited to just be playing," Holland said. "Whenever football comes around, I just get excited to finally be back in pads and able to do what I love to play."
Twitter: @broomestripes