Holden spurs another Kinnick comeback
---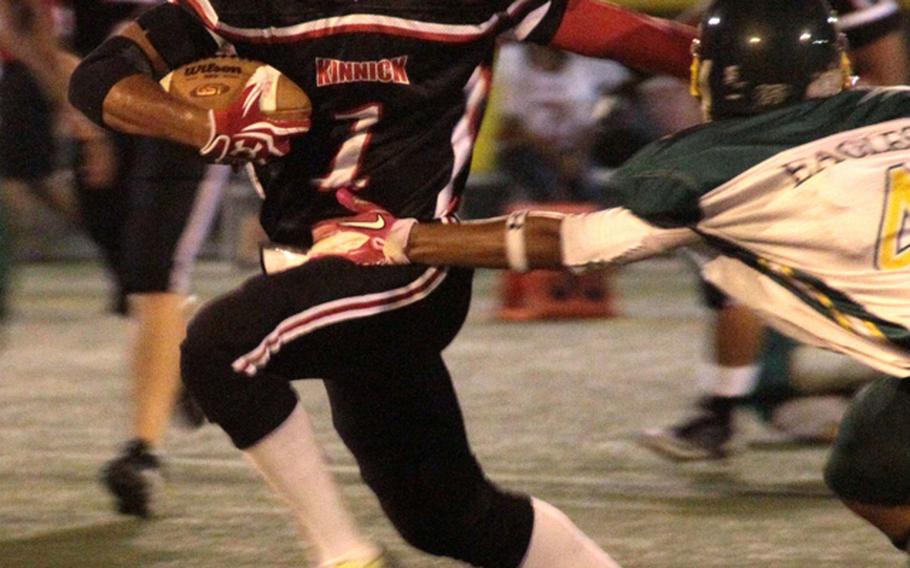 YOKOSUKA NAVAL BASE, Japan – Just when all appeared lost for Nile C. Kinnick in the closing minutes Friday, Quinton Holden came to the Red Devils' rescue.
The senior all-purpose star took a kickoff 89 yards for a touchdown to put Kinnick ahead for good, then intercepted a last-gasp pass in the final seconds as the Red Devils rallied from an 11-point deficit to edge Robert D. Edgren 29-26.
"We dug ourselves a bit of a hole and climbed out" for the second straight week, said coach Dan Joley, whose Red Devils (2-0) came back from a 6-0 deficit the previous week to beat Zama American 20-6. "We had a couple of big plays and pulled out the victory."
That came after Edgren (0-2) scored two of its touchdowns on fourth-down plays, seizing an 11-point halftime lead.
Tristan Jefferson threw touchdown passes of 22 and 17 yards to Khalil Williams and Tyrone Balcaso, Louis Murphy ran 77 yards for a score and Aric Butterfield added an 11-yard TD run to account for Edgren's points.
Kinnick quarterback Dustin Wilson replied with two rushing touchdowns, a two-point conversion and three extra-point kicks. Holden finished with 132 yards on 14 carries
It was a far cry from the last two encounters between the DODDS Japan rivals. Kinnick beat Edgren twice by a combined 56-0 last season.
"I enjoyed watching them," Joley said of an Edgren team that runs pretty much the same read-option offense that Kinnick does, only with more passing than the Red Devils, who stay mainly on the ground.
"They're disciplined. It's fun to see the intensity. They were in the game from start to finish. Their new coach (Blaine Miller) has them dialed in."
"We gave them everything we could," Miller said. "Our guys played a winning game. They left everything on the field. We lost it on completely broken plays."
Still, he remains optimistic heading into the games that count for Division II title-game berths, starting Saturday when Edgren hosts Osan American. "I'm really excited for us going into that."
---
---
---
---