Hohenfels wins USAREUR / DODDS Rifle Championship
---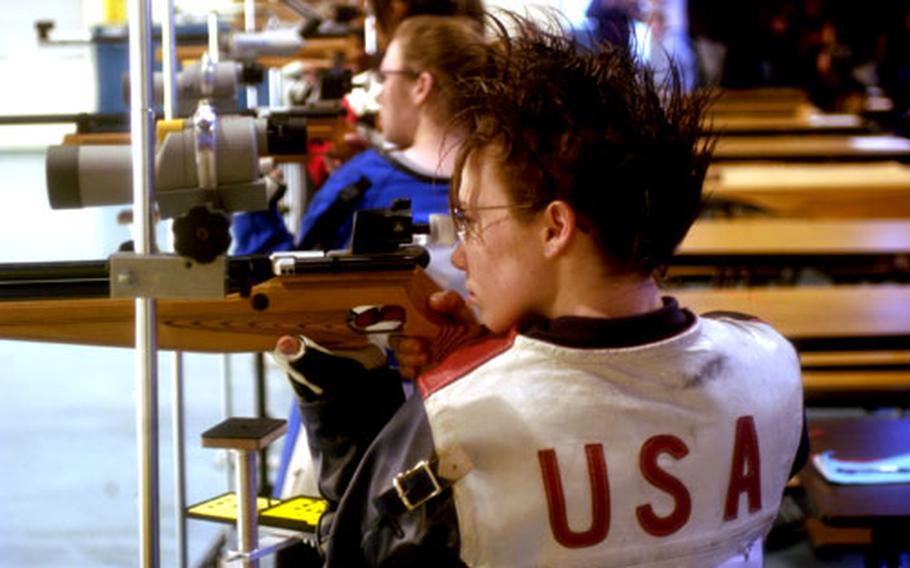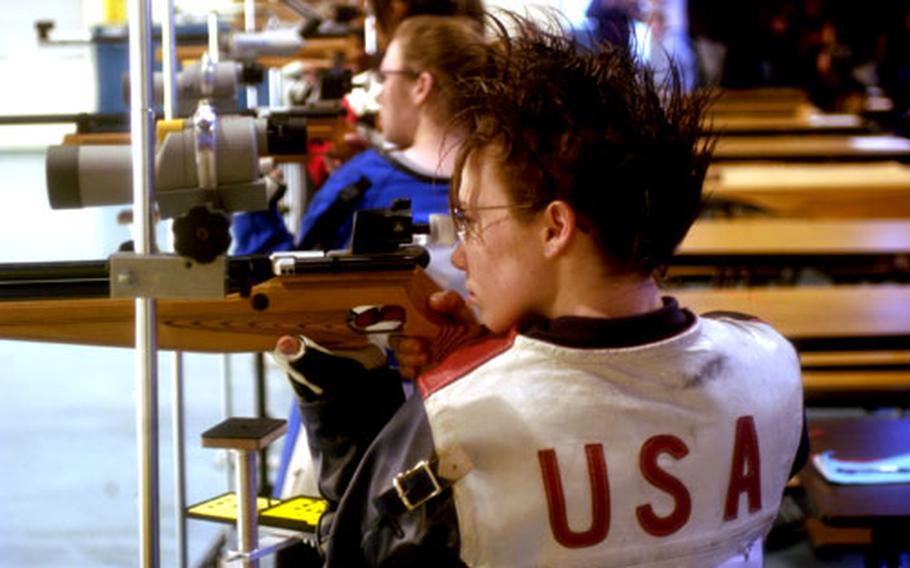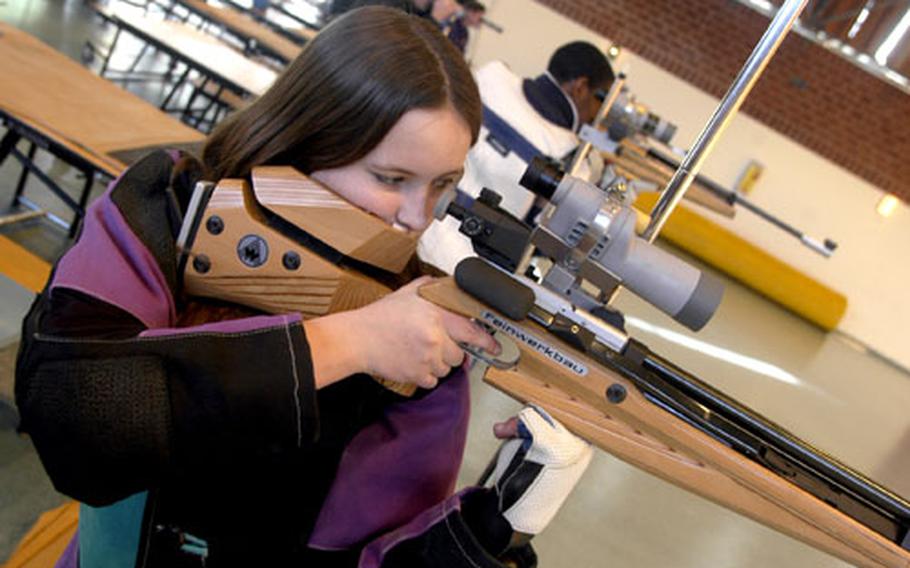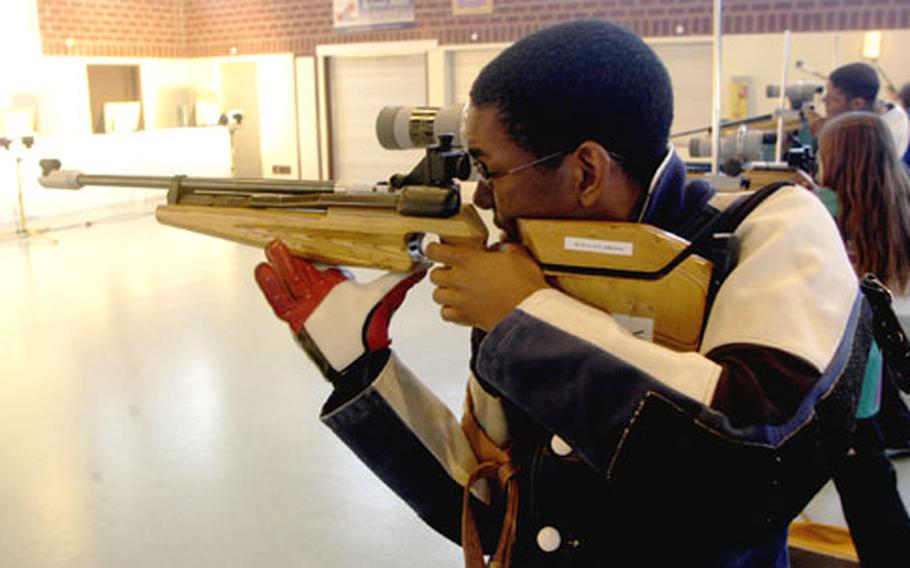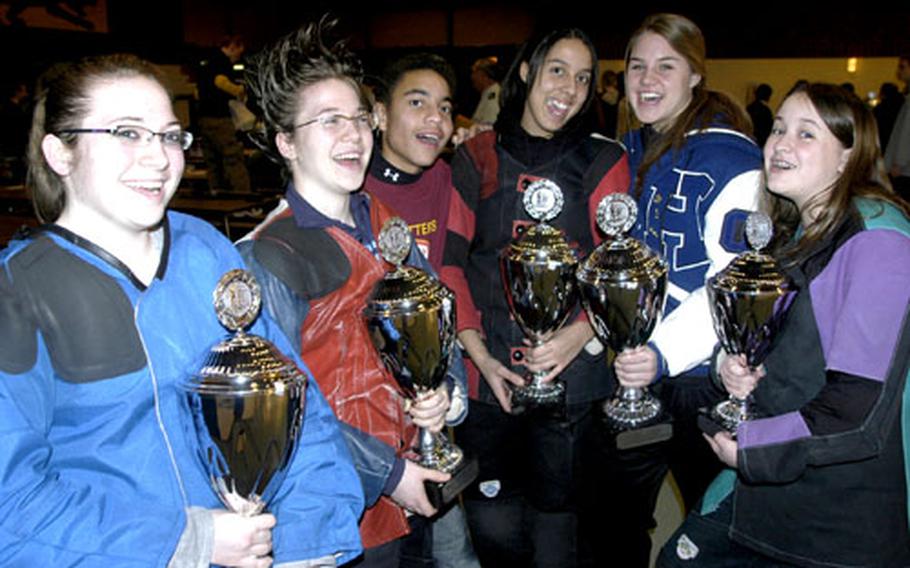 STUTTGART, Germany — In a sport in which it pays to chill out instead of fire up, the Hohenfels rifle team again proved to be the coolest cats in the house.
Hohenfels, led by individual champion Sarah Adams, pulled away in the final two rounds to edge Patch 1,394 points to 1,382 on Saturday to win the USAREUR/DODDS Rifle Championship.
Hohenfels held a two-point lead going into the fifth of six rounds when Adams fired a score of 96 in the prone position, then 95 standing and 93 kneeling. Her 284 total, the best of the tournament, was eight points better than Patch's Jessica Elledge, who was shooting at the same time.
Sunny Petery, shooting a nerve-wracking last for Hohenfels, came through with a solid 271 to lock up the second straight title for the small school from Bavaria.
"We (Hohenfels) don't win at (the European level) at many sports, so this means a lot," said Emily Adams, twin sister of Sarah.
"We're going to have a party on the bus tonight," Petery added.
Vilseck, which had three shooters come in at 268, finished third with 1,321 points. Nine teams competed in the event.
Hohenfels' performance was highlighted by a perfect score of 100 in the prone (lying flat) position by Jessica Walloch, who didn't flinch on her way to 10 straight bull's-eyes.
"I see it but I try not to react," Walloch said.
But after scoring that 10th "10"?
"I flipped out. I was so shocked," she said.
Walloch finished at 282, tying for second overall with teammate Emily Adams. Katelyn Bronell (275), Petery and Andrew Morton (269), along with Sarah Adams, comprised the winning team.
Coach Bruce Andrews, who led Hohenfels to its third championship, praised his team's calm under fire.
"After learning the mechanics of shooting, 80 to 90 percent of it is mental," he said. "It's controlling your nerves and concentration."
The competitors used Feinbergbau rifles to shoot at targets 10 meters away. Each target was 2 inches in diameter, with a bull's-eye of about one-eighth inch, or about the same size as the .177-caliber bullets being fired.
Shooters competed side-by-side in the Patch cafeteria, each taking a turn at prone, standing and kneeling — 10 shots in each — with a possible score of 300 per competitor. It takes about 1 hour, 15 minutes for a shooter to complete a round.
In the individual disciplines, Walloch's 100 took honors in prone, Emily Adams' 96 was the best in the difficult standing position, and five shooters, including four from Patch, tied for best score in the kneeling position with 95.
---
---
---
---