Hohenfels stops Ansbach's title run at three
by
Rusty Bryan
November 6, 2005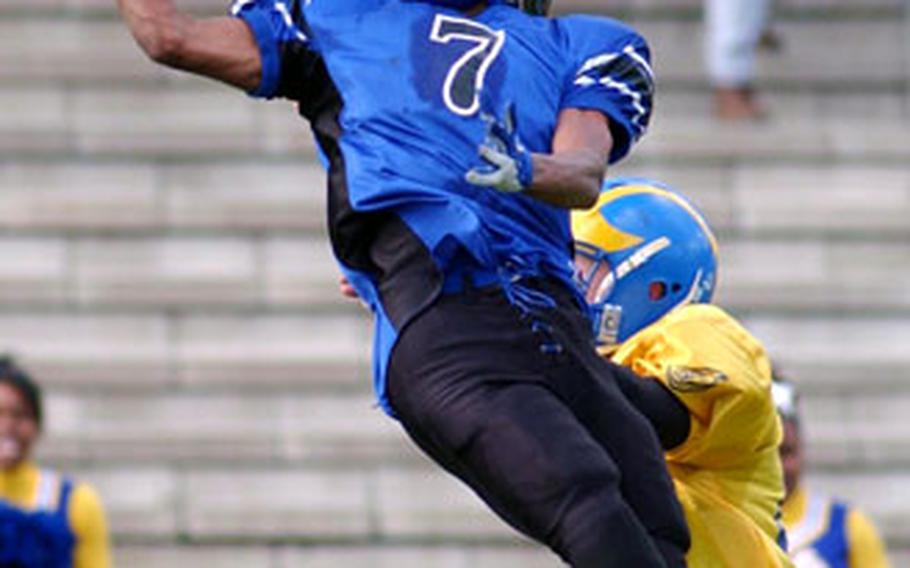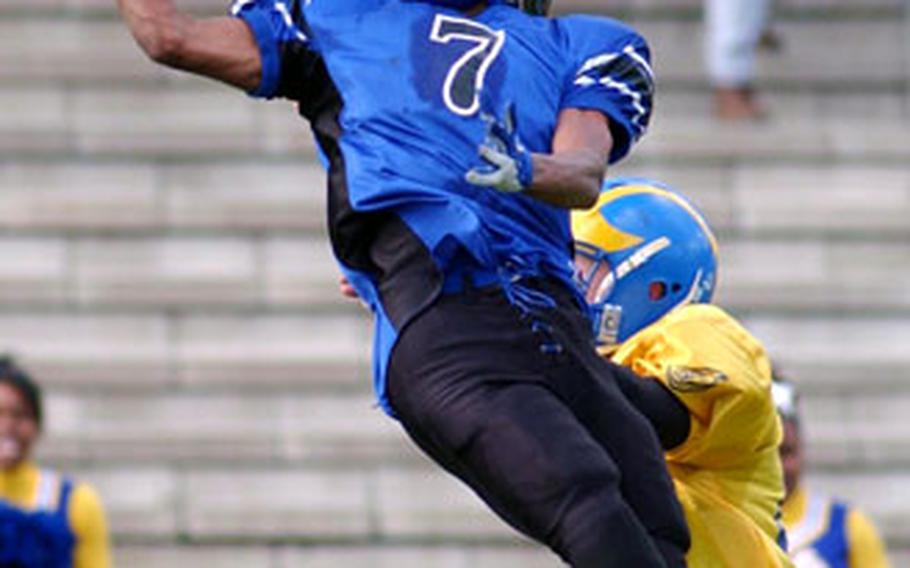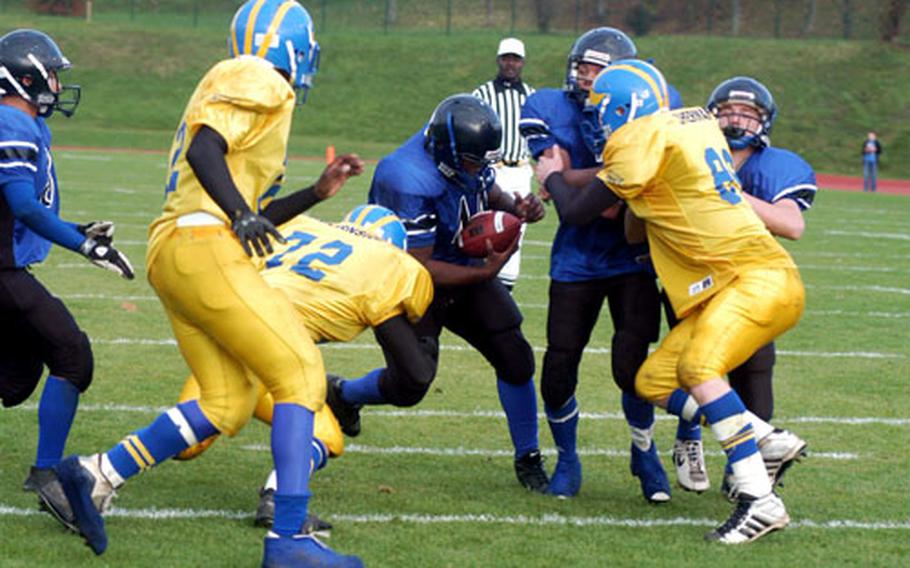 BAUMHOLDER, Germany — Tailback Stephen Washington and fullback Brandon Merriweather each ran for two touchdowns Saturday as Hohenfels dethroned Ansbach 37-20 in the European Division III football championship game.
"We've been going for this since Day 1," Merriweather said after the Tigers ended Ansbach's record-tying string of three straight European crowns.
It was the second time this season Hohenfels stopped an Ansbach streak. On Oct. 14, the Tigers beat the Cougars 24-22 to end Ansbach's DODDS-Europe record 28-game winning streak.
Neither streak was all that important to Hohenfels.
"I don't think we talked about either streak all year," said Hohenfels coach Shawn Rodman, who guided the Tigers to their last European title in 2001 before taking a three-year break from coaching.
"It was more important for us to prepare for each game individually."
Hohenfels quarterback Jason Parks, a four-year starter, agreed, pointing out that it was Ansbach, not the streaks, that were significant to him.
"It's fun to beat Coach [Marcus] George's team," said Parks, who was 5-for-8 for 50 yards with one interception. "He's my teacher. He taught me how to be a quarterback."
Parks completed four straight passes during the opening drive of the third quarter, when the Tigers marched 89 yards in 11 plays to establish a 28-14 lead. All were quick tosses to the split outs, the best of them a 31-yard gainer to the speedy Washington.
"We noticed Ansbach was playing way off our wide receivers," said Rodman, who took over from George at Hohenfels in 1998 and won crowns that season and in 2000 and 2001. "We told Jason to audible to take advantage of it."
Ansbach had backed away to take the pitch sweep away from Washington, who gained 94 yards on it in the first half en route to a 167-yard day.
"We had to get some people on him," George said of Washington. "When he got into our secondary, we didn't have anyone who could catch him."
Washington ran 35 yards down the left sideline for the game's first TD, and 40 down the right sideline for its final score in the waning minutes. Between halftime and that final run, however, Ansbach held him to 31 yards on seven rushes.
"It's all about working together," Washington said.
"I really appreciate what my line does for me."
Except for that opening drive of the second half, the Cougars defenders were solid, limiting the damage done by four interceptions of their quarterback, John Willis-Morris.
Willis-Morris uncharacteristically overthrew his receiver in the the left flat as Ansbach was driving in the second quarter while leading 14-13. Damion Odum returned the interception 78 yards for the go-ahead TD, sprung by a block on Willis-Morris by B.J. Denson.
It was Denson's second big play of the game. The first came in the first quarter as he sprinted 48 yards on a sweep, breaking two tackles on the left sideline. The play set up Merriweather's 1-yard plunge on the next play. He later scored on a 3-yard run.
After the interception, Ansbach was forced to go to the air, despite a steady 10-15 mph breeze in Willis-Morris' face. The result was three interceptions and an incompletion on the sophomore's next four throws.
"We had to pass too much," George said.
Anthony Marshall stretched the Hohenfels lead to 31-14 with a 22-yard third-quarter field goal, before Ansbach got Willis-Morris into the end zone on a 7-yard keeper. Willis-Morris then exacted some revenge, intercepting a pass in the flat with 4 minutes to play. A one-on-one tackle by Denson saved the TD, and the Hohenfels defense held.
"I'm proud of the effort you put forth," Rodman told his team. "You beat a very good football team today."