Hohenfels high jumper Parks clears 6-4, aims higher
by
Rusty Bryan
April 27, 2006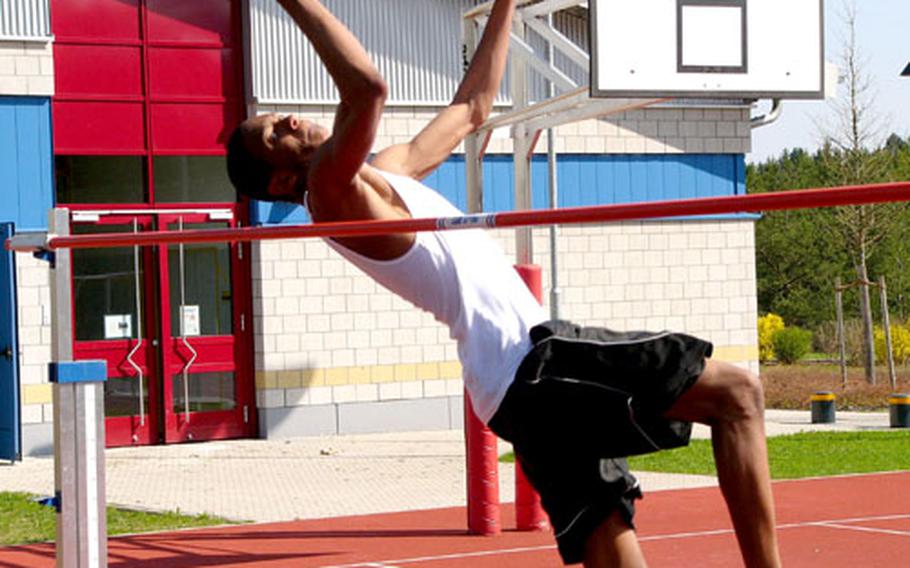 HOHENFELS, Germany — With his fourth and final year at Hohenfels High School winding down, high jumper Jason Parks is still looking upward.
"I want to break the record," Parks said at a sun-drenched practice session Monday, two days after he cleared a DODDS-Europe season-best 6 feet, 4 inches, at his home pit.
The DODDS record would be a tall order for Parks, whose personal best is 6-6. Terrence Chukes set the DODDS mark of 6-9½ while jumping for long-closed Nuernberg in 1992. But to put things into perspective, Parks' 6-4 is as high as anyone has gone in the European championships since 2001.
And according to one Hohenfels coach, he is a long way from topping out.
"I think in terms of ability, he is just beginning to scratch the surface, particularly in the high jump," said Shawn Rodman, who coaches Hohenfels' football team.
For Parks, who is also an All-Europe quarterback and basketball player, the high jump is a leap of love.
"The high jump is my best event," said Parks, who also runs a leg on the 1600-meter relay for coach Joyce Dusenberry's Tigers.
"It's also my favorite event."
Track, however, isn't his favorite sport. That distinction belongs to basketball, he said, even though he enjoyed his greatest athletic success quarterbacking the Tigers to last fall's European Division III championship.
"Football was just a way to stay in shape for basketball," said Parks, who's bound for the University of Louisiana at Lafayette on an ROTC scholarship this fall.
Parks began high jumping as a freshman.
"I was tall and skinny," the 6-2, 160-pounder said. "They put me in place there, and I just sort of stuck with it."
Dusenberry knows why.
"He is built to be a good high jumper," she said. "He is tall, has a lot of flexibility and a great vertical leap."
Parks also worked on his strength, though he said he wishes he had concentrated on it a bit more, lifting more weights and doing more exercises.
"Upper body strength is one of the most important aspects," he said of the high jump, an event that requires the athlete to transform horizontal momentum to vertical with as little energy loss as possible. "Arm swing can help you over the bar."
A good jump brings together several technical aspects, Parks said.
"You have to have enough speed and jump high enough that your momentum can carry you over the bar," he said. "The jump's the biggest part of it."
Parks finished third in Europe in the high jump last spring, managing just 6-0. Monday, he was warming up at 6 feet.
Teammate B.J. Denson was second, also at 6-0. Both Tigers look to be in the medals hunt this season, too, as does the rest of the team, when the European championships roll around May 19-20 at Wiesbaden.
"I believe we can win Division III," said Parks of the Tigers, second in that division in 2005 to Ansbach. "Other schools have a lot of runners and jumpers. We have a lot of athletes."