Boys soccer roundup
Hohenfels hands Vilseck first defeat
---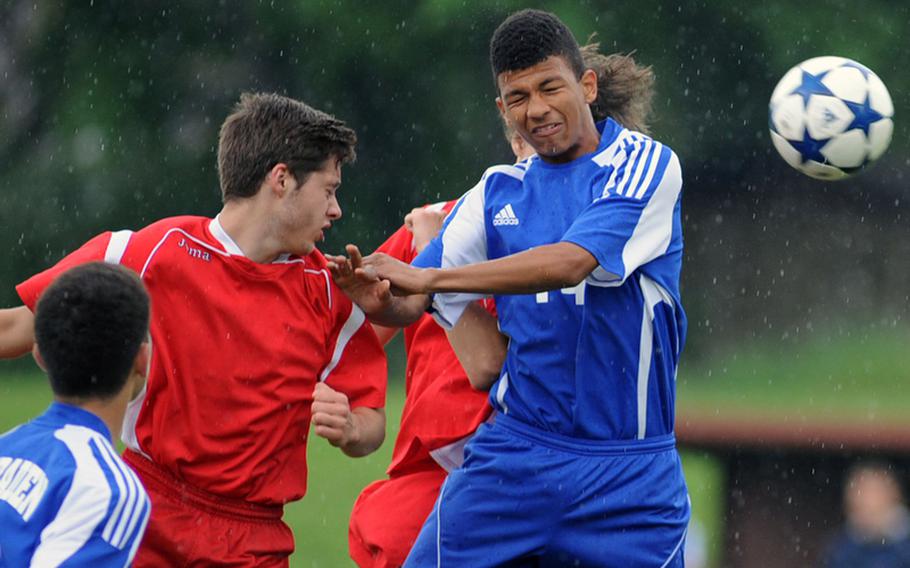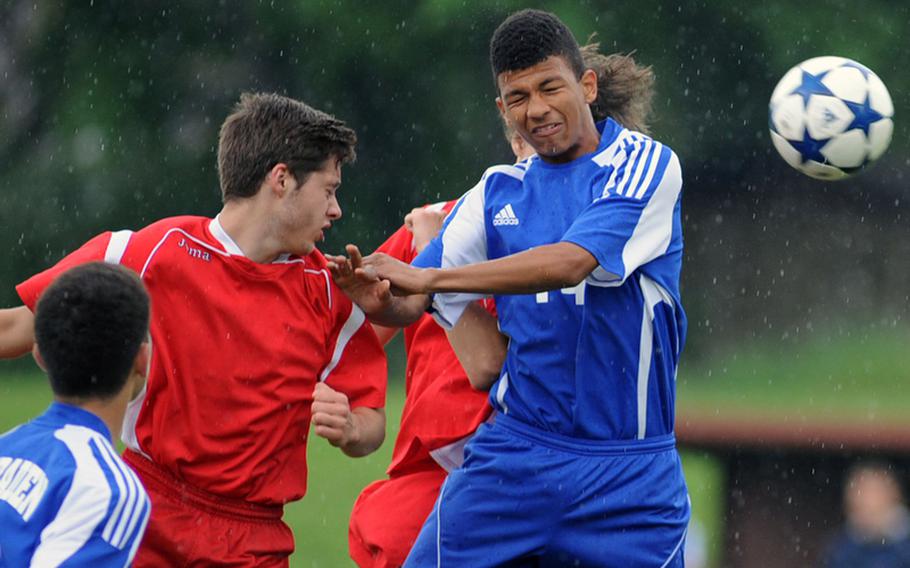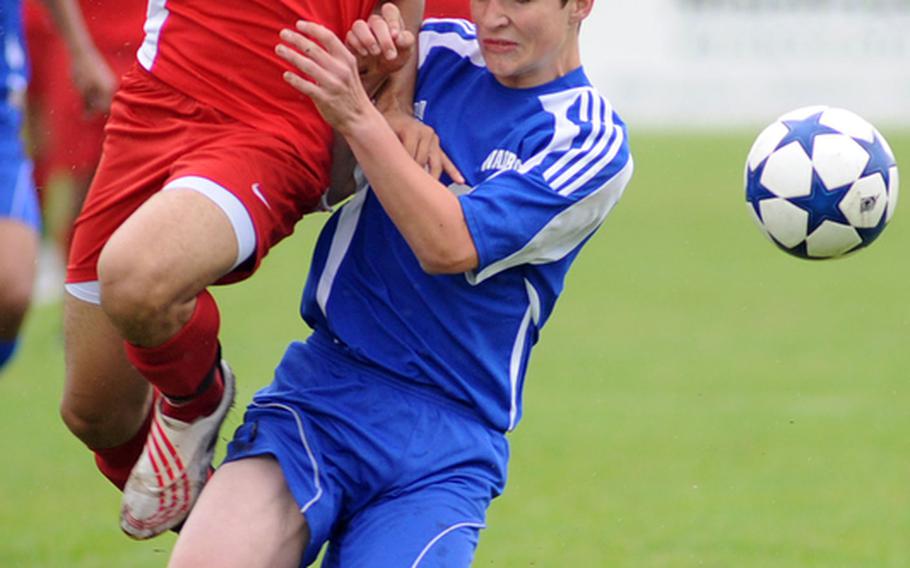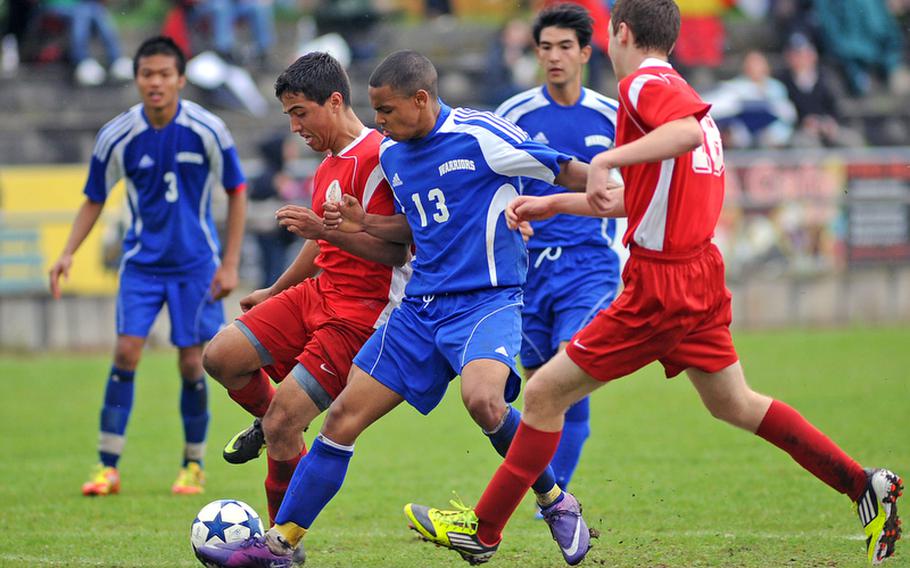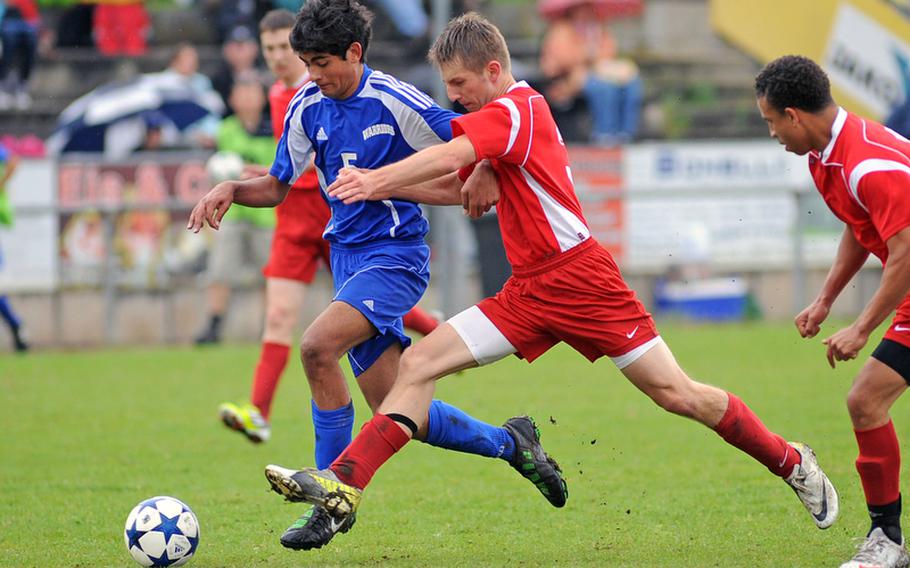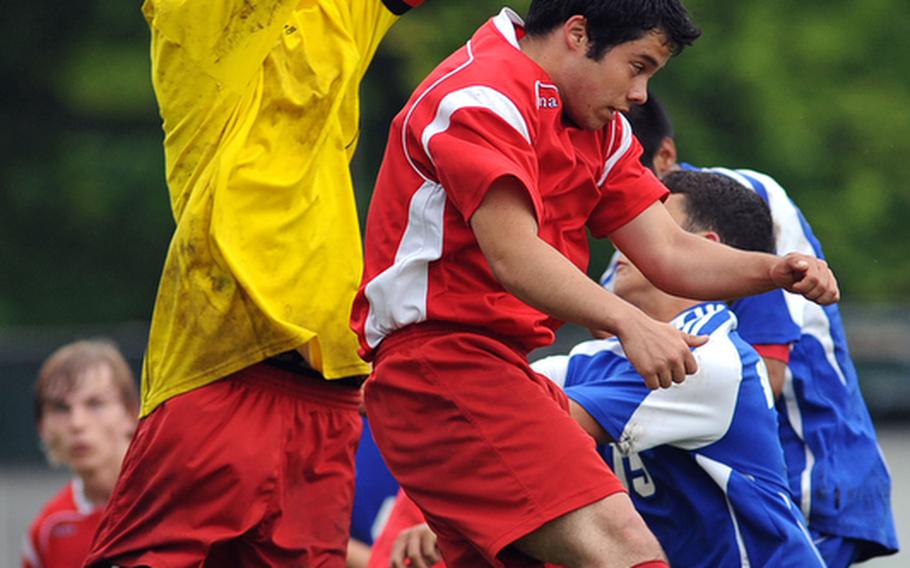 This article has been corrected
Andrew Junior, Devon Fluker and Andre Walker each scored goals Saturday to erase a 2-0 deficit after the game's first 15 minutes and propel the Hohenfels Tigers to a 3-2 Region III victory over the previously unbeaten Vilseck Falcons.
Tyler Lewis, a 2011 All-European for Bamberg, and Mark Bussell got the Falcons off to the quick start, but Junior cut the Tigers' deficit to 2-1 at halftime, and Fluker, who also posted an assist, and Walker finished the climb for the home team. Xavier Davis and Jacob Witty also handed out assists for Hohenfels.
The victory boosted Hohenfels, a Division II school, into the lead for the Region III crown with a 4-1 league mark. The Tigers, 5-1 overall, are to close the regular season at Bamberg of D-III.
Vilseck, also 5-1, 4-1 is to close the regular season by hosting Patch on Saturday. Victories by Hohenfels and Vilseck would tie the two for the league title, but Hohenfels owns the head-to-head tiebreaker.
In other boys' soccer of note Saturday:
SHAPE 5, Lakenheath 2: At Mons, Belgium, Kristian Harsanji scored four times for the second consecutive week to move the Spartans one step closer to a Region I big-schools crown.
Harsanji, a Croat national, got his hat trick before intermission, then recorded No. 4 in the game's 51st minute, SHAPE coach Tony Harris reported in a Saturday email, to help the Spartans set up a showdown for the Region I big-schools crown when International School of Brussels visits this Saturday. SHAPE, coming off a Harsanji-fueled 7-0 victory the previous week over AFNORTH, improved to 5-1 overall and 2-0 against the Region I big-schools trio of AFNORTH, Lakenheath and ISB. ISB was playing AFNORTH on Saturday and downed Lakenheath 3-0 on April 28.
Kaiserslautern 2, Wiesbaden 1: At Wiesbaden, Scott Hinrichsen's first-half goals swept K-town into a Saturday showdown with visiting archrival Ramstein for the Region II crown.
According to Wiesbaden coach Ben Arcila, the clutch play of K-town keeper Cody Tremaine, who came up with 10 saves, made the difference.
"Tremaine played remarkably well," Arcila emailed on Saturday about the way Tremaine protected his team's 2-0 halftime lead.
Also drawing praise were K-town's back-line stalwarts, Erik Langholz and Dominique Williams, and Red Raiders' midfielder Anthony Caceres. Arcila added that his center-mid, John Arnold, center-back Nick Whelan and keeper Nick Reid, who made 13 saves, also stood out.
Ramstein, which battered Baumholder 6-0 on Thursday, and Kaiserslautern each will take 4-0 league marks into Saturday's regional showdown. Neither team was able to defeat non-regional foe ISB, for the only blemish on each team's record. Ramstein lost to ISB 3-1 on April 20; K-town tied ISB 1-1 the following day.
Incirlik 2, Anakra 2: Saturday at Ankara, freshman Zach Silliman scored off a goal-mouth scramble moments before game's end to salvage a tie for Ankara, according to Trojans' coach Leigh Carignan.
Taren Long scored both Incirlik goals.
Heidelberg 9, Bamberg 0: At Bamberg, Josh Elder, Andrew Guelle, A.J. Limin and Jeremy Thorson each scored twice to help the Lions to their second Region III road shutout romp in as many days. Heidelberg (3-1-1 in regional play) prevailed 6-0 Friday at Schweinfurt.
Brussels 2, Menwith Hill 0: At Steerebeek, Belgium, Jamie Hunt assisted on both tallies to help the Brigands to a 2-4 overall record. Brussels is 2-4 against Region I small schools, too. Donjet Cahani and Will Cole converted Hunt's feeds.
Naples 5, Florence 0: At Naples, Nigel Alexander scored twice, and Eddie Allen rang up a goal and two assists to lift the Wildcats.
Neither team is alive in the Region IV race, which was being settled Saturday at the American Overseas School of Rome. No report on that game between 4-1 league-leaders AOSR and Marymount International School of Rome was available at press time on Saturday.
Schweinfurt 2, Ansbach 1: Saturday at Ansbach, John Carmona scored one goal and assisted on the Razorbacks' second tally. Both feats came prior to intermission and helped Schweinfurt improve to 2-5 overall and 2-4 in Region III. Ansbach, which got its goal from Dorian Jones, is 1-5, 1-4.
CorrectionKaiserslautern goalkeeper Cody Tremaine was misidentified in a picture caption in an earlier version of this article.
---
---
---
---