Hite curls in corner as Aviano survives
by
Kent Harris
April 1, 2007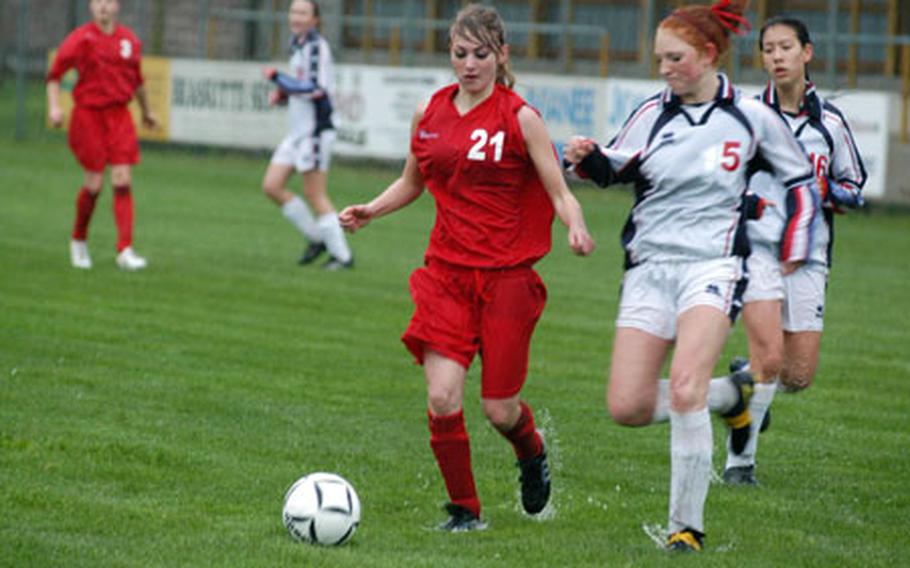 AVIANO, Italy — The American Overseas School of Rome girls spent a long time on a bus in order to play soccer Saturday. And a little rain — OK, a lot of rain — wasn't about to stop them.
"After nine hours, we were going to play," AOSR coach Mike Fauteux said.
However, Aviano also was ready, and the Lady Saints took advantage of some breaks on the wet field to beat AOSR 2-1.
Aviano (3-0) got the decisive goal in the second half when Tiffany Hite's low corner kick sailed past several members of each team without anyone touching it as it curled into the net.
AOSR had evened the game a few minutes earlier when Sydney Cowan took a short pass from a free kick and slammed the ball against the cross bar and it bounced down into the net.
It was the only ball that eluded Aviano goalkeeper Lindsey Jackson all day.
"There was nothing she could do about it," Aviano coach Hans Hillestad said. "She was probably the difference in the game, because she had several nice saves."
With a slippery ball and slippery field, there weren't a lot of extended attacks by either team. Aviano took a 1-0 lead into halftime on freshman Ariel Jones' shot off a rebound. AOSR keeper Courtney Morris couldn't hang onto the ball after stopping an initial shot.
Aviano dodged several attempts by AOSR (1-1) to tie when a pair of shots near the goal just missed, and an errant kick by an Aviano defender sailed just wide of the net to avoid an own goal.
"I like these close games," Hillestad said. "I'd rather be in one of these, win or lose, than win 5-0."