His leg fully healed, Atchley wants title for Kinnick
by
Dave Ornauer
September 28, 2006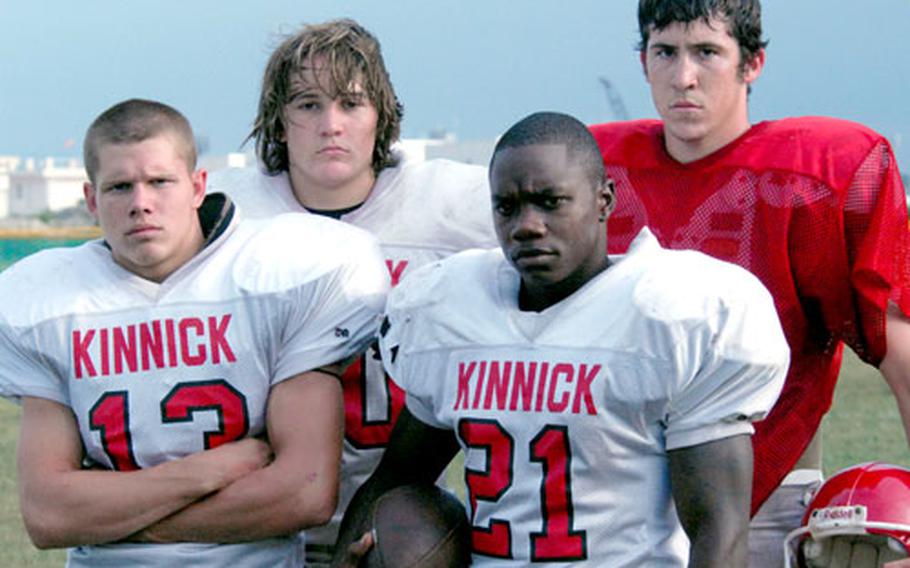 YOKOSUKA NAVAL BASE, Japan — "Beware the ides of March," from Shakespeare's "Julius Caesar," still drapes March 15 in portents of ill tidings.
Senior Clay Atchley won't need a four-centuries-old drama to remember that. March 15, 2006, was his first — and last — baseball game for the Red Devils in that season.
Atchley, a transfer from Texas, had gone six strong innings in what eventually would be Nile C.Kinnick's 13-6 loss to the American School In Japan Mustangs.
At the plate, he'd homered and driven in two runs in three at-bats before coming to bat in the seventh inning. He singled, then tried to advance to third base on a hit, running hard and sliding into the bag, which went flying.
But its magnetic base held firm and one of Atchley's cleats caught onto it — and wrought utter devastation to his right leg. Broken tibia. Dislocated ankle. Strained ligaments. Atchley recalled laying there in pain and thinking, "'No more baseball, no more football for me.'"
It was a double loss. His father Rick and mother Faye had taken jobs in Yokosuka just a few months earlier. Clay no longer had the familiarity of Texarkana, Texas, where he and his brother Chad had lived most of their lives. Now, sports — another constant — also was out of reach.
"It was discouraging," Atchley said.
Surgery followed immediately, with screws placed into his leg to hold the bones together. He spent six weeks in a cast, more than four months in rigorous rehabilitation. Today, he's fully healed. And he and his brother, a sophomore, have formed a receiving tandem that adds a dimension to a Red Devils football offense long known for its running prowess.
The Atchleys have 11 receptions for 226 yards, plus three interceptions for 64 return yards on defense.
"They've provided a push for our passing game," said coach Gary Wilson. "Everything within catching range, they've caught. … They have a sense of when they're open, turning back and looking. They run well after the catch. … And they're both great blockers, which helps our running game."
That the Atchleys cut their football teeth in Texas adds yet another element, said outgoing Kinnick coach Matt Martinez. He said Chad "brings experience that most of our guys don't have" and Clay "brings a stateside varsity mentality at quarterback, free safety, receiver and corner which is sometimes hard for our kids to grasp. They were a great addition to the squad."
The tandem might not have developed had Clay not been so determined to overcome his ankle injury. "I knew my team needed me and I love the game," he said. "So, I did everything I could to get back out there as quickly as possible."
Atchley was one of few experienced players on a Kinnick baseball squad with a new coach, Kyle Siftar, and 14 freshmen on the 18-player roster. He was determined to try to get back on the field before the season ended.
It didn't happen; Atchley's doctor did not give him a release until the summer.
He ran and lifted weights over the summer to stay in shape, then showed on Aug. 9 for the first of Kinnick's two-a-day workouts, determined to win a spot in the lineup and show he could be a valuable contributor.
"I had to prove myself at first," Atchley said. "But everybody here has been great."
Kinnick's only loss was to Yokota, 21-12, on the Sept. 1 season opener. Atchley said he believes the Red Devils can turn things around in the Oct. 13 rematch.
"I'm ready," he said. "Our team is ready. We have a lot of confidence. We just have to keep it up and try to beat Yokota."