Hindie comes back to lead Kinnick soccer squad to new heights
by
Dave Ornauer
May 15, 2003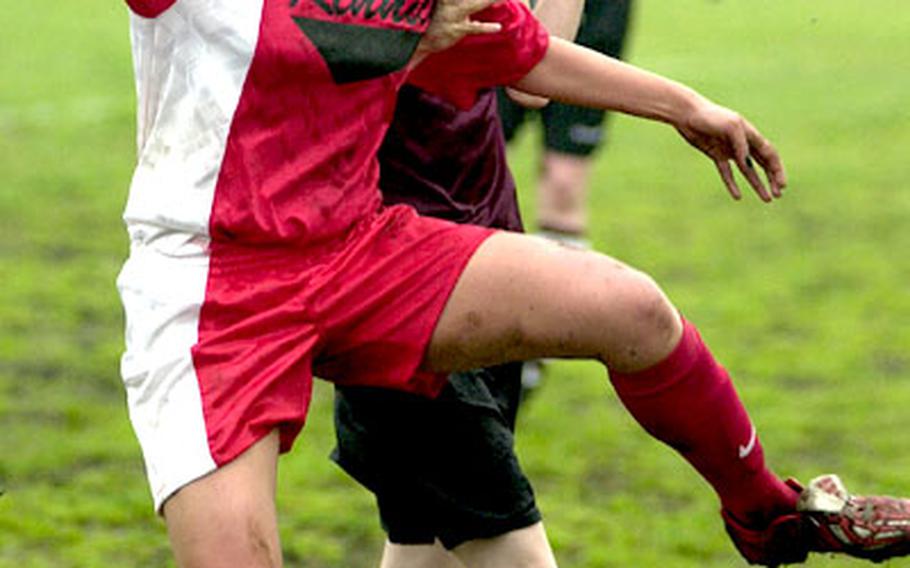 Nico Hindie's return to Nile C. Kinnick couldn't have had a better script.
Back on familiar turf, he guided the school's girls soccer team into uncharted territory this spring — and brought down an institution.
"The mighty ASIJ has fallen," said a smiling Hindie, whose team defeated the American School In Japan 2-0 Saturday at Mustang Valley to lock up its first Japan Soccer League regular-season title.
The victory completed a dream season for the Lady Red Devils (15-2-2 overall, 11-1-1 in JSL), who had 11 shutouts and became the first team to finish ahead of ASIJ, which failed to earn at least a share of the league title for the first time since forming a girls soccer program in 1989.
"We've been really lucky," said Hindie, 31, a fifth-grade teacher at Yokosuka Naval Base's Sullivans Elementary School in his first season with the Lady Devils.
"We have 17 players who love to play as a team. They feed off each other. Nobody really stands out. They wanted to win the league, gave it a lot of effort and it paid off."
A year ago, Hindie stood on the other side of the globe, a second-grade teacher at Rota Naval Station in Spain, minus a coaching gig. He'd spent the previous three years teaching at Kinnick Middle School and coaching tennis and boys soccer at Kinnick High.
But Hindie was lured back to Spain, where his mother, Carmen, was diagnosed with colon cancer. Rota was his childhood home, and the place his father, Peter, had been a DODDS teacher since 1972.
"I left [Kinnick] with mixed emotions," he said. "I'd been coaching tennis and soccer, but family comes first. Besides, that was home for me."
But while Hindie spent most of his days teaching at Rota, his mother was either living at the family's home on Mallorca or getting cancer treatment in the United States.
"It turns out I saw her about as much as I did when I was in Japan," Hindie said.
He also missed coaching — so much, he said, that his mother "gave me her blessing to go back. She wanted me to go back."
An opening at Sullivans surfaced, and Hindie jumped at it. "Yokosuka schools have such a high turnover rate," he said. "I put in for Yokosuka only. It was the only place I wanted to come back to coach."
In his absence, the boys soccer and tennis vacancies were filled. An opportunity existed with the Kinnick girls soccer team.
"I was a little scared," Hindie said. "Coaching, strategy, techniques used in practice, the mentality and psychology is different from boys. Then you have girls who have to get accustomed to a new coach, new style, new strategies.
"But it's been a perfect match so far."
After a 3-1 loss to ASIJ early in the season, Kinnick went unbeaten in its next 15 matches, from March 21 to May 1, the fourth day of the Class AA Far East Tournament, where the Lady Red Devils placed third — their highest finish in four years.
Junior strikers Alexis Zukowski (18 goals, nine assists) and Robyn Hopp (14 goals, four assists), along with senior sweeper Masami Araki and goalkeeper Shawna Melin, have spearheaded the team's drive.
Zukowski, who played for Kinnick prior to Hindie's return, says his style has benefited the team.
"Coach Hindie knows how to work with players much more," Zukowski said. "He actually took the time to work with us individually and develop us, as opposed to the other coaches, who were more focused on us as a team. I like this better."
"He's made a big difference for us," added freshman Lisa Murray. "If it weren't for Coach, I don't know how far we would have gone."
Bringing down ASIJ was certainly a highlight.
"It feels good, to take it away from a team that's been up there," Zukowski said. "We've been fighting. They're our biggest rivals, and we've never been able to beat them for a number of years, especially on their field."
They've also had to maintain their focus after the Class AA tournament. For the first time, the JSL season stretched two weeks beyond the Far East final.
The Kinnick girls team seemed unfazed by the extension.
"We haven't let up," Hindie said.
With just the DODDS-Japan tournament remaining Saturday at Atsugi Naval Air Facility, Hindie says the Lady Devils remain hungry.
"They've stayed focused, they're eager and they want to learn. That you can't coach," he said.