High school roundup: Kadena beats Shonan for title in 'Beast' tourney
---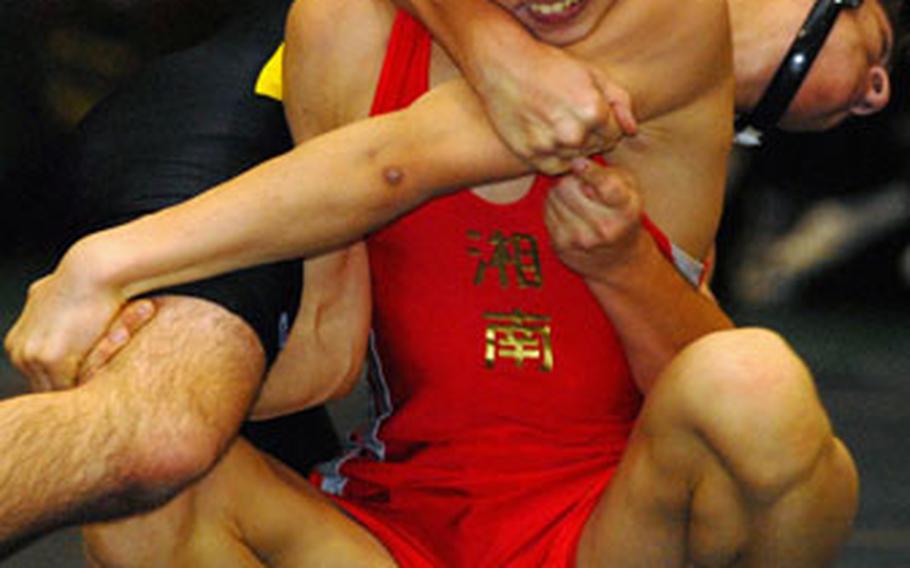 The teams that traveled the farthest won the biggest hardware and made the most history during Saturday's revival of the Nile C. Kinnick Invitational "Beast of the Far East" wrestling tournament.
Kadena, which placed second to Shonan Military High School in the last "Beast" tournament two years ago, avenged that defeat 35-27 in the dual-meet championship final. The Panthers traveled nearly 1,000 miles from Okinawa to Yokosuka Naval Base for the event.
"Given the (three-week) Christmas break, being that dedicated and the effort that the sport involves, it's awesome. The championship. It feels great," Kadena coach Steve Schrock said.
Robert D. Edgren traveled 360 miles from Misawa Air Base to finish a school-best third in the even. The Eagles also took dual-meet victories over Tokyo powers American School in Japan and St. Mary's International for the first time.
"It hasn't sunk in yet," Eagles coach Justin Edmonds said. "I'm so proud of them. I haven't had time to think about it. I knew we would do well, but I didn't think it would be this outstanding."
The "Beast" tournament took a one-year hiatus last January due to scheduling and facility conflicts. Its return featured 10 teams, down from 14 the last year the tournament was held, and featuring a dual-meet format for the first time since 2002.
Every wrestler got at least three bouts, with competitors from host Nile C. Kinnick and Zama American each getting five, Kinnick athletic director Nico Hindie said.
"And it's not stretching out," Hindie said of a tournament that featured 209 bouts, beginning at 10 a.m. and ending at 5:30 p.m. — three hours earlier than the 2006 tournament. "We got done on time, and there was plenty of time to rest."
Kadena won all three of its dual meets, capped by the eight-point triumph over Shonan in the title meet.
The Panthers fell behind Shonan 13-6, but Kadena's strong middle of the order, led by defending Far East champions Chris Hoshaw and Jacob Bloom, seized the day and gave Kadena a lead it would never lose.
Hoshaw, 135-pounder Dylan Bruton, 158-pounder Bloom and 168-pounder Josh Carpenter pinned their opponents, with Carpenter's victory putting it out of reach of Shonan 30-17.
"We got big wins when we needed them," Schrock said.
Edgren, which placed fifth in last year's Far East tournament, stunned six-time Far East team champion St. Mary's 46-18 in the quarterfinals before Kadena edged the Eagles 36-25 in the semifinals.
That semifinal worried Schrock the most. "We knew we would have to come out with our 'A' game against Edgren," Schrock said. "Our boys rose to the challenge."
Led by Darrel Morris, twins Kevin and Kenneth Radford and Andrew Blankenship at the middle weights, Edgren rallied to down ASIJ 39-20 in the third-place meet.
"They're competitive kids. They come out to compete," Edmonds said. "I love them. They get better and better with every dual and every bout."
Falcons forward Fails perfect from fieldCoach Steve Boyd says he's had some good shooters in his six seasons at the helm of the Seoul American Falcons boys basketball team. But Raidion Fails surprised even Boyd on Saturday.
The junior forward scored 26 points on 13-for-13 shooting from the floor, and the Falcons used a 14-2 run in the third quarter to pull away from Dai Sung, a Korean high school team, 117-78 at Falcon Gym.
"I don't know if I've had a player shoot that many times and not miss," said Boyd, who coached Edgren for eight seasons before moving to Seoul American in 2000.
Cobras strike with buzzer beaters on back-to-back daysOne couldn't blame Kinnick basketball followers for being glad to see E.J. King's Cobras hit the bullet train back for Sasebo Naval Base on Saturday.
Three-time All-Far East Class A senior guard Kristia Suriben became the latest Cobra to break the Red Devils' hearts on successive days. Her buzzer-beating three-pointer lifted E.J. King past Kinnick 41-39 on Saturday at Fleet Gym.
That came barely 15 hours after E.J. King senior Keith Williams' buzzer-beating bank shot boosted the Cobras past the Red Devils 59-57 in a boys contest, also at Fleet Gym.
---
---
---
---