High School Roundup: Eight records fall in Petty track and field meet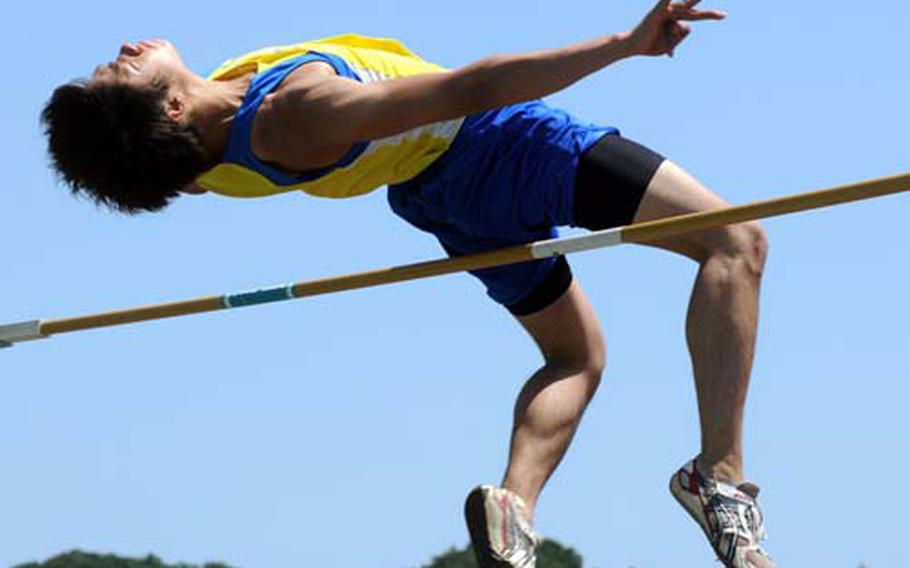 Call it Extreme Makeover: Pacific high school track and field record book edition.
Eight meet records were shattered, including a Pacific Rim record, and one was tied as the 8th Alva W. "Mike" Petty Memorial Track and Field Meet concluded Saturday, with Kadena boys and Kubasaki girls capturing their respective seventh and sixth straight team titles.
Leading the record-book demolition were Seoul American's Siarria Ingram and Amanda Henderson. Ingram, the freshman Far East cross-country champion, beat the meet's six-year-old mile record by 15 seconds with a 5:24.28; Henderson, a sophomore, trailed by .19 seconds.
"They're both great athletes, and that's just kind of the start of the season," said Falcons assistant coach Kevin Madden, adding that since the school has no track, the Falcons train on a driving range and a 234-meter walking track. "Come Far East, you'll see a 5:10 or faster."
Ingram's time also topped the 12-year-old Pacific mark of 5:28.5 set by Jennifer Stolle of American School In Japan.
The other mile record tumbled as well; Kadena's Jacob Bishop's 4:37.34 beat by .16 seconds his old Zama teammate Andrew Quallio's record set two years ago.
"Wow. I didn't realize that," Bishop said, adding that with the race run in two heats, he could have gone faster if paired up with Seoul American's Thomas Kim, the Far East cross-country champion who ran in the other heat. "Far East should be fun."
"This is midseason, so we still have a lot of ground to gain. It's exciting to see him develop like this," Kadena coach Sergio Mendoza said of Bishop.
Kadena also brought down both boys and girls 400 relay and the girls 1,600 relay marks, each besting an old record by a previous Kadena team. Kadena's boys ran a 45.13 in the 400, while the girls went 52.38 in the 400 and 4:24.14 in the 1,600.
Mendoza said the boys could have done better. "We had a horrible (baton) exchange … I think we could have hit a 44. Maybe it's in the books for next week."
Seoul American, whose boys finished third and girls fifth in the team standings, wasn't satisfied with just the girls mile mark.
The Falcons broke both the boys and girls 800 records. Kim ran a 2:02.07, edging the old mark by .83 seconds. "All the hard work is paying off," Kim said.
Seoul Foreign's Janelle Jorgenson, a former teammate of the Falcons' runners with the now-defunct Seoul Track Club, clocked a 2:22.32, six seconds faster than Ingram's 2009 mark.
Notching the unofficial title of the Pacific's fastest female was Seoul's Kristy Taylor. She repeated her 100-meter dash gold medal, this time in record fashion in 12.76; the old meet mark was 12.8 set six years ago.
"We're going to see some good times. She's going to challenge some Pacific times," Madden said.
Just missing a shot at beating the meet's six-year-old high jump mark was Shorai Ashida of Christian Academy Japan. He knotted the record of 1.96 meters (6 feet, 5 inches) set in 2004, but just missed beating that — and the Pacific-record 1.97 — on three attempts at 1.98.
"He's got a lot of power in his legs from some off-season training," Ashida's coach Craig Eby said. "He's definitely capable of 2 meters."
Kubasaki wins Spring Fling baseball tourney
Patrick "Duck" Duffy scattered five hits and four walks over six innings and helped himself by going 3-for-4 with a homer and three RBIs as Kubasaki beat St. Mary's International 10-4 on Saturday to wrap up its first Spring Fling Baseball Tournament title.
The Dragons went 4-0 in the tournament, now in its fourth year and featuring five teams for the first time. American School In Japan thrashed Kadena 17-0 in five innings and Seoul American 19-6 to take second place at 2-1.
Crusaders net eighth straight KAIAC regular-season title
Andrew Park got his 12th and 13th goals and Trevor Smith recorded two assists as Seoul Foreign shut out Taejon Christian International 3-0 on Saturday, clinching its eighth straight Korean-American Interscholastic Activities Conference regular-season title.