High school players get ready for upcoming season
by
Matt Millham
August 16, 2007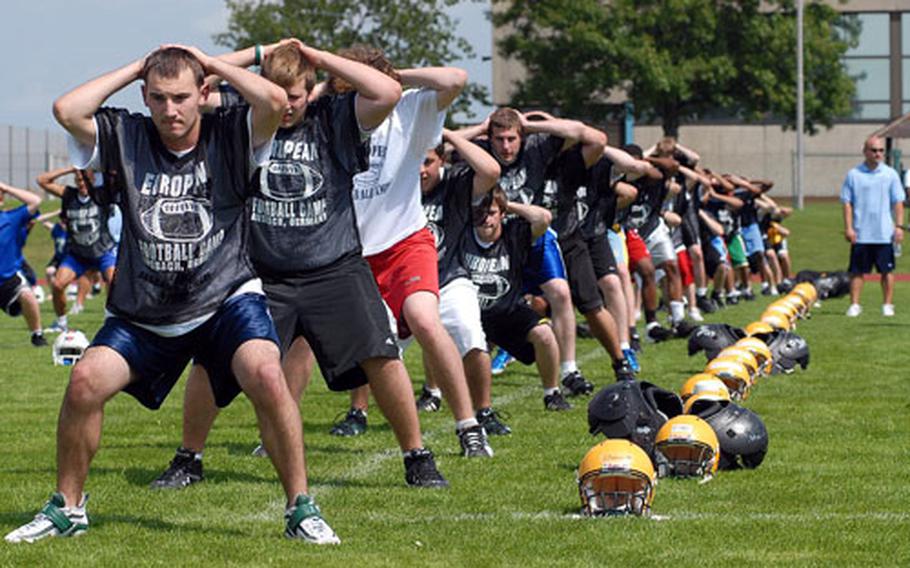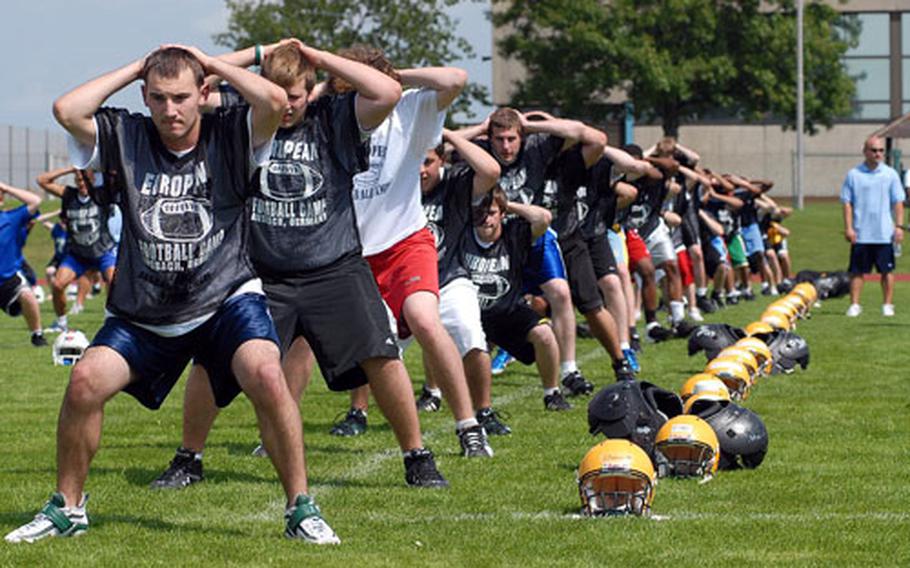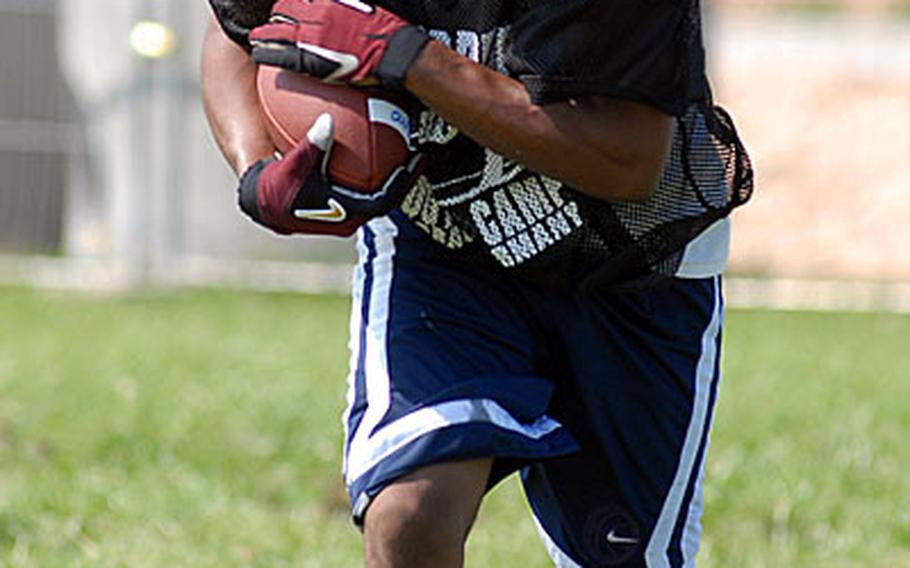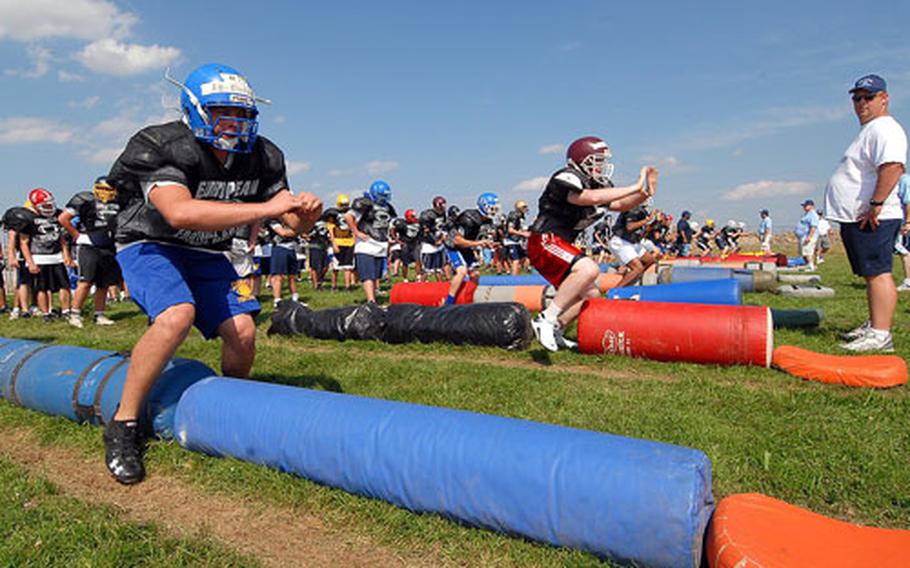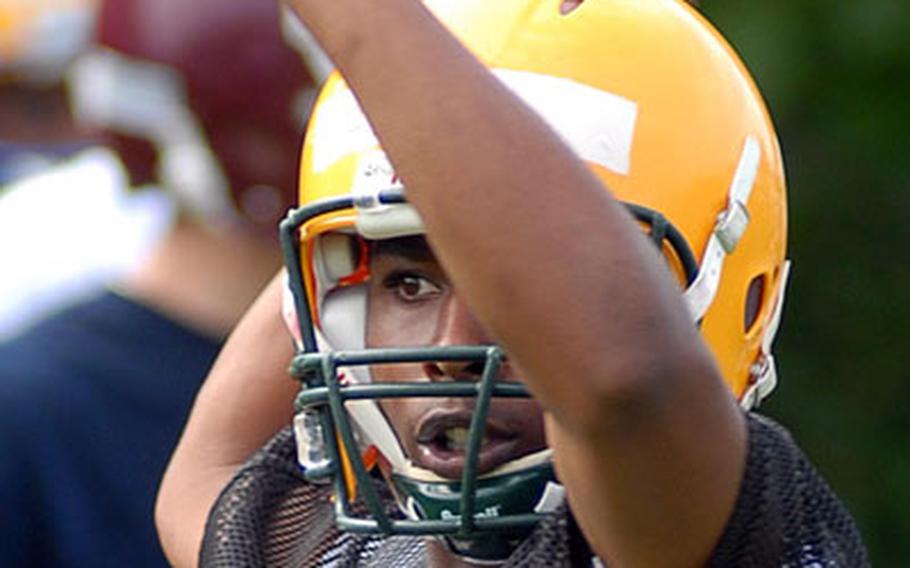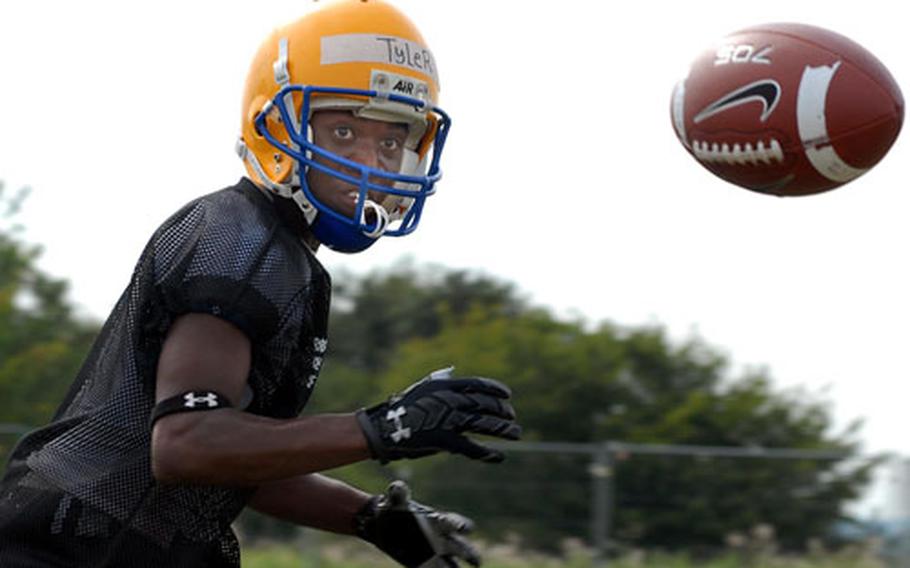 KATTERBACH, Germany — If players were sandbagging during Wednesday's double sessions, their faces didn't show it.
After more than 45 minutes of grueling calisthenics and laps around the track in the August heat, there wasn't a forehead among nearly 500 players that wasn't beaded with sweat. And that was just the warm-up to the afternoon session.
And so it will go for two more days at this summer camp, where kumbayas have been replaced by the high-decibel demands of red-faced football coaches.
The European Football Camp, a yearly fixture in the lead-up to the Department of Defense Dependents Schools-Europe football season, is almost as much boot camp as it is football camp.
One player panting at the end of a line waiting to take part in a drill even talked as if he were waiting to see an Army recruiter.
"I just want to be all I can be," said Ronald Jeremiah Simms, a 15-year-old freshman running back from Wiesbaden.
Like basic training, players come here to learn the basics, not to become seasoned pros.
"We don't teach any offense, we don't teach any defense. We teach fundamentals," said Ansbach head coach Marcus George, the camp's organizer.
The camp isn't mandatory for players who want to get on their high school teams, but it gives players a huge leg up when practice begins.
Some players here aspire to a spot on their high school roster, while others already firmly on the starting squad are here to scope out the competition and compete — perhaps for the only time all season — against the best players in Europe.
"It's really interesting to see what all the military has, and it's cool to get everybody together," said Matt Burns, an 18-year-old Ramstein senior receiver.
But, he admits, that's not the only reason players come to camp. A big part of it is just to see what talent other teams have.
"We scope out everything, especially during the seven-on-seven," Burns said, referring to a scrimmage event that will take place Friday. "Heidelberg, they've got some good [defensive backs] I've got to watch."
Burns was among the best receivers at last year's camp, said Vilseck head coach Bill Ratcliff, who watched Burns run drills in the morning session. "He's just gotten better."
As much attention coaches pay to the competition, they're on the lookout for talent on their own teams as well.
The camp is about the only opportunity some coaches have to test new players' skills in various positions, SHAPE head coach Kregg Kappenman said.
Short a starting quarterback, Kappenman was testing out two prospects, who were paired for drills. Both were aware of the competition between them, but it didn't get in the way of helping each other out.
Alton Steele, an 18-year-old SHAPE senior, said he'd prefer to stay at running back, but he'll step in as quarterback if that's where his coach wants him and if it will help the team win.
His partner, 15-year-old sophomore David Conerly, wants the job, and he doesn't mind being under the microscope before the season has even started.
"I like to think of it as a competition," Conerly said. "It makes me work harder."