High school notebook: Sophomore helps keep Kubasaki relays strong
---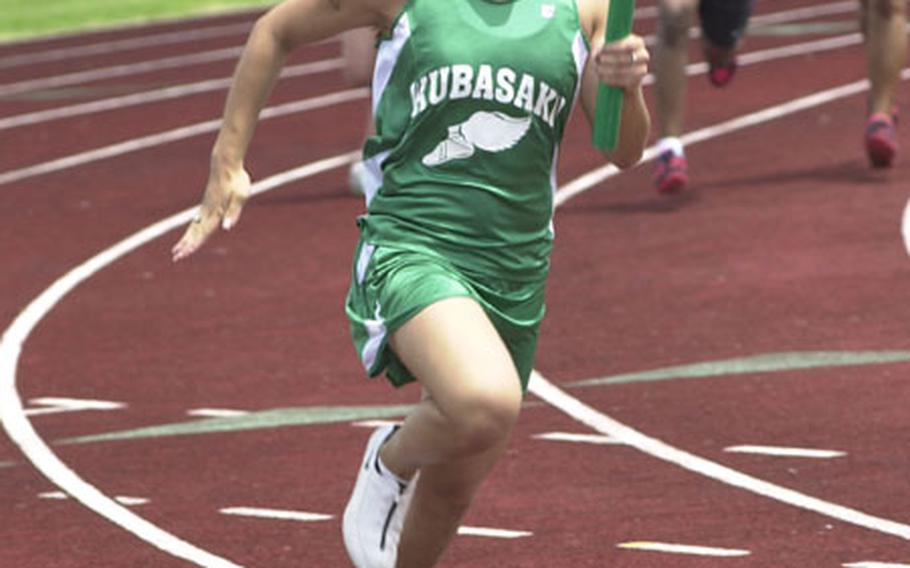 CAMP FOSTER, Okinawa — Kubasaki track and field coach Charles Burns watched, transfixed, as the slender, long-legged figure on the backstretch passed opposing runners as if they were standing still.
"She can go. That girl is something," Burns said, marveling at his sprinting discovery, sophomore Serafina Smith.
The converted long-distance runner twice turned seeming defeat into victory Saturday, boosting Kubasaki into first place with strong second legs in the 400- and 800-meter relays in the Alva W. "Mike" Petty Memorial Meet at Kubasaki's Mike Petty Stadium.
Only a silver medal in the 1,600 relay — Kubasaki's first defeat in a relay event in seven seasons — prevented a Dragons sweep of all six relays in the Pacific-wide meet. But Smith had given Kubasaki a brief lead on the second leg of that event, further justifying Burns' faith in her.
"We discovered her three weeks ago," when Smith, who began with Kubasaki as a miler and 2-miler, asked if she could run the 400, Burns said.
"Nobody in their right mind asks if they can run the 400," he said. "But she's impressed me ever since."
In Friday's preliminaries, she broke the school record with a run of 1 minute, 2.99 seconds, then finished second to Lindsay Rutter of the American School In Japan in Saturday's final.
Smith also took bronze in the 200, silver in the high jump — surpassing her personal best of 4 feet, 5 inches with a leap of 4-8 — and ran the second leg of all three relay events, resulting in two golds and a silver.
"She can flat run," Burns said of Smith, projected to graduate at Kubasaki in 2005.
"She's going to be something to look forward to next year. Build a whole team around her. She still has that little-child attitude; she loves to run. And when you have legs that come out of your shoulders, that helps."
Her teammate, senior Lorianne Roxas, who runs Kubasaki's relay anchor legs and won four gold medals Saturday, said Smith has been an "important addition" to the Dragons' relay hopes.
"We were behind (in the 400 relay) and she just went 'shoom.' Without that leg, we'd have been chugging really hard, if it wasn't for Serafina," Roxas said. "In the (800 relay), she just hauled ... and put us in first place."
It's those kind of good starts that have been a trademark of Kubasaki relay teams.
"If you get off to a bad start, the team gets discouraged," said boys lead-leg runner Jerome Crawford, who led Kubasaki to a sweep of the boys' relay events Saturday. "If you get off to a good start, the team gains confidence and you can build on that confidence."
Chemistry is also vital, anchor runner Chris Robinson said. "It's sort of like we're extensions of one another."
It all adds up to team, with no one leg being more important than another, Roxas said. "In order for me to finish well, we have to know we're going to run our best," she said.
Alas, the heat of the day (a humid 85 degrees), the pressure of running several events back-to-back — and the fleet feet of Rutter — couldn't keep Kubasaki's relay streak alive. The ASIJ girls team kept a streak of its own going, 123 straight team victories in interscholastic competition.
"They did well, considering," Burns said. "They're disappointed. I'm disappointed."
But tasting defeat, Burns said, should help Kubasaki prepare for the island finals on May 3, a meet the Dragons have won 13 of the last 14 years. "We learned a lot. Come the island championships, we'll be ready."
Softball program springs up at Misawa
MISAWA AIR BASE, Japan — The Misawa Diamonds, a softball team for high school-aged girls, made their debut over the weekend, splitting four games with Zama American.
Coached by Steve Stake, a Navy chief petty officer; Malinda Yard, a dependent spouse; and a cadre of assistants assigned to Misawa's Naval Security Group Activity, the Diamonds had only been practicing for 2 ½ weeks because of lingering snow.
"We're pretty excited about walking away with a split," said Stake, adding that the two losses were partly "due to not being conditioned well enough, as we didn't score in the fifth through seventh innings of each game. But we are so excited to finally have a team here."
Misawa's 16-2 victory over Zama on Saturday was keyed by Langley Yard, who hit a grand slam and finished the weekend 10-for-17 with nine RBIs.
Okinawa also celebrated the launch of a softball program over the weekend. Unlike their counterparts at Kadena and Kubasaki on Okinawa, who played their season openers Saturday as part of a partnership among the schools, base youth services and the local communities, the Diamonds are a club team under the banner of Misawa Air Base's 35th Services division.
That's the same route the Misawa Cougars baseball team undertook two years ago en route to becoming a full-fledged high school program this season.
"We have no softball programs at Misawa for girls of any age except for adults, and we've been trying for more than two years to get something started," Stake said.
Donations, of unspecified amounts, from the Misawa Officers Wives' Club and Enlisted Spouses' Association helped get the team off the ground, Stake said; 35th Services allows the team the use of its fields.
---
---
---
---