Boys Tennis Athlete of the Year
Higashi went unbeaten in high school play
by
Dave Ornauer
November 14, 2013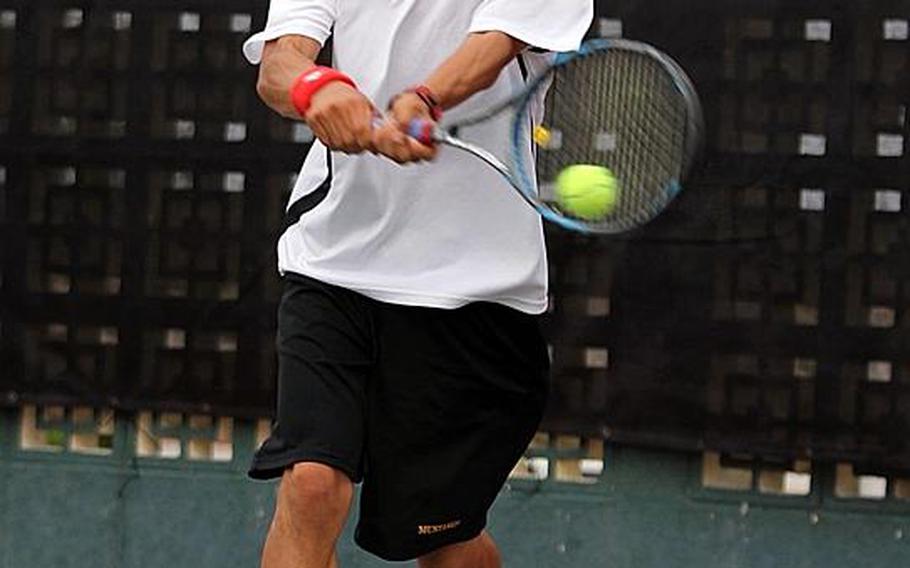 KADENA AIR BASE, Okinawa – Jen Brown had known that Yosuke Higashi, a nationally ranked junior amateur player, was attending American School In Japan all four years he was there.
The first two, he focused on studies and his club tennis outside of school but did not play for ASIJ. "I kept hoping and hoping" Higashi would eventually don Mustangs black and gold, said Brown, ASIJ's coach.
Finally, a year ago as a junior, Higashi tried out and made the Mustangs boys tennis team – and began a two-season run that ranks with the best in school and Far East history.
The senior went 16-0 each of his two seasons in black and gold, won consecutive Kanto Plain Association of Secondary Schools tournament singles titles, and earlier this month won the singles and doubles titles in the Far East tournament at Kadena's Risner Tennis Complex.
For that, Higashi has been named Stars and Stripes boys tennis Athlete of the Year.
Brown says Higashi brings "skills and a wonderful demeanor" to the court and is a "well-rounded person" beyond tennis. "He's a great teammate, he's coachable, he's willing to go above and beyond," juggling club play and studies with tennis in ASIJ uniform, Brown said.
He faced strong challenges, along the way especially from St. Mary's International's Kent Shikama. The Far East singles champion two years ago took Higashi to three sets in the Kanto tournament semifinals on a rainy Oct. 29 afternoon at Shirako Tennis Complex in Chiba Prefecture.
Higashi won 6-3, 5-7, 7-6 (0) before beating teammate Len Kamemoto 6-2, 6-2 in the final.
Two weeks later at Risner, Higashi topped Shikama in the Far East final 6-3, 6-4, then teamed with Kamemoto to capture the doubles, beating teammates Kentaro Ishihara and Luke Yamasaki 6-1, 6-2. ASIJ won the boys team and overall school banners along the way.
Through it all, Higashi hasn't changed him as a person, Brown said.
"When you play that well, it's hard to remain humble," she said. "That level of play can really make somebody change, but not Yosuke. He really kind of holds that inside and is humble about it and he emphasizes team."
He's also served as sort of a coach on the court. "He set goals for others playing tennis as well," she said. "We were lucky to have him. He should be proud of being unbeaten for two years."
Stars and Stripes Pacific All-Far East boys tennis team
Yosuke Higashi (Kanto Plain, Far East Tournament singles and doubles champion), Len Kamemoto (Far East Tournament doubles champion), Kentaro Ishihara (Far East Tournament mixed doubles champion), American School In Japan; Jeffrey Kim, Seoul Foreign (Asia-Pacific Activities Conference tournament, Korean-American Interscholastic Activities Conference regular-season and tournament champion); Brenden Neu, Kubasaki (Okinawa Activities Council singles champion); Andrew Clark, Seoul American (Far East Tournament doubles semifinalist).