Football AOY
Hicks played - and scored - everywhere for Royals
---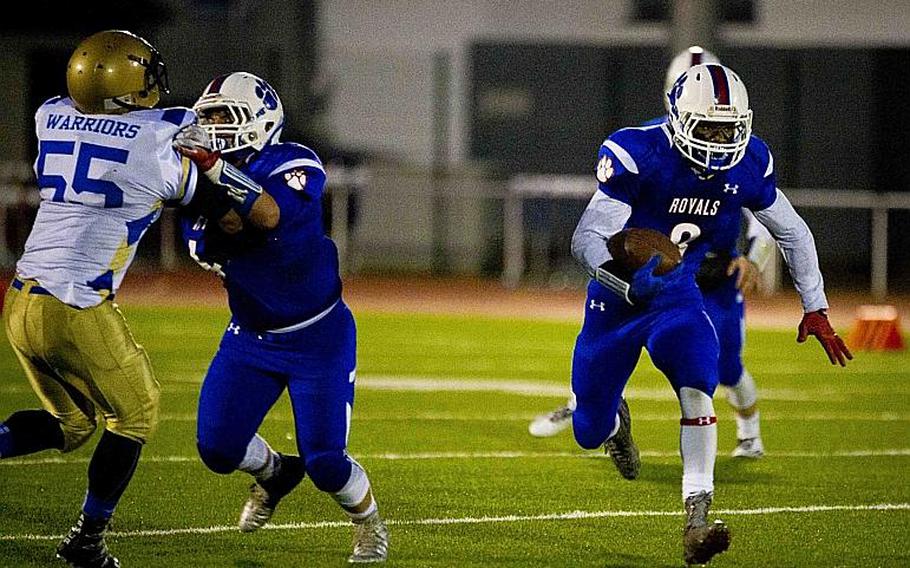 If the Ramstein Royals were to reclaim their lost Division I football championship in 2016, it was clear that returning senior Brendan Hicks would need to play a significant role. But it was unclear where exactly he could contribute the most.
The Royals did win that championship, and Hicks did play a significant role. But the question still hasn't been fully answered. Because Hicks, the 2016 Stars and Stripes football Athlete of the Year, contributed in nearly every way possible.
"He was an unselfish player," Ramstein coach Carter Hollenbeck said. "He did it all."
Hicks was a ubiquitous presence for the Royals on offense, defense and special teams, and remarkably found the end zone at least twice in each of those configurations.
On offense, Hicks caught 12 passes for 172 yards and a pair of touchdowns. He also performed occasional but consequential duty in the backfield, rushing 13 times for 132 yards for an average of just more than 10 yards per carry.
On defense, Hicks made 19 tackles from his position at defensive back, but it was his knack for game-changing turnovers that really stood out. Hicks made three interceptions, returning two of them for touchdowns, and returned a fumble recovery 98 yards for another defensive score.
On special teams, Hicks served as a primary kick returner and made a similar impact. He averaged 16 yards on punt returns, including two touchdowns, and 20 yards on kickoff returns, including one score.
As impressive as those statistics are, they're incidental to what Hicks was really focused on accomplishing this fall.
Hicks was a member of both the 2014 Ramstein championship squad and the 2015 Royals team that suffered a stunning home-field semifinal loss to Stuttgart. He, along with several longtime teammates, was determined to restore Ramstein to the DODEA-Europe throne before moving on.
"The plan was to three-peat until we graduated, but we didn't get that chance," Hicks said. "Just had to make the best of what we had."
In the end, Hicks didn't particularly care what form his production took, as long as it produced that championship.
"I'm just there for the team," Hicks said. "I just do what I can do."
As it turned out, Hicks could do an awful lot.
Twitter: @broomestripes
---
---
---
---