Hicks gets breather at Heidelberg
by
Rusty Bryan
December 18, 2008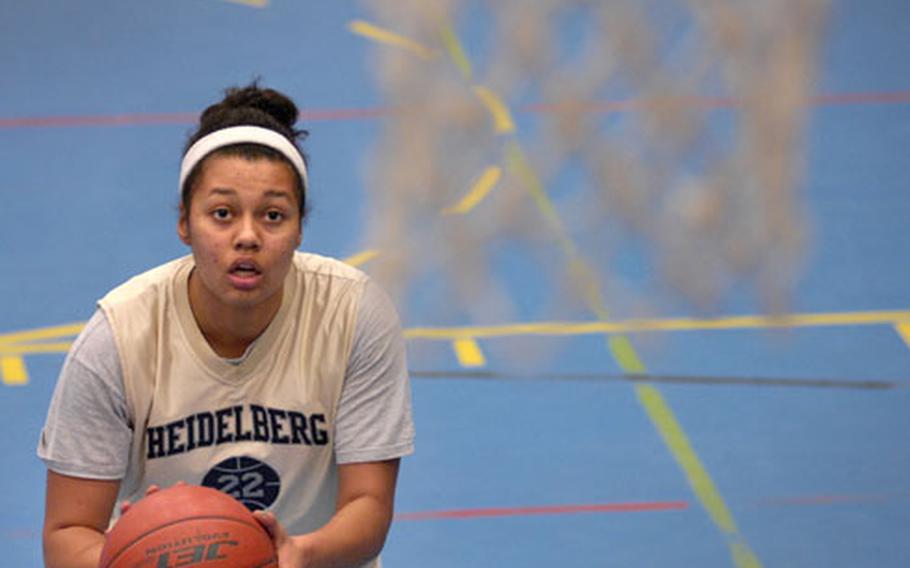 HEIDELBERG, Germany — As she began her senior basketball season at her third DODDS-Europe school in four years, Ashley Hicks finally found what she'd been looking for.
A chance to sit down.
"The only difference in Heidelberg," said Hicks, who transferred from Vilseck over the summer, "is that I get to sit on the bench a bit. In Vilseck, I played all four quarters. I was the person to go to. When we had a tough game, the coach would say, 'Ashley, you've got to have a good game today.' If I didn't do good, the team didn't do good."
At Heidelberg, on the other hand, a good performance from Hicks, if not exactly irrelevant, is not indispensable, either.
"Here, we have an even, balanced team," she said. "If someone's having a bad day, there are other players who can pick her up."
Not that Hicks has many bad days. An All-Europe forward as a Vilseck sophomore in 2006-07, Hicks averaged 15 points and 11 rebounds per game for the European Division II runners-up that year. She was slowed by a knee injury last season, but this year is averaging 10.3 points after four games, including two of those take-it-easy outings against outmanned Black Forest Academy.
Hicks can still fill the basket — she scored 14 in an overtime loss at Ramstein — but sees herself more as a facilitator than a scorer with Heidelberg. "If we're going to have a good game," she said, "I've got to help us make sure the whole team gets involved."
That's exactly the way Heidelberg coach Jon Mittenzwey sees Hicks' role. He says the 5-foot-11 "utility" player can break the press or post up, whatever's required.
"The important thing about Ashley," he said, "is that she fits as part of a bigger picture. If we win a championship, it'll be because she helped make others better."
Talk of championships might seem premature in December, but with Hicks around it's hard to think in less lofty terms. The senior played big games aplenty at Würzburg and Vilseck, and imparts the lessons gained from games such as a 2007 triple-overtime title-game loss to Naples to her young Lady Lion teammates.
"She brings experience we didn't have to the team," Mittenzwey said. "Our young players now can go to someone who knows to find out how it's done."
Hicks already has made her championship mark at Heidelberg. Named to the All-Europe volleyball team for the third time earlier this month, Hicks helped the Lady Lions dethrone three-time champion Ramstein with 14 kills and eight blocks in the final.
Heidelberg coach Mike Rubino was more impressed with Hicks' team-first attitude. "She has often requested to sit on the bench," Rubino wrote in nominating Hicks for All-Europe, "to allow her teammates a chance to play."
Even though she owns three All-Europe volleyball plaques and just one, so far, for basketball, Hicks sees her future in hoops.
"Volleyball's harder for me," she said. "Basketball comes more naturally."
Hicks said she'll probably attend West Texas A&M when her DODDS days end in June.
"When I was an eighth-grader in Copperas Cove, Texas, I practiced with the varsity," Hicks said. "Our coach there is now at West Texas, and he kept in touch. I went to their camp last summer."
Hicks admitted she might have become a better player had she stayed in Texas.
"In the States, they practice in the morning before school, during school and after school," she said. "They play three times as many games as we do with their AAU teams."
Even so, she harbors no regrets.
"My freshman and sophomore years, I wanted to go back to Texas," she said. "Now, I like that I got to play over here. When I go to summer camps, all the other girls say, 'You're so lucky you got to live over there and travel to all those places.'
"I am."