Heidelberg women triumph despite dropping opener
---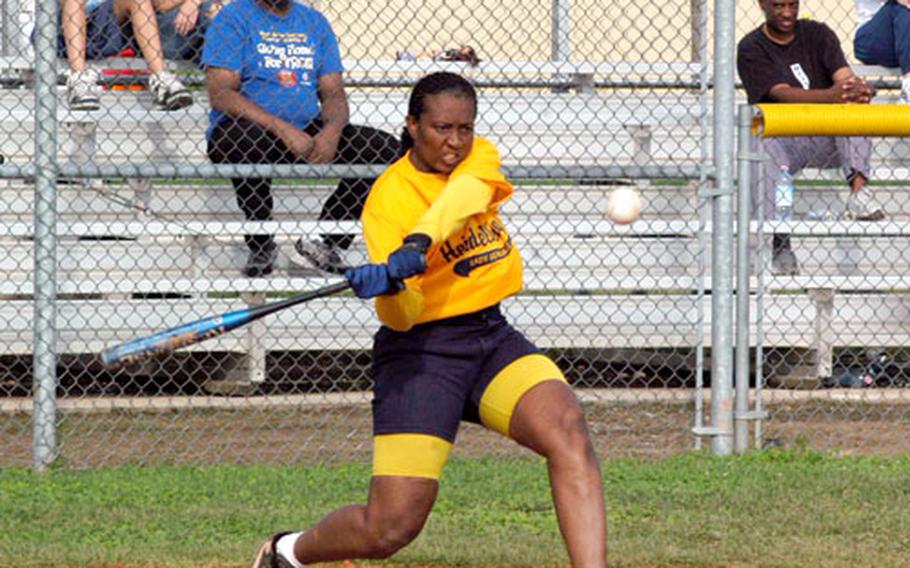 AVIANO, Italy – The Heidelberg women's softball team got off to a rough start in the Army-Air Force Final Four, losing the opening contest.
Turns out, it was all downhill from there. The Lions won their final four games of the tournament — including a double-header sweep Saturday of Aviano — to take the championship.
"We never lost our composure," said coach Darryl Leonard, whose team finished second to Ramstein a year ago on the same diamond.
In the final championship game, Heidelberg scored all the runs it needed in the first inning and went on to a 10-2 victory. That came after a 5-0 victory to force the final game.
The Lions sprayed the ball all over the field on offense and the Dragons occasionally did the same on defense, helping them out.
"They made some unfortunate plays and we were able to capitalize," Leonard said.
That included three errors in the first inning of the final game as Heidelberg built a 3-0 lead. An RBI single by Marcella Johnson and Dee Broussard's sacrifice fly made it 5-0 in the third.
The Dragons scored in the fourth on Dana Briggs' RBI single and added another run in the fifth with the help of two Heidelberg errors. But by then, Heidelberg had scored five more times, benefiting from three more Aviano errors and run-scoring singles from Eden Coelho, tournament Most Valuable Player Jessica Turner and Cecy Alas.
Aviano had four players thrown out on the bases. Broussard twice gunned down baserunners at home from center field and almost nailed another one at third.
"She's got a cannon," Aviano coach Paige Hendrickson said. "We tried to see if they would make mistakes, but they executed."
Turner had three hits for Heidelberg, with Tiffany Collins, Johnson and Toni Crane each adding two. Michelle Segura, Valeria Gilbert and Kristi Lanham each had two hits for Aviano.
---
---
---
---