Heidelberg wins third straight Div. I soccer title
by
Charlie Coon
May 25, 2003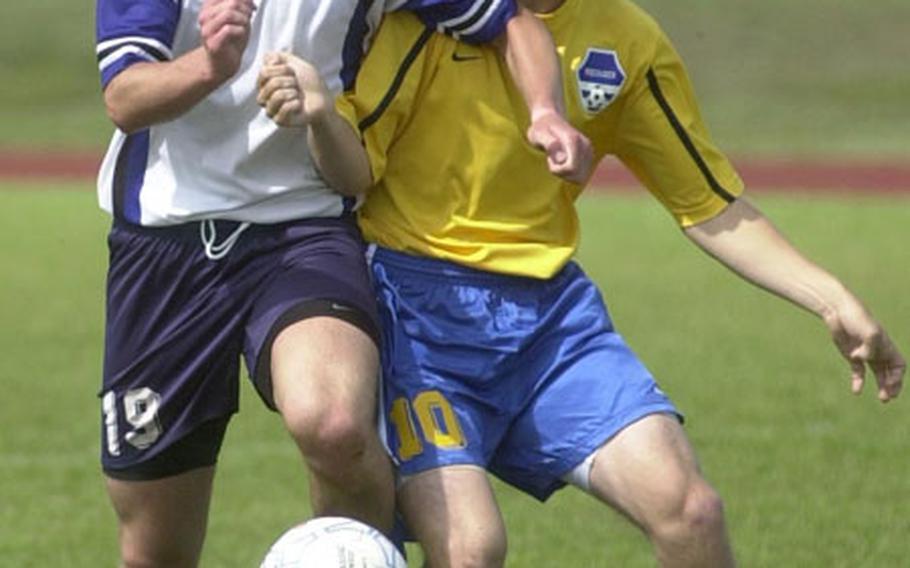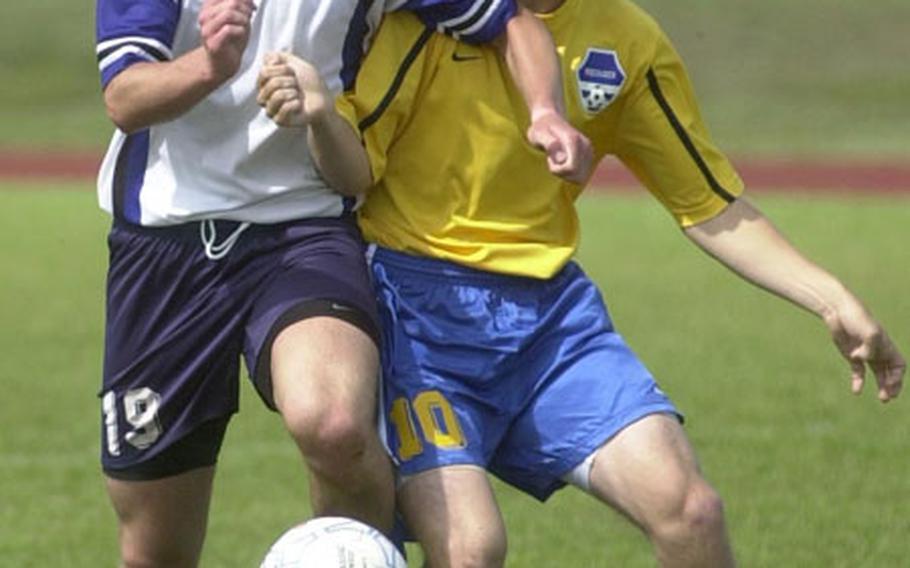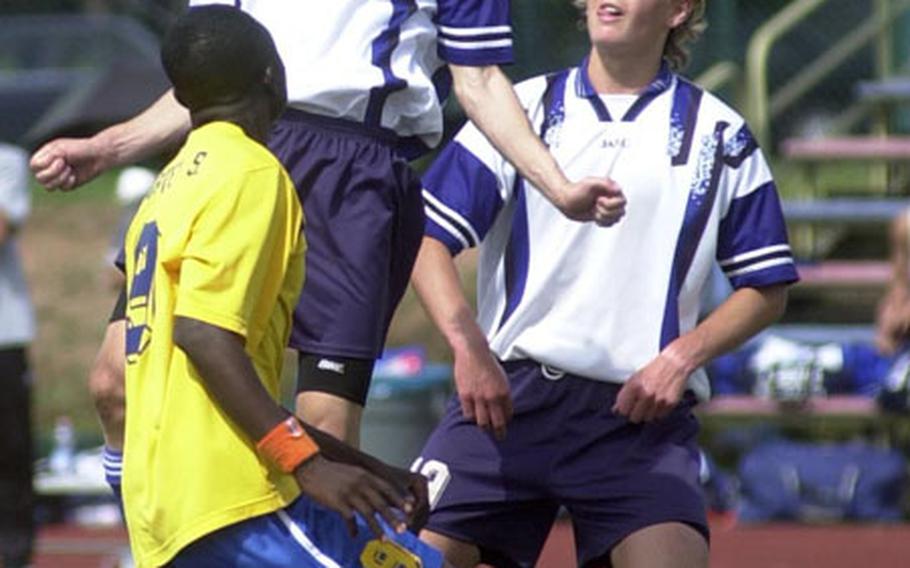 RAMSTEIN, Germany — Megan Brousseau scored on a header late in overtime Saturday to lift Heidelberg over Ramstein 2-1 in the Division I girls soccer championship game.
Rousseau took a left-footed flick-pass from Grace Nichols and pounded a strong header into the back of the net.
"It was amazing, it was perfect," Brousseau said. "It was all the way there."
The goal gave Heidelberg (10-0) its third straight championship.
Ramstein forced overtime with a crazy goal late in regulation by Stephanie Sullivan, who received the ball 35 yards from goal.
"I saw it so I shot it," Sullivan said.
It was a perfect boot, almost like a hole-in-one golf shot, arcing just under the crossbar.
Heidelberg goalie Shiena Bustamante leaped high to punch it over the top of the goal, but the ball hit the under-side of the crossbar and off Bustamante's hip before trickling over the goal line and tying the score 1-1.
Sullivan hadn't scored a goal this year, but the junior defender had a feeling it would be her day.
"My parents said they'd give me $50 if I scored this game," Sullivan said.
A minute earlier, teammate Collette Bannister almost tied it up when she blasted a low right-footed shot, but Bustamante dove flat-out to her right and stopped the ball with her outstretched arms, temporarily preserving the lead.
After Brousseau's goal made it 2-1, Heidelberg dropped back for the rest of the overtime period to defend the one-goal lead.
Ramstein's Chandra Harrison used her strong right leg to loft a couple of dangerous balls into the front of Heidelberg's goal, but the Lions' defenders pushed the ball out before Ramstein could strike.
Heidelberg's defenders Megan Bruce, Megan Briggs, and Denise Rivera joined stopper Shannan Drennan to nullify most of Ramstein's threats before they reached Bustamante
It was a different story at the other end of the field.
The Heidelberg attack hammered away at Ramstein goalie Andra Vandernack, who was credited with 16 saves but seemed busier than that.
"It was like hitting this wall again and again," Brousseau said. "It seemed like we were never going to get through."
The Lions finally broke through a minute before halftime, with Brousseau crossing the ball from the left corner to the front of the goal.
"I was just trying to get it to the penalty-kick spot so someone could get there and hit it in," Brousseau said.
Getting there was Rebeccah Drennan, who collected the ball, spun and fired from close range and a 1-0 halftime lead for Heidelberg.