Home Team
Heidelberg transfers helping teams thrive
by
Gregory Broome
October 2, 2013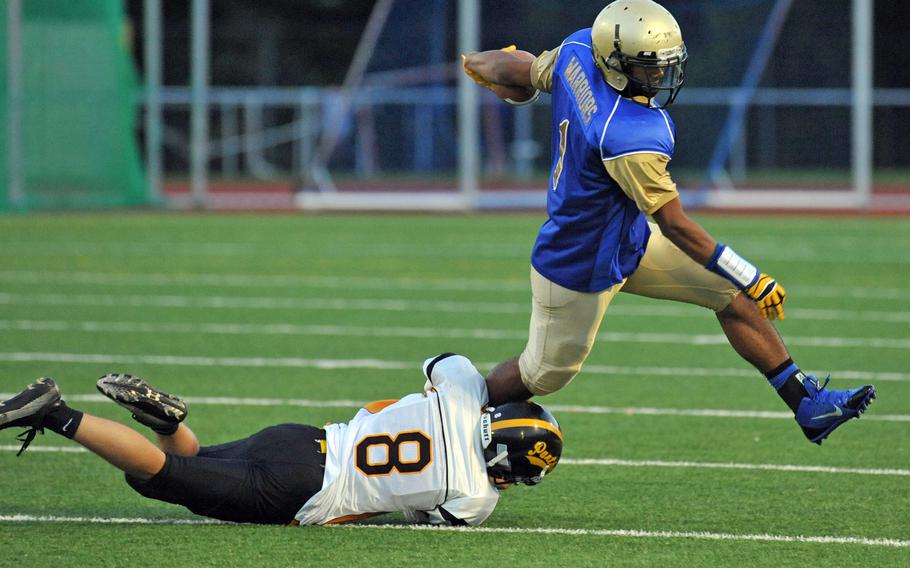 A team that went 3-3 and missed the playoffs in 2012 is making an impact on the 2013 DODDS-Europe football season.
Contenders Kaiserslautern and Wiesbaden will meet Friday night in a game with significant implications for the upcoming Division I postseason. The Raiders, winless the last two seasons, are unbeaten coming in. The 2-1 Warriors have already doubled their 2012 win total.
It's in those two statistics that the continued influence of Heidelberg High School is evident.
Heidelberg, one of DODDS-Europe's most historic and longest-tenured institutions, closed its doors at the conclusion of the 2012-13 school year. Its students were dispersed to a variety of locales as families were reassigned from the shuttered base, but the lion's share ended up at the nearby western German bases of Wiesbaden and Kaiserslautern.
This process had been set in motion years earlier, and veteran Wiesbaden football coach Steve Jewell had followed Heidelberg's slow march to obsolescence with equal parts regret and expectation. He hated to watch the DODDS-Europe ranks grow thinner with another school's closure. But as he guided the Warriors to a 1-5 season in 2012, he couldn't help but look forward to the coming windfall of talent.
By the team's first 2013 practice, that influx had arrived. Rather than merely looking forward to reinforcements, Jewell could finally begin to find homes for them in his rotation.
"We're not talking about it anymore," Jewell said. "It's a done deal."
Several former Heidelberg players have contributed to Wiesbaden's early success, including regular starters Justin Vatcher, Tim Cuthbert and Alfred Freed. Another, All-Europe running back Danny White, has since been lost to a season-ending injury.
"It's been challenging to make sure we get everyone into a role that they can excel at," Jewell said.
To accomplish that, Jewell needed the cooperation of all of his players, regardless of where they might have played in 2012.
Vatcher lived in Heidelberg for eight years, including a junior year he described as "weird, and kind of sad." He found out midway through the summer that he'd be spending his senior year as a Warrior, and was confident he'd be well-received.
"I just kind of expected to come here and play," Vatcher said.
For Cuthbert, Heidelberg was home, a placed he'd "loved since kindergarten." The school's final year was a melancholy experience for him.
"It made everything a lot more emotional," Cuthbert said. "We were like a family last year. The school was so small, everyone knew each other."
Upon arrival in Wiesbaden, Cuthbert looked to recreate that atmosphere in Wiesbaden.
"Our year's been going well," he said. "We're like a family again, like you're always supposed to be."
After a dismal 2012, incumbent Warriors Dequan Reed and Andrew Murray welcomed the help.
"I was always looking forward to new talent. It's only going to make our team better," Reed said. "They've helped our team out a lot and got us to be the Wiesbaden Warriors that we are now."
Murray, a senior captain, said the former Lions had a positive impact on the team's preseason preparations as returning players realized the roles they enjoyed in 2012 weren't guaranteed to them in 2013.
"The more competition, the more people work," Murray said.
A similar story has unfolded at Kaiserslautern. Kyle Moore, a Heidelberg wide receiver turned Raider running back, has been a key contributor as the program erases the memory of consecutive winless seasons with an undefeated start to 2013.
While Vatcher and Cuthbert denied a specific feud between Heidelberg and Wiesbaden, Kyle Moore offered a different take. The former Lion wide receiver said he considered the Warriors a rival, and was thrilled when he learned he'd instead be headed for Kaiserslautern. The fact that the Raiders hadn't won a game in two years didn't dissuade him.
"I don't like to judge from other people's perspective. I like to witness it myself," said Moore, who joined Lion teammates Nick Chance, Joshua Mullen and Marcel Myles on the Raiders. "It felt like a great group of guys."
Among the most accomplished of Moore's new teammates is Tysean Hendrix, a star-crossed All-Europe linebacker who survived Kaiserslautern's prolonged slump with his optimism for Raider football intact.
"Eventually we'll get there," the senior recalled thinking in the midst of his team's futility. "I wasn't sure if it would be before I graduated or after, but I knew it would happen."
On Friday, the displaced Lions will line up alongside their new teammates and friends and look across the lines at their old teammates. There's not a lot of room for sentimentality on the gridiron, but the moment won't escape their grasp.
"It's going to be a great feeling to see the boys again," Moore said.
Twitter: @broomestripes