Baseball roundup
Heidelberg thumps Hohenfels in home opener
by
Mark Patton
April 30, 2011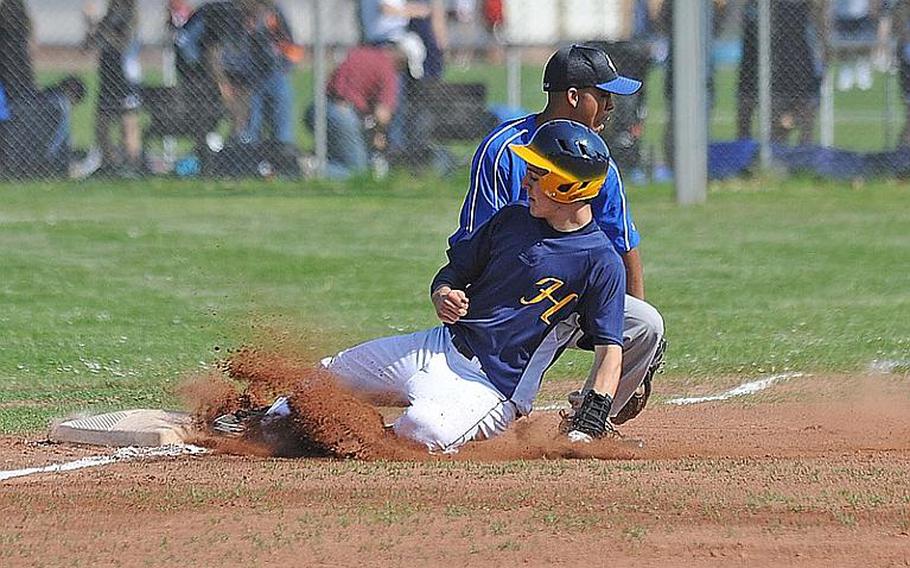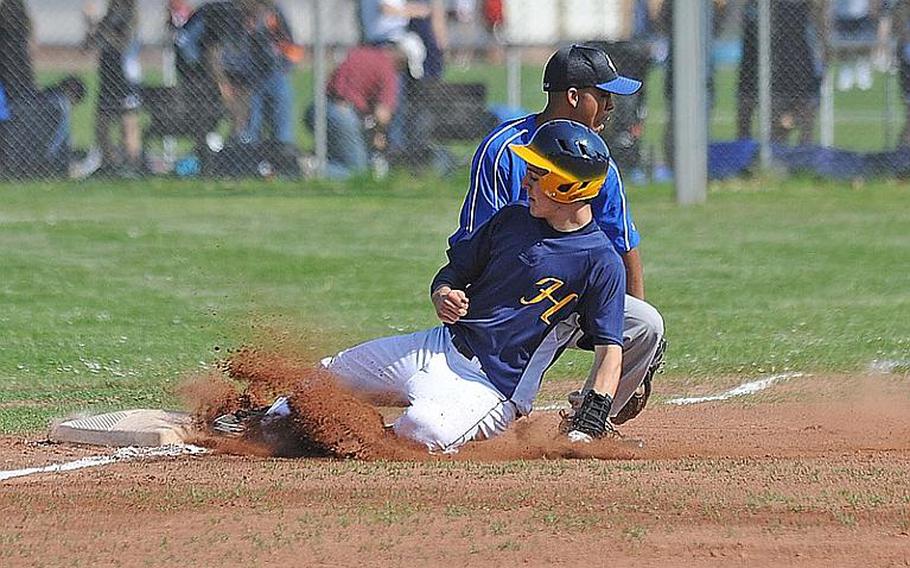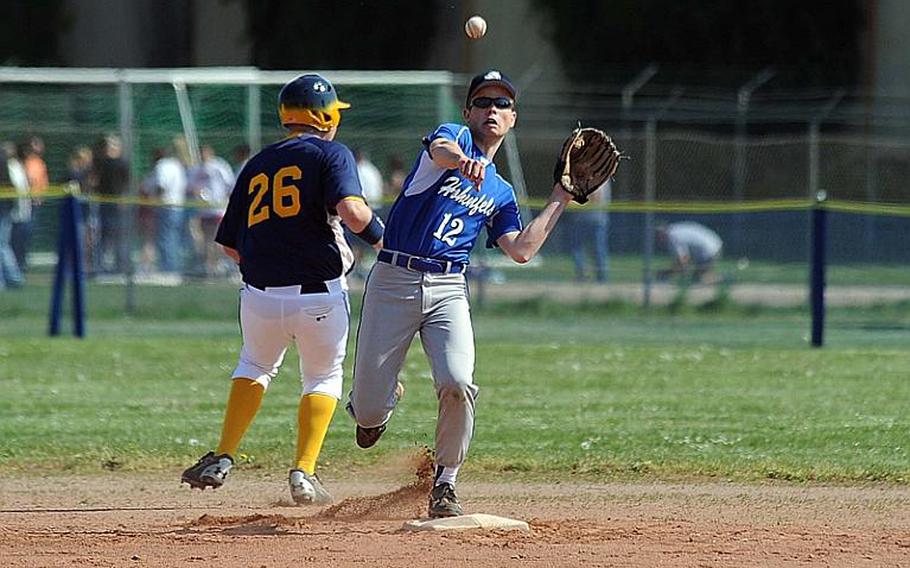 HEIDELBERG, Germany — The Heidelberg Lions swept a doubleheader Saturday against the Hohenfels Tigers, outscoring the outmatched Division II opponent, 34-2, and moving atop the East region standings ahead of idle Patch.
The Lions rode the strong performance of their pitching staff as four pitchers recorded 18 strikeouts and held Hohenfels to three hits. The first game went four innings before the mercy rule was instituted with Heidelberg on top 16-1 and the second game was stopped in the fifth frame, with the Lions winning, 18-1.
Heidelberg improved to 7-1 on the season in its first games at home on Patrick Henry Village's Shoupe Field. Hohenfels fell to 1-7.
In the first game, Heidelberg junior Alex Weaver honed in his two-seamer fastball by striking out nine over four innings, allowing only two hits and one run. Weaver was equally strong with his bat, going two for three at the plate with two RBIs.
Hohenfels stayed within striking distance of the Lions until an eight-run third put the game out of reach.
"It was good to come out with some intensity…we were on a high; we know we can get better," Weaver said.
Other standouts for Heidelberg were freshman Justin Jones, who drove in two runs, and freshman Nick Baxter, who went two for three. Sophomore Ryan Gill drew four walks and scored four runs.
Hohenfels junior pitcher John Spiszer couldn't fool the Heidelberg bats and senior catcher Alex Longo had a hard time keeping the ball in front of him. Heidelberg's base runners took advantage.
The bright spot for the Tigers in the opener was sophomore Steven Schaefer, who had both the hits and drove in their lone run. Schaefer also provided the only hit for the Tigers in the second game, which they lost, 18-1.
Jones, Gill and senior Jean Turner Vite' held Hohenfels to one hit and one run. Gill led the trio with six strikeouts.
Heidelberg sophomore John Christiansen led off the game with a double and the Lions never looked back. Christiansen also had a second-inning triple and drove in two.
"We just the hit the ball consistently," Christiansen said.
Freshman Grady Mayfield finished with three steals, two hits, an RBI and two runs.
Freshman Adam Stecker and Weaver both finished with two runs, two hits and two RBIs.
Despite the scoreboard, Spiszer said the Hohenfels team still was able to come away with some bright spots.
"We've got a lot of freshman with really good attitudes," he said.
Hohenfels skipper Darren Mesch said his young team has a lot of work to do.
"We hit it well when we hit it…what my guys need is playing time," Mesch said.
Coming off a split with defending Division I champion Patch, the Heidelberg team is definitely feeling a groove.
Heidelberg head coach Paul Allmon wants his players to continue to stick to the fundamentals of limiting errors, good base running and good hitting.
"Everybody knows we defeated Patch, the thing is for them not to get so full of themselves," Allmon said.
In other weekend baseball:
Kaiserslautern 9-11, AFNORTH 1-2: Saturday at Brunssum, Netherlands, All-Europe pitcher Ian Acosta fanned seven in his three innings of work in the opener to nail down the win, and Zach Jones closed the game by striking out seven in three innings.
Treyton Simmons picked up the Game 2 victory, according to AFNORTH coach Greg Blankenship.
Acosta closed his day 6-for-7 at the plate with a home run and three doubles which helped K-town improve to 8-2 for the season.
Wiesbaden 10-11, Ansbach 6-6: Saturday at Wiesbaden, the Warriors mounted a seven-run final inning in Game 1 and a six-run final frame in the nightcap to rally to the sweep.
According to Wiesbaden coach Steve Jewell, Tim Kanser provided the big blow in the Game 1 rally, a bases-clearing double which made a winner of Wiesbaden pitcher Justin Gershen.
In Game 2, Jewell reported, K.C. Kerker's inside-the-park homer, which followed doubles by Kenny Phillips, Ryan Reagin, and Eric Stouter, fueled the last-inning lightning. It was the second inside-the-park homer of the game – Dan Aslakson, who went 2-for-2 in the opener, circled all the bases with a man on earlier in the nightcap.
The sweep lifted Wiesbaden to 4-2 for the season. Ansbach fell to 0-8.
Vilseck 17-5, Bamberg 0-6: Saturday at Bamberg, Bamberg's Allan Dow ran in to grab a short fly to left in the nightcap to save the split for Bamberg.
According to Bamberg coach Jim Davis, Bamberg led 6-4 going into the bottom of final inning when Kalyn Smithson clubbed a solo homer to cut the gap to 6-5. The Falcons then put two runners on before Dow's grab allowed Derek Shreve to claim the complete-game pitching victory.
Logan Mansfield went 2-for-3 and Brandon Fields 2-for-2 in the game which allowed Bamberg to go to 4-2 on the season.
In Game 1, Damon Ellison was in command all the way for Vilseck, which ended the day 3-3 overall. Ellison struck out 12 in his route-going five innings of work.
Chris Nelson (2-for-3) and Charles Martinez (3-for-4) each drove in three runs to back Ellison's pitching; Smithson was 2-for-2 with two RBIs.
Ramstein 9-10, Bitburg 4-4: Saturday at Ramstein, lightning was in the air, causing a 30-minute delay in the nightcap, but most of the thunder was in the Royals' bats, according to Ramstein coach Glenn Porter.In Game 1, Ramstein rode a six-run third inning to the victory credited to freshman starter Matt Zembraski.Zembraski allowed just five hits, striking out two and walking two in five innings of work. Senior Drew Groteleuschen backed Zembraski with two hits, one of them a double, in three at-bats, and junior Rylee Moore tripled in a run for Ramstein.Bobby Reavis took the loss.In the nightcap, senior starter Jarred Henry and juniors Dustin Labit and Jon Groteleuschen combined to three-hit the Barons.Jon Groteleuschen, who went 3-for-4, stroked a two-run homer; Justin Pendergrass also was 3-for-4, and Zembraski collected two hits in three at-bats for Ramstein (7-1).Matt Flood doubled and singled in four at-bats for Bitburg (4-4).Sigonella 9, Aviano 8: Friday at Naples, Sigonella, after nearly surrendering a 7-0 lead, turned a game-ending bases-loaded double-play, according to Aviano coach Harold Ackett.
Clay Coon, who doubled twice, and Brandon Albert, who also stroked a double, led the Sigonella attack with 2-for-3 outings.
Myron McRae doubled twice in two at-bats for Aviano.
---
---
---