Heidelberg teams turn the tables on Mannheim in USAREUR hoop finals
---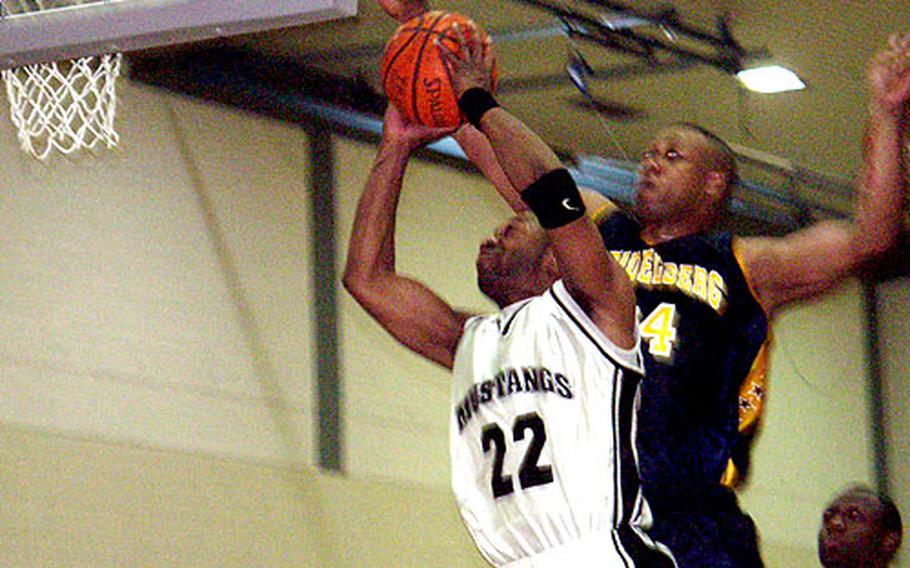 GRAFENWÖHR, Germany — This year, Heidelberg wielded the broom.
Thirteen months after Mannheim's men and women defeated Heidelberg for the 2002 U.S. Army Europe basketball titles, Heidelberg's Generals and Lady Generals returned the favor by sweeping the 2003 titles with victories over Mannheim.
Heidelberg's women, behind a devastating transition game, defeated Mannheim 72-59, and then watched as the men rallied for a 76-75 victory over Mannheim's three-time defending champions.
Heidelberg women 72, Mannheim 59
After building a 54-29 lead with 15:15 to play, the Lady Generals eased off the throttle and saw Mannheim climb back into the game. The Lady Mustangs got as close as 64-57 with 5:43 to go before Heidelberg turned it back on and pulled away.
Heidelberg, on the strength of fanatical rebounding by Tiffany Collins, was about to double the score on Mannheim when it decided to switch to cruise control.
"We tried to slow the game down," said Collins, who scored 21 inside points and pulled down 19 rebounds. "That took away our momentum and gave them momentum."
Even in slow-play mode, Collins refused to let Mannheim onto the offensive glass. The Lady Mustangs managed just three offensive rebounds, two of those in the second half.
"Normally, if I can control the boards, we can get out and run," Collins said. "When we do that, no one can beat us in the transition game."
Mannheim certainly couldn't, and was grateful for the respite Heidelberg provided, and a chance at a comeback.
Tonya Weaver, playing with four fouls, scored 17 of her team-high 21 after intermission for Mannheim, which got 17 points from Precious Blackman.
"Sometimes, it's about heart," Mannheim coach Mike Newsome said of his team's relentless rally.
It fell short largely because Heidelberg's Katina Miles heated up from beyond the arc. Miles scored 12 of her 15 points in the second half on four straight three-pointers in the first 10 minutes of the period.
Rhonda Williams added 14 points for Heidelberg.
Heidelberg men 76, Mannheim 75
DeAnthony Rosser's runner in the lane popped out of the basket with a second to play, and with it fell Mannheim's bid to win a fourth straight Army Europe crown.
"I thought it was down," Rosser, a mainstay on those three previous Mustang champions, said of his miss.
With 5.1 seconds left in the game, Rosser took the inbounds pass from Tiwan Jarret, dribbled to the right side of the lane, floated above the defense and launched a high arcing shot toward the basket. The ball went halfway down before popping out and into the arms of Heidelberg's Michael Bruce.
Mannheim fell behind because of the clutch play of Heidelberg's interior offense: burly Rodney Bailey and Kenyatta Mack and slender Danny Jones. The trio brought the Generals back from a 75-69 deficit in the final two minutes.
Jones handled the scoring end of the final rally, completing a three-point play to make the score 75-72, then hitting four of five free throws down the stretch for the winning margin.
Earlier, Mack and Bailey took charge after Heidelberg lost All-Armed Forces guard Craig Marcelin to a separated shoulder with 10:55 left in the game and the Generals down 50-48.
"We picked up our intensity," said Mack, who scored six of his 15 points after Marcelin left on the stretcher. "We played well and they played well, but we're taking this trophy to the hospital for Craig. This one's for him."
Bailey, who finished with 12 points, scored eight of them after Marcelin's injury and added four rebounds and an assist during the span to set the stage for Jones.
"We lost one of our top players, and somebody had to step up," Jones said. "I'm glad it was me."
Marcelin scored 17 points during his 30 minutes on the floor, but his defense was just as vital. Mannheim's Will Tompkins buried four three-pointers after Marcelin left on his way to a game-high 32 points.
Still, it wasn't quite enough for the four-peat.
"We had some little lapses," said Rosser of his team, which dropped a 90-88 verdict to Heidelberg in the pool-play portion of this event but stays alive for a possible fourth straight U.S. Forces crown. "We'll get them at the Final Four."
Assuming there is one. Army athletic officials Ken Wetherill and Tony Lee pledged Sunday to try to arrange an event with the Air Force, even though the annual USAFE tourney was lost to the war last month.
"We'll get on the phone in the morning," Lee told the teams Sunday, "but I don't make promises."
Army-Europe championships
GRAFENWÖHR, Germany — Box scores of Sunday's championship games in the single-elimination 2003 U.S. Army Europe basketball tournament:
Heidelberg men 76, Mannheim 75
Halftime — Heidelberg Generals 35, Mannheim Mustangs 33
Scoring — Mann: Will Tompkins 32, Tiwan Jarrett 13, Elio Perry 12, Carlos Sanford 10, DeAnthony Rosser 8. Heid: Danny Jones 19, Craig Marcelin 17, Kenyatta Mack 15, Rodney Bailey 12, Andre Barnes 9, Michael Bruce 2, D'Juan Myles 2.
Heidelberg women 72, Mannheim 59
Halftime — Heidelberg Lady Generals 39, Mannheim Lady Mustangs 24
Scoring — Mann: Tonya Weaver 21, Precious Backman 17, Sharon Montgomery 9, Cathy Holmes 8, Latoya Simmons 4; Heid: Tiffany Collins 21, Katina Miles 15, Rhonda Williams 14, Daris Gore 10, Vanessa McClendon 8, Margo Mahan 4.
---
---
---
---