Heidelberg takes title in USAREUR soccer tournament
by
Rusty Bryan
October 16, 2006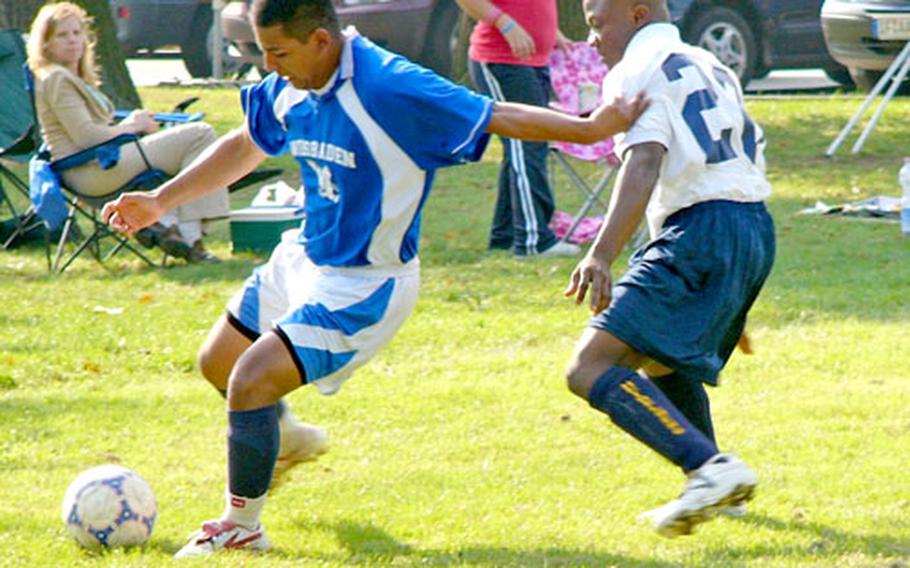 SCHWETZINGEN, Germany — The Heidelberg Generals, behind two goals from MVP Clinton Norton and a 90th-minute score by Chukwu Wankey, won the 2006 U.S. Army-Europe soccer tournament Sunday with a 3-1 victory over the Wiesbaden Eagles.
The goals were Norton's 12th and 13th in five games in this pool-play event which began Friday here and in Mannheim.
"He's always hungry," Heidelberg coach Julian Thompson said of his standout striker. "He's like a bird — peck, peck, peck. Without him, this tournament's a different story."
Sunday's game began as a different story for the Generals. In the 22nd minute, Wiesbaden's Osmond Mbaeri scored the first goal allowed by Heidelberg in the tournament.
The shot was a result of the pressure mounted early by Wiesbaden, which was coming off a 3-2 losers-bracket final victory over Stuttgart on Sunday morning. Moments before Mbaeri's score, Wiesbaden had shots whistle wide of each post, and two minutes after the goal Wiesbaden captain Kyle Gaylor sent a drive just over the crossbar. Most of the first 40 minutes were played in Heidelberg's end of the field.
"It's a final," Heidelberg captain Oscar Lopez said about Wiesbaden's shocking start. "They're always like that."
Wiesbaden's intensity took advantage of a lethargy Norton said was characteristic.
"Normally, we always start slow," he said as he applied ice after the game to what he diagnosed as a broken finger. "We come on strong in the second half."
Norton didn't wait for the second half to begin playing strongly. He touched off the comeback in the 40th minute, beating Wiesbaden goalkeeper Michael O'Reilly with a ground-hugging shot just inside the far post. His second goal, which came in the 65th minute, was a similar ball that left a Wiesbaden defender vainly doing the splits in the middle of the box.
And by the time Norton scored the go-ahead goal, Heidelberg had defused the Eagles' pressure.
"They had us on the run," Thompson said. "In the second half, we made a couple of key changes in our defense."
Heidelberg's switches switched off the Wiesbaden offense. In the second half, the Eagles, generally unable to build an attack, resorted to long passes upfield in the hopes one of their forwards would run onto them.
But Heidelberg usually got there first, and Wankey's goal, which converted a free-kick cross from John Drosos, sealed the deal.
Sunday's victory was as far as the Generals will go. The annual Army-Air Force tournament, which would have matched Wiesbaden and Heidelberg against the top two teams in this week's USAFE tournament at Sembach, has been cancelled, Lopez said, for budget reasons.