Heidelberg's Trice brothers setting DODDS-Europe track and field standards
by
Rusty Bryan
April 22, 2004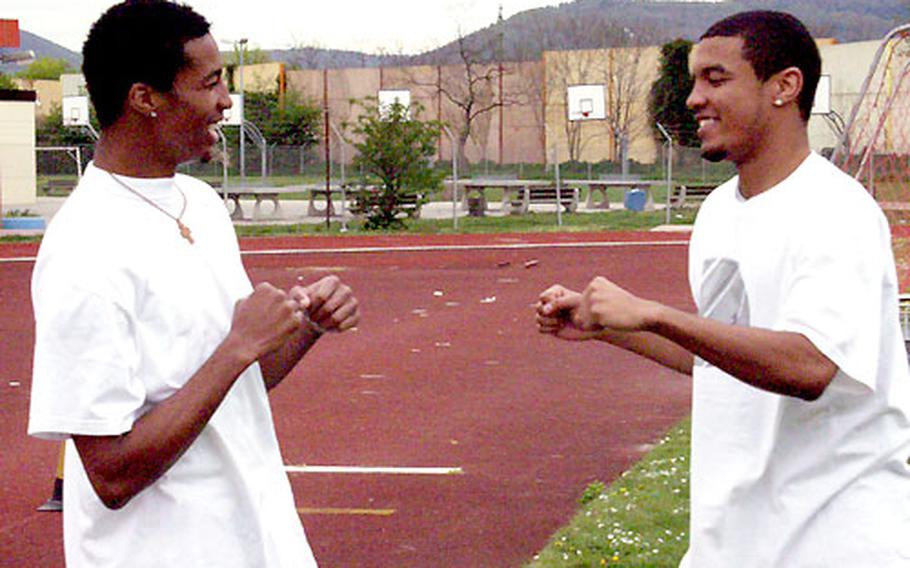 HEIDELBERG, Germany — Heidelberg's T.J. and Nick Trice have burst out of the blocks this spring.
T.J., a 16-year-old junior, has gone 41 feet, 7 inches in the triple jump, the best in DODDS-Europe this season. Little brother Nick, a 15-year-old freshman, ran a Europe-best 10.7 seconds in the 100 meters on Saturday.
"It's the one thing I finally got him on," Nick said of the natural rivalry between brothers.
Being slower at 100 meters didn't seem to bother T.J.
"He still can't beat me in the 40 [meters.] He still can't beat me up," T.J. said during practice Tuesday at Patrick Henry Village in Heidelberg.
Nick has been impressive nonetheless. In his first varsity meet, he ran an 11.41 in the 100, and followed with an 11.02 on March 27.
Then last week, he broke the 11-second barrier with his 10.7, two-tenths of a second off the DODDS-Europe record.
"I've already broken the school record," Nick said, "but I've still got to fine-tune everything to try for the European record. You can have natural ability, but you've got to fine-tune it."
Heidelberg volunteer sprint coach Rochelle Smith said Nick has the ability to challenge the record.
"Absolutely," said Smith, a Tacoma, Wash., native and former college sprinter, "if he stays fit and keeps running on his off-time."
Smith said she's working on Nick getting out of the blocks faster, launching himself from the starting line rather than just stepping out of the blocks.
"We're trying to teach them to use the blocks," she said. "We tell them if they don't feel it in their legs, they didn't do it right."
Concentrating on his start complements Nick's acceleration in the second half of the race.
"My speed kicks in after 40 yards," he said, a trait that is just the opposite of his older brother.
"I'm a 40-yard guy," T.J. said. "It helps me in the jumps to accelerate quickly."
Heidelberg head track coach Linda Shahan agreed.
"T.J.'s the more muscular of the two," she said. "Nick has more speed."
T.J.'s acceleration — under the tutelage of Heidelberg volunteer jump coach Antonio Coleman, a former long and triple jumper at South Carolina State — has resulted in near-instant success.
"It's all new to me," said T.J., who finished fourth in his first attempt under meet conditions with a 36-5 on March 20.
In that meet, he got a chance to see John and Jermie Hunt of Kaiserslautern, who finished in the top 12 in last year's European meet.
"In my first meet, I saw the Hunt brothers, and I knew I had to go back and work out harder," T.J. said.
One week later, he posted his 41-7 to go with his DODDS-Europe season best of 20 feet 4½ inches in the long jump.
"Each week, all the kids are getting better," said Coleman after running his charges through a grass drill of flat-footed jumps over four progressively higher hurdles that is designed to add "pop" to his jumpers' legs. "These kids have incredible gifts."
In the case of the Trices, who also play football and basketball, the favorite place to display those gifts isn't on the track.
"We love football," they said in unison.
After playing wide receiver in his first season at Heidelberg, T.J. stepped in as the starting quarterback last season, leaving his wideout slot to Nick. Both are bound for football camp at Penn State this summer, where they hope to get some exposure to stateside recruiters and to prepare themselves for the game they both want to play at the college level.
Academically, they're already there — T.J. made a 3.7 average on his most recent report card, he said; Nick reported that he came in with a 3.85.
"Grades are always first in our house," T.J. said as Nick nodded emphatically in agreement.
---
---
---
---