Heidelberg's Tillman pulls big upset in European wrestling
by
Rusty Bryan
February 18, 2006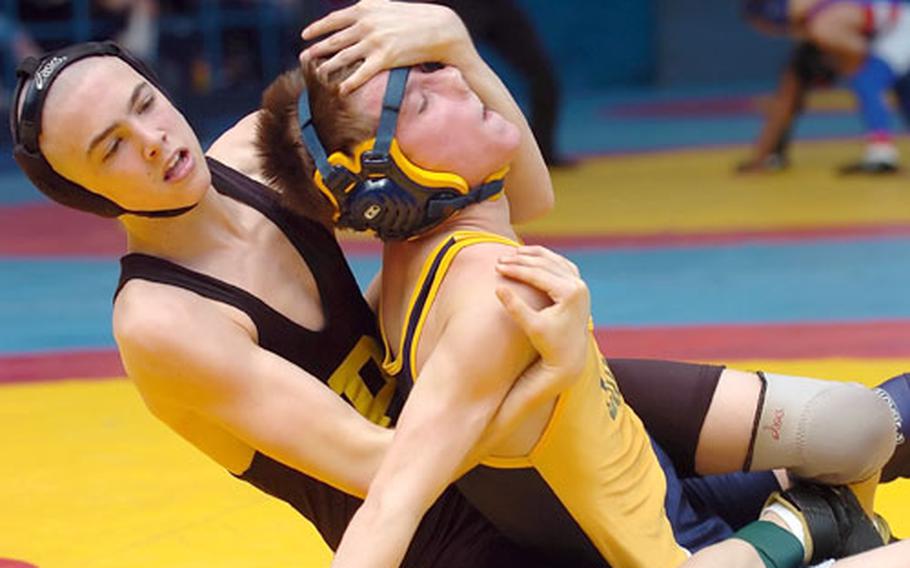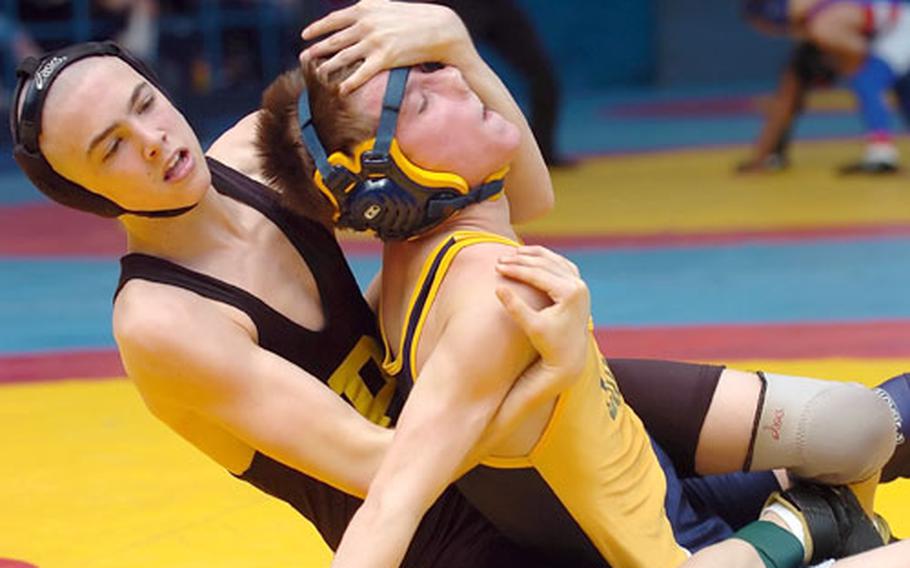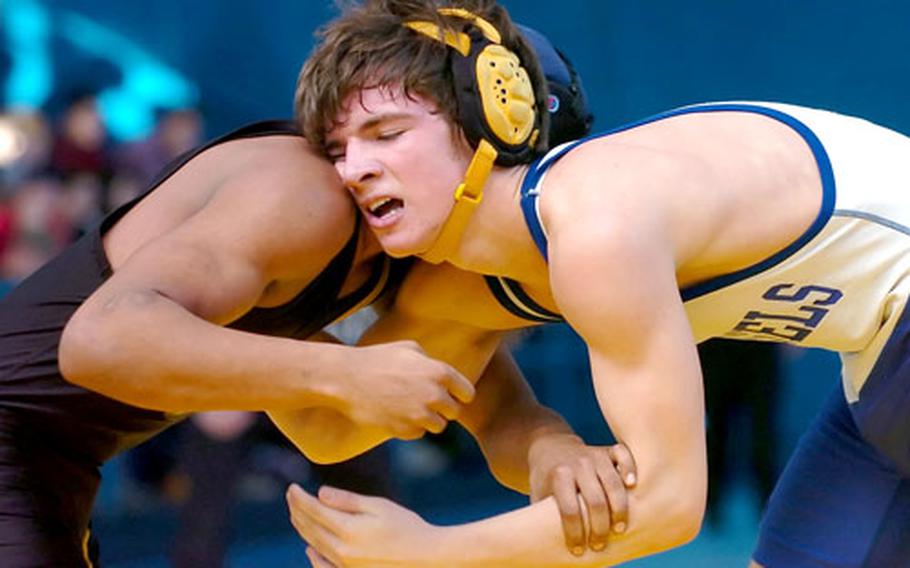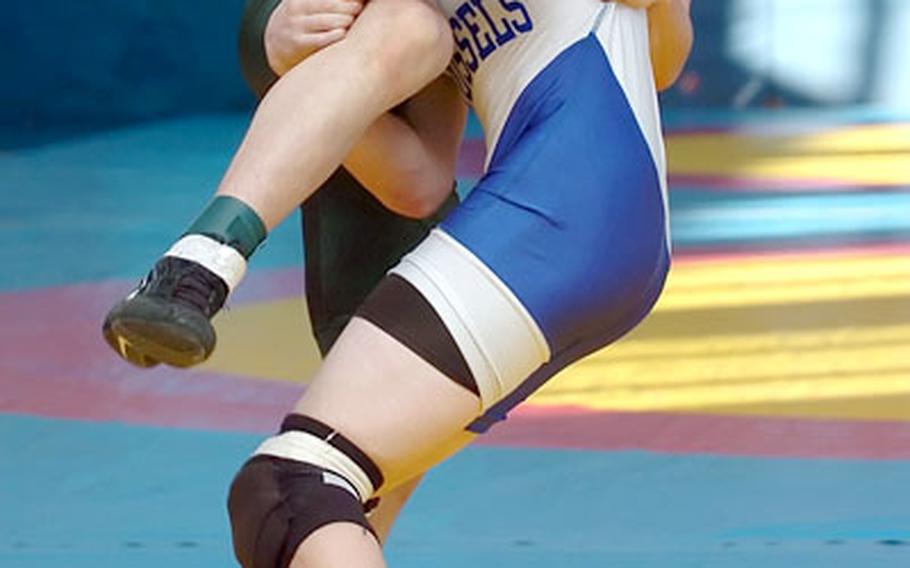 (Detailed results at end of story)
WIESBADEN ARMY AIRFIELD, Germany — It was no surprise that defending European Division I champion Ramstein advanced 10 wrestlers Friday into the semifinals of the DODDS-Europe wrestling championships.
What was unexpected was that Ramstein's total — four more than any other school after the first day of the two-day tournament — did not include top-seeded and previously unbeaten 112-pounder Jordan Borino.
Heidelberg sophomore Kuani Tillman, in his first year of high school wrestling, spotted Borino a four-point lead, then rallied for an 11-7 decision.
"I was listening to my coaches," Tillman said of his comeback in his first match at Europeans. "I knew they had my back."
Tillman, unseeded after a 9-3 regular season, surrendered a four-point move — a takedown into back-exposure points — to Borino early, then chose to be in the down position to start the second two minutes. He quickly escaped, then took Borino down twice in the second period to square things at 5 points each.
He then rode two more takedowns and a near-fall in the final period to the victory.
Borino was one of 25 wrestlers who took unbeaten records into the tournament. Twenty-two of them — led by defending European champions Johnathan Scott of London Central, Gary Vogt of Aviano and Chad Abramson of Wiesbaden — advanced to Saturday's 10:30 a.m. semifinals.
Scott, a two-time European champion wrestling this year at 140, posted a 10-3 decision over Jeremiah Raveling of Ramstein to run his record to 17-0. Vogt (11-0) pinned Jesse Best of Menwith Hill in 2:50 at 135, and defending 189-pound champ Abramson (12-0) flattened two foes in a total of 1:18.
The other defending champions, 125-pounder Noah Sheppard and 135-pounder Coty Reinhart, advanced easily.
Sheppard, seeded second to David Crow of Baumholder this year at 125, posted a 15-0 technical fall and a 3:05 pin in his two bouts on Friday. His Ramstein teammate Reinhart, wrestling this season at 152 and second-seeded to Elloit Boltz of Heidelberg, pinned Alex Orona of Hohenfels, 16-6 on the season, in just 28 seconds.
The other undefeated wrestlers who failed to advance were Alex Cook of London Central at 171 pounds and Danilo Stewart of Naples at 215.
Cook was pinned by unseeded Joel Smith of Ramstein in 2 minutes and 57 seconds.
Stewart was surprised 7-2 by Chris Garcia, one of six Wiesbaden wrestlers to reach the semis.
Garcia was trailing 2-0 in the second period when he reversed Stewart near the edge of the mat and held him for near-fall points until the buzzer sounded. Garcia resisted Stewart's frantic attempts to turn him during the final two minutes, picking up two points when Stewart twice illegally locked his hands.
"He gave me a leg and I just went after it," Garcia said of his decisive five-point move.
"Coach (Steve Jewell) trains us hard at practice to take every chance we get."
"He was a good wrestler," Garcia said of Stewart. "Now I've got to beat two more good ones."
Patch and Heidelberg also advanced six wrestlers to the morning semifinals. The finals begin at 4:30 p.m. Saturday at the airfield.
Admission is $4 for adults and $3 for students.
European championshipsWIESBADEN ARMY AIRFIELD, Germany — Championship-bracket results Friday in the DODDS-Europe high school wrestling championships. Tournament concludes Saturday with semifinals at 10:30 a.m., consolation finals at 1 p.m. and championship bouts at 4:30 p.m. Team scoring will be compiled after title bouts (seedings in parentheses):
103 pounds
First round—Joey Archuleta (1, Bitburg) pin Damon Dennis (London Central) :31; Taji Peebles (Wiesbaden) pin Eddie Perez (Würzburg) 2:54; James Ricks (2, Patch) major dec. John Donohue (AFNORTH) 4:30.
Quarterfinals—Arculeta pin John Cunningham (Alconbury) 1:24; T. Peebles pin Tyler Yanik (Ansbach) 3:44; Avi Ahuja (American School in London) pin Andrew Clayburn (Brussels) :10; Ricks maj dec Zach West (Heidelberg) 13-0.
112 pounds
First round—Jordan Borino (1, Ramstein) pin Patrick Sather (Lakenheath) 1:36; Charles Oen (Hanau) pin Jon Muzic (Iceland) 3:35; Jarrod Branch (Pat) pin Berry Johnson (Aviano) 1:16; Chris Campos (2, Naples) pin Khiry Taylor (Vilseck) :45.
Quarterfinals—Tillman dec Borino 12-7; C. Oen dec Chris Spencer (Wiesbaden) 9-3; Branch dec Rashad Palmer (Baumholder) 11-8; Campos tech fall Josh Dennis (London Central) 17-2.
119 pounds
First round—Stephen Oen (1, Hanau) pin Kyle Ragay (Patch) 1:21; Robbie Stoll (Wzbg) dec. Michael Smith (Incirlik) 6-3; Ben Gill (Rams) dec. Ray Letourneau (Wzbg) 11-8; Trey Fortunato (2, Ramstein) pin Jose Leon (Vils) :38.
Quarterfinals—S. Oen pin Stoll :23; Nicholas Rogers (4, Patch) pin Michael Walker (Baum) 2:26; Hugh Borchers (3, London Central) pin David Hebring (Brus) 3:19; Fortunato maj dec Gill 13-2.
125 pounds
First round—David Crow (1, Baumholder) pin Ryan Berry (Wzbg) 1:17; Andrew Moon (4, Heidelberg pin Hunter Baudoindajoux (Brussels) 1:53; Josie Schwartz (3, Aviano) pin Ben Meyer (Rams) 1:03; Noah Sheppard (2, Ramstein) tech fall Gavin Moorfield (Naples) 15-0.
Quarterfinals-Crow maj dec Keats Rowell (Wies) 9-0; Moon maj dec Chris Petersen (Hohenfels) 11-1; Schwartz dec. Jon Hoffman (Heid) 11-8; Sheppard pin Kyle Tyree (Lake) 3:05.
130 pounds
First round-Ryan Gough (1, Rams) pin Gregg Fellows (Wies) 3:43; Logan Espinoza (Hanau) dec. Mark Caples (Hohenfels) 12-7; Kris Higgins (AFNORTH) pin J.B. Bender (Avi) 4:53; Anthony Messina (2, Bitburg) pin Vaughn Michael (Heid) :41.
Quarterfinals—Gough pin Jon Stimmel (LC) 3:48; Nate Buckley (Brus) dec Espinosa 7-3; Steve Cote (3, Brussels) dec Daniel Roberts (Ansbach) 7-0; Messina dec Higgins (12-11).
135 pounds
First round—Steve Melin (Napl) tech fall Konner Higgins (AFN) 19-3; Brandon Foster (Wies) pin Brett Rogers (Rams) 1:30; Travis Johnson (Heid) tech fall Kendrick Collins (Alconbury) 5:24; Jesse Best (Menwith Hill) pin Lance Beissner (Lake) 2:39.
Quarterfinals—Chris Maxey (1, Rams) pin Melin 1:05; Foster dec Paul Moseman 5-3; Johnson tech fall Daniel Herring (Bamberg) 22-6; Gary Vogt (2, Avi) pin Best 2:50.
140 pounds
First round—Jeremiah Raveling (Rams) dec. Michael Smith (Baum) 7-4; Kent Noorda (4, Rams) maj dec Kevin LaBelle (Brus) 18-6; Chris Lucynski (Kaiserslautern) pin Mike Zupi (Brus) 5:23; Adam Johnson (2, Heid) maj dec Reid Olmstead (Wzbg) 10-0.
Quarterfinals—Johnathan Scott (1, LC) dec Raveling 10-3; Ron Peebles (Wies) dec Noorda 8-6; Shane Hinton (3, Vicenza) pin Lucynski 2:55; Johnson dec Paulo Gadbois (Napl) 16-4.
145 pounds
First round—Doug O'Meara (1, SHAPE) pin Tyler Morfield (Napl) 2:32; Sean Whitton (Lake) pin Matt Parker (Brus) 5:46; David Lock (Rams) dec Aaron Orr (Wies) 11-9; Brandon Walker (Napl) pin Adam Harper (Kais) 5:36.
Quarterfinals—O'Meara pin Whitton 4:56; Kane dec Jeremy Brady (4, Heid) 6-1; Odum tech fall Lock 19-4; Walker pin Kyle Stammer (Vicenza) 1:53.
152 pounds
First round—Elliot Boltz (1, Heid) pin Dominic Rauschkolb (Ansb) 2:36; Steven Ponte (Wies) tech fall Phillip Border (SHP) 6:00; Jamie Watts (3, Bitb) maj dec Daniel Critics (Brus) 14-2; Matt Ringdahl (Rams) pin Luis Alvin (Alc) 5:35.
Quarterfinals—Boltz pin Joshua Emerson (Baum) 2:33; Ponte pin Michael Lafuente (4, Napl) 2:28; Watts tech fall Ringdahl 4:50; Coty Reinhart (2, Rams) pin Alex Orona (Hoh) :28.
160 pounds
First round—Eric Vandal (1, Hoh) pin David Zumbach (Ansb) 4:42; Gabriel Williams (Hanau) dec Zach Main (Napl) 9-2; Jared Waters (3, AFN) tech fall Ethan Portis (Wies) 18-5; Paul Stuart (2, Napl) pin Yvan Azucena (LC) :38.
Quarterfinals—Vandal pin Williams 2:48; Kyle Lucas (4, Alc) dec Sean McLachlin (Rams); Waters dec Craig Hormann (Lake) 16-15; Stuart pin Daniel Renaud (Bitb) :59.
171 pounds
First round—Tony Gorry (Patch) pin C.J. Wismer (MH) :36; Corey Targos (Rams) pin Grant Hammond (Napl) 2:51; Joel Smith (Rams) pin John Christensen 3:16.
Quarterfinals—Madison Hayes (1, Kais) pin Sascha Miller (AFN) 1:23; Gorry dec Mike Ladd (Icel) 8-6; Targos dec Kiko Bracher (Napl) 9-6; Smith pin Alex Cook (2, LC) 2:57.
189 pounds
First round—Chad Abramson (1, Wies) pin John Winston (Lajes) :15; Matt Gorry (Patch) pin Ben Lynch (Alc) 3:53; Eric Oyan (Rams) pin Nick Letsios (SHP) 3:35; Riley Livingston (Bamb) dec. Derek Neville (Hanau) 11-9.
Quarterfinals—Abramson pin Bendan O'Callaghan (Napl) 1:03; Gorry pin Michael Beuckens (4, Patch) 5:20; Oyan dec Doug bagnall (3, Alc) 15-6; Guadalupe Flores (2, Napl) by default over Linvingston.
215 pounds
First round—Justin Crownhart (AFN) pin Clayton Eng (Baum) 5:51; Eric Popp (4, Brus) pin John Fitzgerald (SHP) :49; Danilo Stewart (3, Napl) pin Micah Williams (Han) 4:25; Nick Petitt (2, Rams) pin Joe Wiehe (Vicz) :39.
Quarterfinals—Brandon Simmons (1, Heid) pin Crownhart :33; Popp pin Brian Taylor (Patch) 2:20; Chris Garcia (4, Wies) dec. Stewart 7-2; Petitt dec Ivan Linatoc (LC) 4-1.
275 pounds
First round—Mike Burris (4, Wzbg) pin Michael Dickmeyer (Patch) 3:54; Tony Price (3, Kais) pin Miles Garcia (Rams) :47; Tom Randa (ASL) pin Gregg Gonzalez (Wies) 1:09.
Quarterfinals—Brian Bowles (1, Patch) pin Jason Stanley (Baum); Burris pin Matt Hejab (Napl); Price tech fall Randa 4:57; Sasha Chavez (Kais) dec Jordan Britten (2, Wies) 7-3.