Heidelberg's start downs Wiesbaden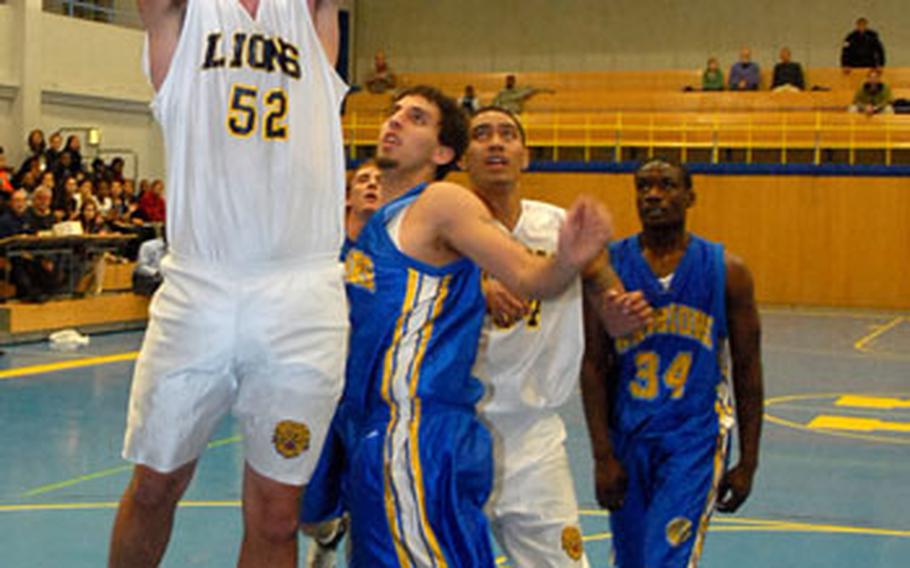 HEIDELBERG, Germany — Reigning Division I champion Heidelberg opened its 2008-09 boys basketball season Tuesday night with a 63-45 non-regional victory over Wiesbaden.
"We came out on fire," Heidelberg coach Brad Shahan said about his team's 23-7 first-quarter run against last season's D-II runner-up.
"Our half-court defense cost them."
In addition to their trademark man-to-man defense, the Lions exploited their prowess from the perimeter.
Malcolm Griffin, who finished with 14 points, sank four of his five field-goal attempts from behind the three-point line.
All-Europe guard Chris Frazier went 3-for-4 from long range en route to scoring a game-high 19 points.
Kiante Clifton led Wiesbaden with 17 points, and Marcus Williams added 12.
In a Region I opener Tuesday at the International School of Brussels, the home-team Raiders edged Brussels of Division IV 50-46 behind 17 points from Nathan Siegel and 12 rebounds from Gino Culotta.
Brussels, which got 16 points from Jason Sumpler and seven rebounds from Jeremy Howell, trailed 17-12 after one quarter and never found a way to erase that deficit, according to information furnished by ISB athletic director Jason Beseden.