Heidelberg's Montfleury again leading team in title game
---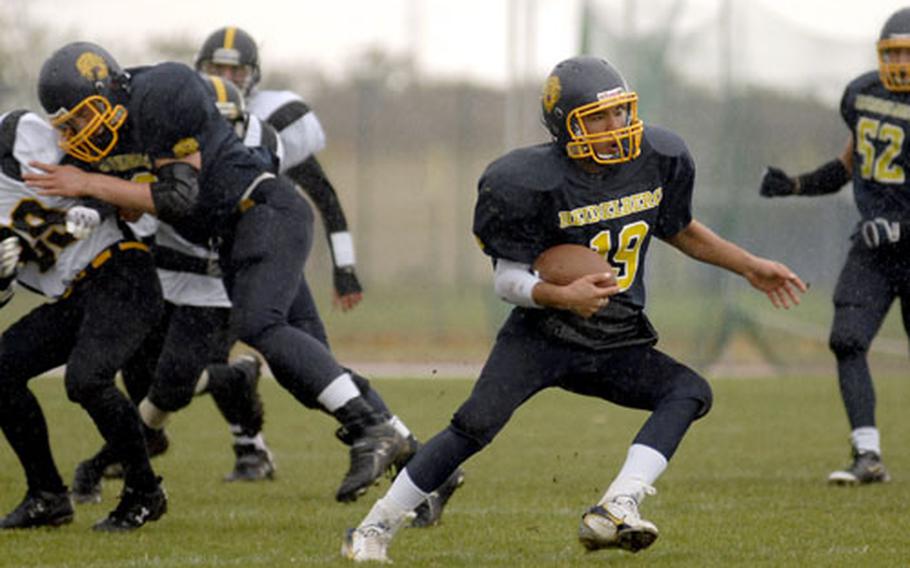 HEIDELBERG, Germany — Even though he'll be quarterbacking a team in a European championship game for the third straight year Saturday, Heidelberg's Jimmy Montfleury hasn't found football to be repetitive.
In four years, the senior quarterback has seen the high school game from almost as many perspectives as there are.
"I was in the eighth grade in California, expecting to play for the Oceanside High School Pirates as a freshman," said Montfleury, who took Rota to the European Division IV championship in 2007 and who threw the game-winning pass for Heidelberg in last year's 9-6 D-I title game victory over Ramstein.
"Instead, we moved to Rota. I didn't know what was going to happen. In the States, you play football with people you've played with all your life. You move up with them — Pop Warner, middle school, high school. I heard in Europe they played flag football. People come and go all the time."
It wasn't that bad. People did come and go, but Montfleury, 5 feet 10 and 165 pounds, got his feet wet playing tackle football against DODDS-Europe's small schools before moving on as a junior to Heidelberg and the biggest stage schoolboy football in Europe has to offer.
"At Rota, you've got six or so primary guys," he said. "Here, there are 34 primary guys. There's more competition for spots."
Montfleury was superbly equipped to compete, Heidelberg coach Brad Shahan said.
"Jimmy is one of the best quarterbacks I've coached at Heidelberg High School," Shahan said Tuesday. "He throws the ball extremely well (37-for-71 passing for 581 yards and seven TDs this season) and knows how to run a team. It took him very little time to come in and take the starting quarterback job away from last year's European athlete of the year, Chris Frazier."
Ansbach coach Marcus George, who tutors quarterbacks at the annual DODDS-Europe football camp, agreed with Shahan about Montfleury's skills.
"He has excellent footwork," George said Tuesday. "He has very good fundamentals and good speed. He's a very savvy kid."
Montfleury said he'll need all his savvy against Ramstein on Saturday when the Lions and Royals meet in the D-I title game for the fifth straight season.
"I've got to take care of the ball," he said. "I've got to make the right decision."
That hasn't been a problem. Montfleury's thrown one interception and fumbled just once in seven games.
"Jimmy not only controls the football, he controls the entire offense," Shahan said.
There wasn't that much offense to control in Heidelberg's lone loss this season, 7-2 at Ramstein on Sept. 19. Explosive Ramstein quarterback Michael Wallace set up the decisive score with a 45-yard sprint to the Heidelberg 3.
Might Saturday's game provide an opportunity for revenge?
"I don't look at this game as payback, just as another chance," Montfleury said.
"We had opportunities to score and couldn't."
Montfleury and the Lions will have to go to no little trouble Saturday to dent a Ramstein defense that hasn't allowed a touchdown all season.
Montfleury, though, is determined to end that streak.
"It's my last game," he said. "We want to go out with a bang."
---
---
---
---