Heidelberg overcomes slow start, rain, Vilseck
by
Dan Blottenberger
September 25, 2010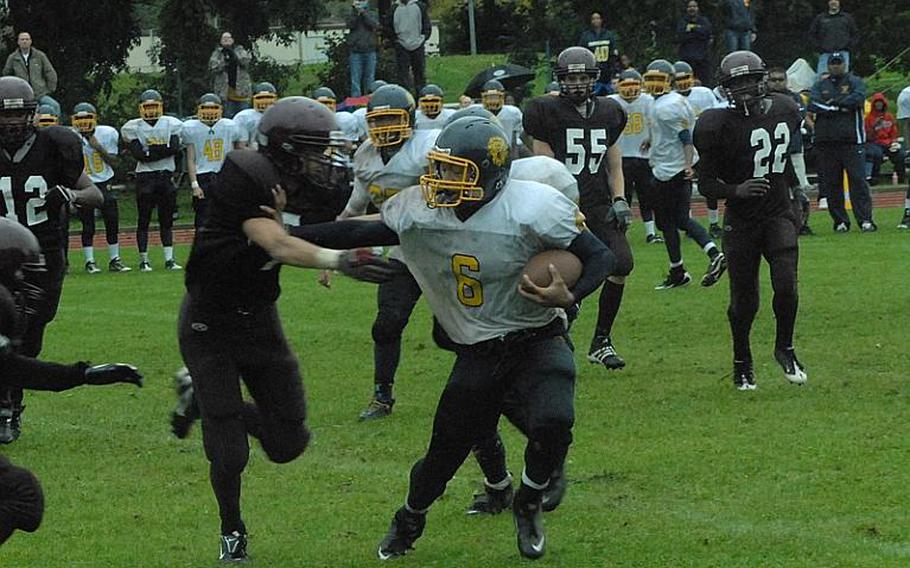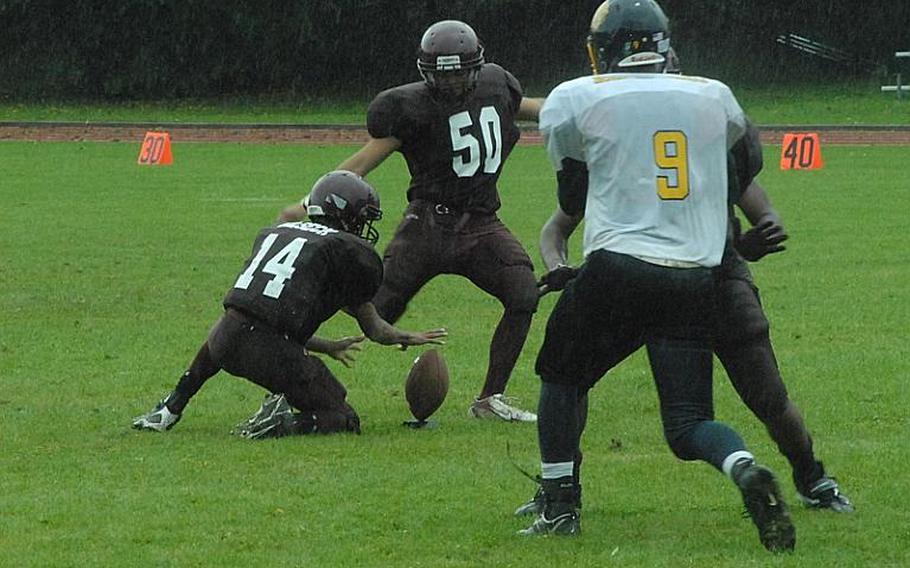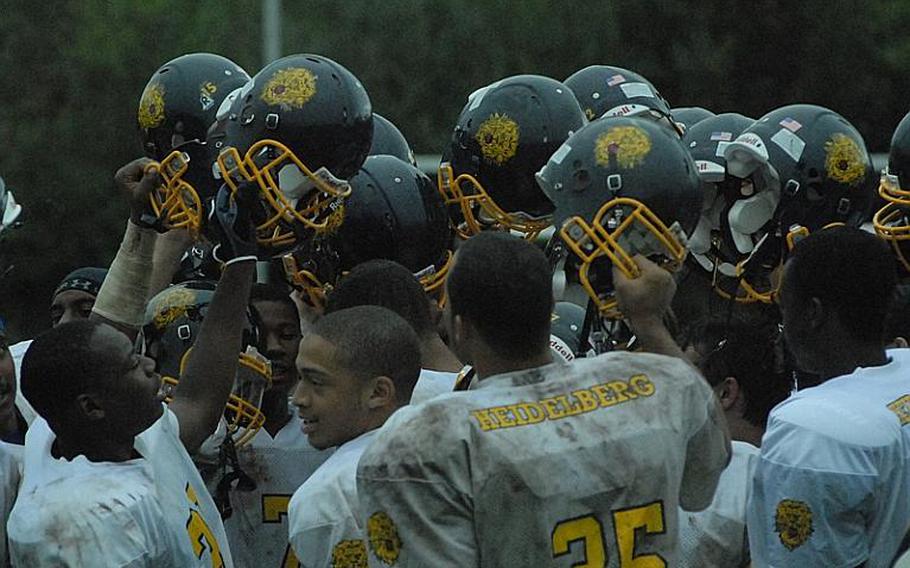 VILSECK, Germany — Heidelberg took sole custody of first place in Division I-South by beating Vilseck 14-0 on a rain-soaked field Saturday for its second straight win to open the season.
The rain, which fell steadily through most of the morning leading up to kickoff and well into the game, forced both teams to keep the ball on the ground and slowed Heidelberg's offense, which scored 47 points on 407 yards in its opener.
This time, the Lions were held scoreless in the first half. Unfortunately for the Falcons, they could not get on the scoreboard either.
"The weather was a big factor," said Vilseck Coach Jim Hall. "I think it kind of helped our game plan, though, because we knew that it would help us cut down their running a little bit and we were able to get our defense in a little tighter and come at them and hit them hard. Our defense played great."
Vilseck threatened in the first half when quarterback Miles Smiley scrambled on third and long, taking the ball up the sideline and diving for a first down. The drive led to a field goal try from about 30 yards out that was blocked.
With the rain slowly subsiding at halftime, Heidelberg was able to open things up a bit.
"Well, I think the Lord … stopped the rain in the second half and we took advantage of it," said Heidelberg Coach Brad Shahan. "In the first half, we couldn't cut back with our speed tailbacks, so we went to our power tailback and that provided the spark."
That power tailback came in the form of 6-foot, 205-pound senior Chris Cuthbert, the game's leading rusher with 22 carries for 104 yards, a touchdown and a two-point conversion. On the Lions' first drive of the second half, he rushed up the middle on almost every play to get Heidelberg into Vilseck territory.
Then, after a Vilseck penalty for a horse-collar tackle negated a fourth-down sack, quarterback Kevin Gray connected with Sterling Jones for a 21-yard touchdown pass. Cuthbert ran for the two-point conversion and a 8-0 lead.
Vilseck went three-and-out on its next possession and a short punt gave the Lions good field position. On the first play from scrimmage, Cuthbert broke free of the defense for on a 37-yard TD run.
The Lions missed the point-after, but their defense continued to stymie Vilseck. The Falcons' best drive came late in the game and ended with an interception on the 1 by Heidelberg's Jimmie McBride.
Josh Holan and Davon Loney anchored the Heidelberg defense, combining for 20 tackles - three for losses - as Vilseck was held to just 98 yards of total offense.
"This right here is a confidence game [for] the playoffs. I really want to get that home-field advantage and every game we play has a playoff implication," Cuthbert said after the game as he thanked his teammates' blocking for setting up his big gains.
Cedrell Sanders led the Falcons on offense with 42 yards on nine carries, while Sanders, Victor Hernandez and Dovell Engram led the defense by combining for 20 tackles and two sacks.
blottenbergerd@estipes.osd.mil.
---
---
---
---