Heidelberg junior has tools to contend for wrestling title
---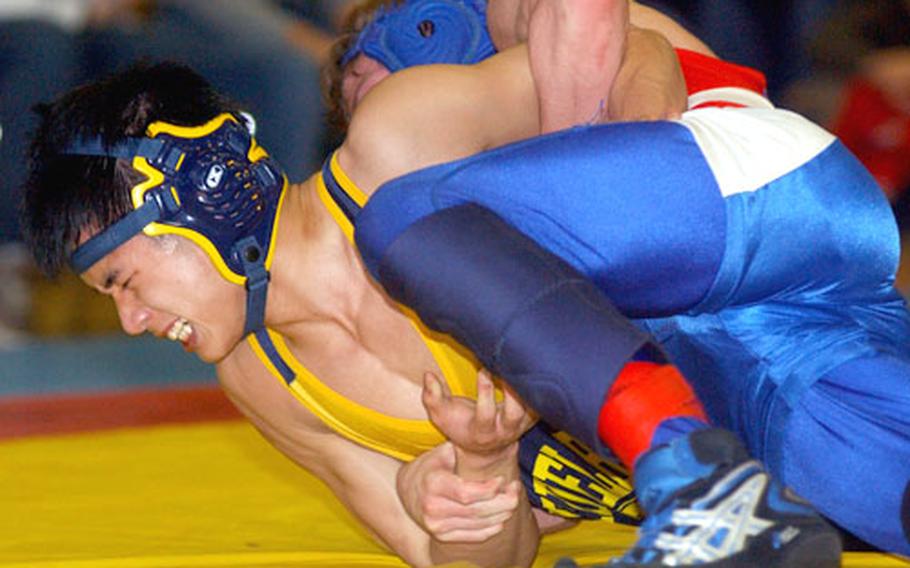 HEIDELBERG, Germany — Heidelberg junior Andrew Moon might or might not become a European wrestling champion next month.
Wherever he finishes, the 125-pounder is, pound-for-pound, everything anyone could want in a wrestler.
First, there's talent.
"He has the potential to wrestle in college," Heidelberg volunteer coach Ryan Mauk said.
And much of it is raw talent. "I took him to [Youth Services] as an eighth-grader," said Larry Hoffman, a Heidelberg parent whose sons are involved in wrestling. "I told the coach Andrew had never wrestled before. He ended up winning a YS European title."
Then there's his unselfishness.
"He's totally team-oriented," said Heidelberg coach Warren Kimmerly, just moments after Moon had independently made the same point.
"It's great to win team titles," said Moon, an honor student. "Mostly, I wrestle trying to get points for the team. You can lose your match and still feel good if the team wins."
Then there is his sportsmanlike combativeness.
Wrestling "is the best sport in the world," said Moon, who also runs track and cross country and plans to take up boxing in college.
"It's the closest to fighting you can get and still be a gentlemanly sport."
Leadership?
"He's our only junior captain," Kimmerly said. "He takes on a lot of responsibility."
Then there's a large dose of fierce commitment. Moon, who was banned from going on to the mat at Monday's practice to allow an injured arm to heal, spent almost all of his "day off" running from one end of the gym to the other.
"He hates to be taken out of a match," said Mauk. "He won't tell me when he's injured.
"It's hard to convince him to sit out a match out for the greater long-term good."
That's just part of Moon's dedication. His commitment to improving his conditioning and technique is ongoing.
For example, Moon's an enthusiastic believer in his team's participation in a conditioning program run by fitness trainer Steffanie Paoletti.
"She really works us," Moon said. "This year is the hardest we've ever conditioned."
Moon hasn't neglected wrestling-specific training, either.
"I've been to three wrestling camps," said Moon, fourth in Europe as a freshman and second as a sophomore, "one in Virginia, one in Pennsylvania, and one at West Point."
Unsurprisingly, Kimmerly said Moon left his mark last summer at West Point.
"They were really impressed with what they saw," Kimmerly said. "He's going back next summer."
And the fall after that, perhaps?
"That's my dream," Moon said, "to go to the U.S. Military Academy."
Before that, however, there's more pressing business: Saturday's meet at Patch, where archrival Ramstein, the defending European Division I champions, will be in the field.
It will be the first meeting of the season for the two teams, and Moon views it just the way anyone who knows him would expect.
"We're going to go all-out," he said. "We want to show them that we want to take Euros."
---
---
---
---