Heidelberg girls win Division I crown
---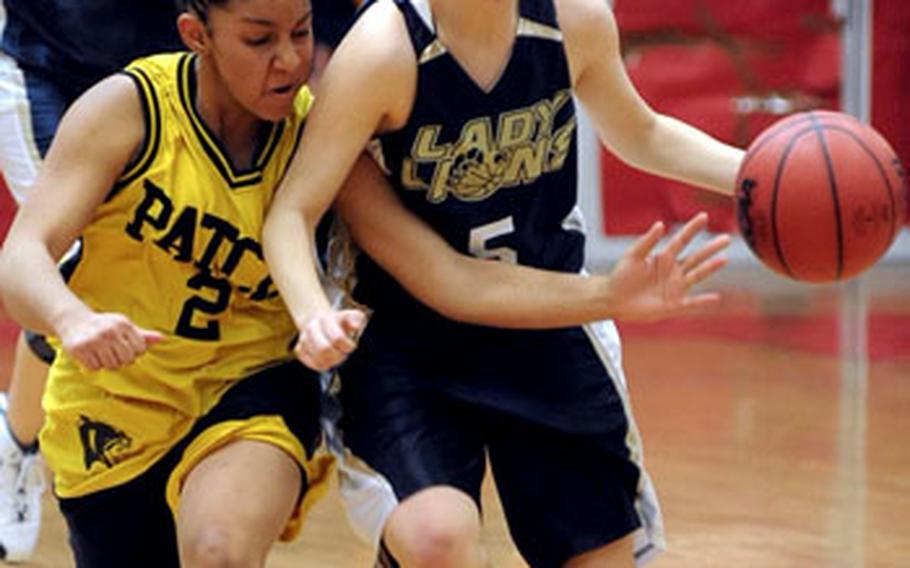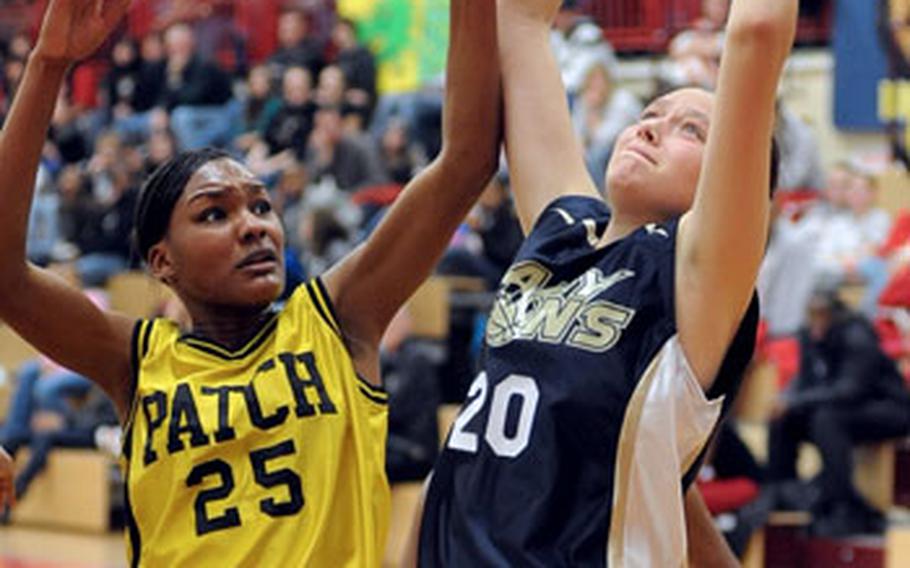 Photo gallery: Div. I and IV championships
MANNHEIM, Germany — Heidelberg rebounded, played tough defense and poured on the points in the third quarter to top Patch 50-38 Friday and win the girls Division I European basketball championship.
The Lady Lions claimed their first basketball title in more than a decade. Despite the school's general success in DODDS sports, it hadn't won a girls hoops title since 1996.
"It feels awesome because of how long it has been," coach Jon Mittenzwey said.
Senior Ashley Hicks led a balanced attack, scoring 13 points and grabbing 17 rebounds. But the victory did not come easily.
The first half was a battle. Heidelberg, seeded sixth in the tournament, was down early after No. 5 Patch got two quick buckets. But the Lady Lions clawed back, and by the end of the quarter, were up by one.
The teams traded the lead during the first part of the second quarter, battling for each rebound, fighting for loose balls and swapping steals. Heidelberg broke a 17-all tie midway through the period and led 25-22 at halftime.
"I told them in the locker room, that this next quarter would decide it," Mittenzwey said.
To open the third, Fallon Puppolo drained a three-point shot. It ignited a nine-point run for Heidelberg.
"It lifted our team," said Puppolo, who scored nine points, second to Hicks.
Patch started to miss shots, and Heidelberg took advantage. The Lady Lions controlled the boards and scored in bunches, including a 17-2 run that put them up by 16 going into the final period.
"It felt like a big cushion," Mittenzwey said.
In the fourth quarter, Heidelberg made sure the lead would stand up. It slowed the tempo, and although Patch outscored the Lady Lions in the period, the third-quarter flurry was too much to overcome.
As time ticked down, the Heidelberg crowd screamed and waved gold and navy towels. The Lady Lions dashed to the center of the floor and hugged when it was all over.
Despite coming in as the No. 6 seed, the Lady Lions always felt they had a chance to win each game, their coach said.
"They always believed," said Mittenzwey. "When they clapped their hands before each game, they believed."
Heidelberg 50, Patch 38(Friday at Mannheim)
Patch..........11 11 7 9—38Heidelberg..........12 13 20 5—50Scoring—Patch: Shy'Kimeyun Alexander 19, Adrianna Archie 7, Brittany Phillips 6, Janelle Loney 6; Heidelberg: Ashley Hicks 13, Fallon Puppolo 9, Courtney Milton 6, Debbie Roberts 6, Rebecca Rohren 6, Rebecca Luna 6, Tesa Miller 4
---
---
---
---