Heidelberg Generals claim flag football championship
---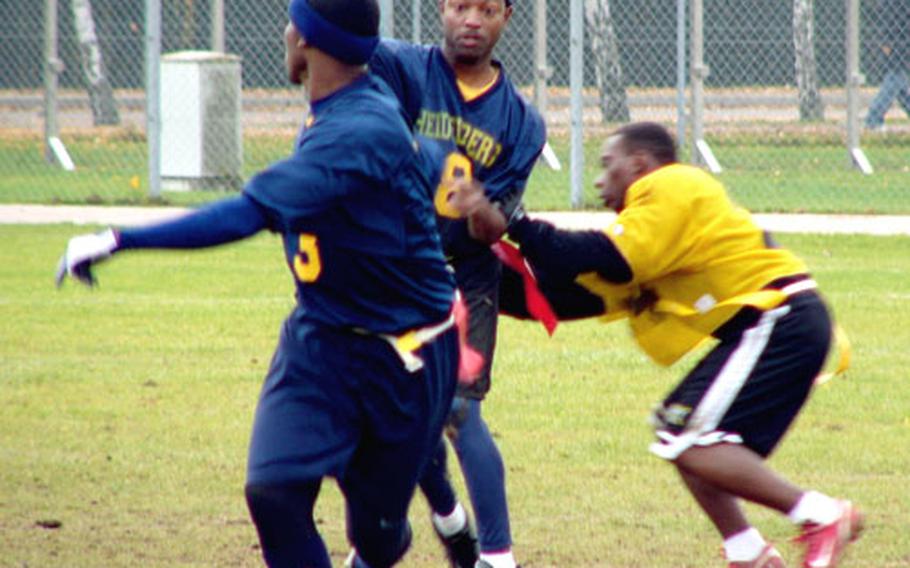 BAMBERG, Germany — Just over two minutes after he leapt above a pack of defenders to snare a pass that allowed the Heidelberg Generals to eventually claim a 21-20 victory over the Wiesbaden Eagles in Sunday's 2006 IMCOM-Europe community-level flag-football championship game, Heidelberg's Keithtrick Howard had a question for his quarterback, Jamel Grier.
"Was that pass intended for me?"
Howard's question was not offered in jest. After his 1-yard run with two minutes left in the game had gave the Generals an 18-14 lead — their first since the first quarter — Heidelberg elected to go for a 20-yard, three-point conversion try. Grier bought time by scrambling to his left, then threw back across the field in Howard's vicinity.
"I saw him scrambling," Howard said. "I was just trying to find an empty spot."
And as Howard suspected, he wasn't the target.
"I just threw it up," said Grier, voted MVP of this three-day event. "I thought (William) Walker would get it."
Despite his query, Howard really didn't care about Grier's intent.
"I just knew we had to get it," Howard said. "I was glad I was in the right place at the right time."
The points proved indispensable, since Wiesbaden, helped by a personal foul penalty after the conversion and another on a long pass play from Nehemiah Curry to Wilson Dos Santos, came up with first-and-goal on the Heidelberg 10-yard line with 47 seconds left. Curry hit Robert Mathews for the TD, and the Eagles elected to go for two points, from the 10-yard line, and the victory.
Curry lofted a pass to the right corner of the end zone, where willowy receiver Eric Bell rose high in an attempt to catch the game-winner. But Heidelberg defender Courtney Jones, surrendering six inches or so in height to Bell, caused enough of a disruption that Bell couldn't hang on.
The close finish mirrored the earlier winners bracket contest between the two, won by Heidelberg 13-12 on Saturday.
Wiesbaden came back through the losers bracket to eliminate Vicenza 36-6 on Saturday and Kaiserslautern 40-21 in Sunday morning's losers bracket final.
After Heidelberg scored on an option play from Grier to Howard in the first period on Sunday, Wiesbaden took a 7-6 lead on a run by Kenneth Colbert and Curry's one-point conversion pass from the 3-yard line to Markeith Goodwin.
The Eagles went up 14-6 in the third period on a TD pass from Curry to Goodwin and a one-point toss to Colbert before Heidelberg stopped the Eagles on fourth-and-2 from the Generals' 22-yard line with 4:22 left.
The Generals then mounted the drive that led to the game-winning touchdown. Grier connected with Howard on a 40-yard pass play to highlight the march that led to the Generals' second European title in the past three years.
"I knew we'd need the three points," Grier said about the fateful decision to go for three. "They have a pretty good offense."
---
---
---
---