DODDS-Europe Division I football finals
Heidelberg FG beats Wiesbaden in double OT
by
Rusty Bryan
November 6, 2010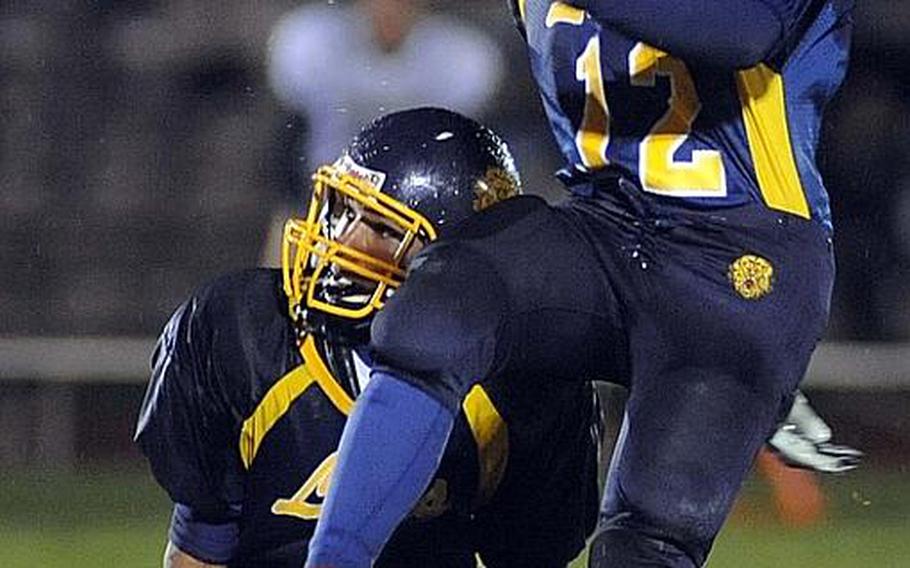 BAUMHOLDER, Germany –Rene Johnson rose to what was for him the rarest of occasions Saturday night, booting a 28-yard field goal in double-overtime to lift the Heidelberg Lions to a 23-20 victory over the Wiesbaden Warriors in the European Division I championship game.
"I just prepared myself mentally," Johnson said about his mindset going into his fourth-down attempt. "This was just my second field goal (attempt) all year."
And the first one he made. A line drive right down the middle but perhaps a foot over the cross bar, Johnson's game-winner, toed off a rain-slick field after a perfect snap from center Jean Turner Vite and a solid hold by quarterback Kevin Gray, bore through the game-long drizzle to lift the Lions to their first unbeaten season since 1988 and their first D-1 title since 2008.
"It was an outstanding kick by Rene," said Heidelberg running back Sterling Jones, who watched the boot as he helped keep the Wiesbaden rush at bay. "He really handled it well."
Johnson's field goal ended a game in which the dominant factor, aside from 27 rushes which netted 192 yards and a touchdown by Wiesbaden All-Europe junior Daniel Harris, was an assortment of crucial fumbles by both teams.
That Johnson's kick was a game-winner was a result of Wiesbaden's final of five bobbles on the evening. It occurred on a second-and-six run on the Warriors' second set of downs in the Kansas tiebreaker. Defensive MVP Wayne Dawkins uncorked a jarring tackle to force the ball free.
Dawkins said he was trying to produce a turnover.
"I put all my heart and soul into that play," Dawkins said. "I kept the faith. I just knew we were going to pull the game out."
That Heidelberg, which defeated Wiesbaden 47-21 and 54-19 during the regular season, was in such a position was a direct result of the last of Heidelberg's four fumbles. It came with 2 minutes, 55 seconds left, with the Lions leading 13-6, and put Wiesbaden in business at the Heidelberg 35.
The Warriors drove to the 11, and with eight seconds left, QB Ryan Reagin connected with Antonio Trawick in the right corner of the end zone. Quenton Torke's PAT tied the game and forced the first OT.
Prior to that, it appeared as though Heidelberg's two second-period scores, short runs by offensive MVP Chris Cuthbert and Gray, would stand up. But the Wiesbaden defense, which allowed Heidelberg 141 yards rushing and 27 passing in the first half, held the Lions just 33 yards rushing and 29 passing after intermission.
All the while, the Warrior offense seemed to be clicking at last. Harris made it 13-6 on a 7-yard TD run with 2:28 left in the third, and Wiesbaden advanced to the Lions' 12-yard line in the fourth before fumbling away another chance.
Heidelberg won the OT toss and elected to play defense,
But not for long.
On first down from the 10, with everyone expecting Harris to run the ball again, Reagin dropped back and threaded a perfect strike past a Heidelberg defender into the hands of Erik Stouter, camped in the right corner of the end zone. It was Reagin's second TD pass in a span of 11 seconds.
"The line did a great job blocking," Reagin said. "I had plenty of time to throw."
The momentum-building pass originated in the minds of his team, according to Wiesbaden coach Steve Jewell.
"The kids called that play," he said. "Erik's hands are golden. He told me, 'If we run that play, I'll get it.'"
Heidelberg answered on its possession, with a pitch right to Jones which the senior maneuvered into the end zone to force the second OT and all the drama which came with it.
---
---
---
---