Heidelberg denies Lady Royals' bid for four-peat
by
Mark Abramson
November 2, 2008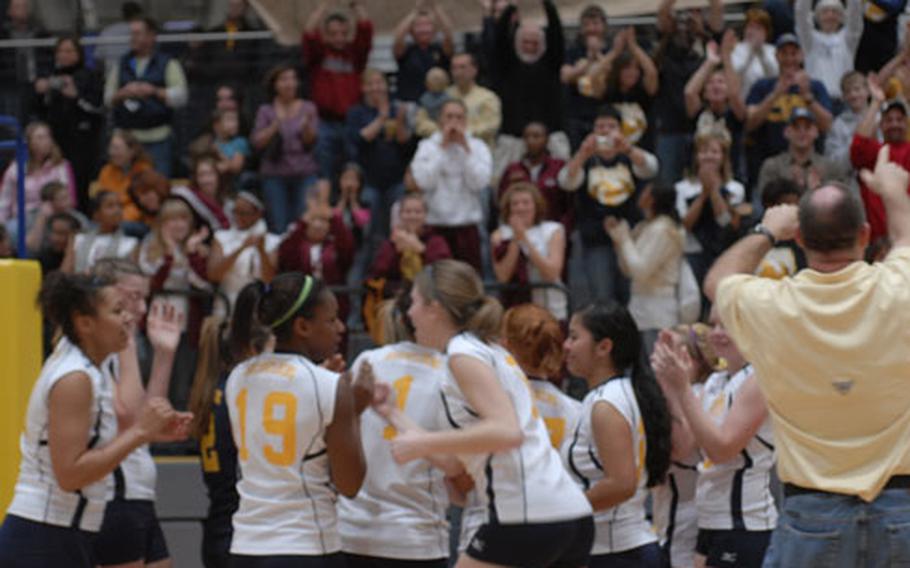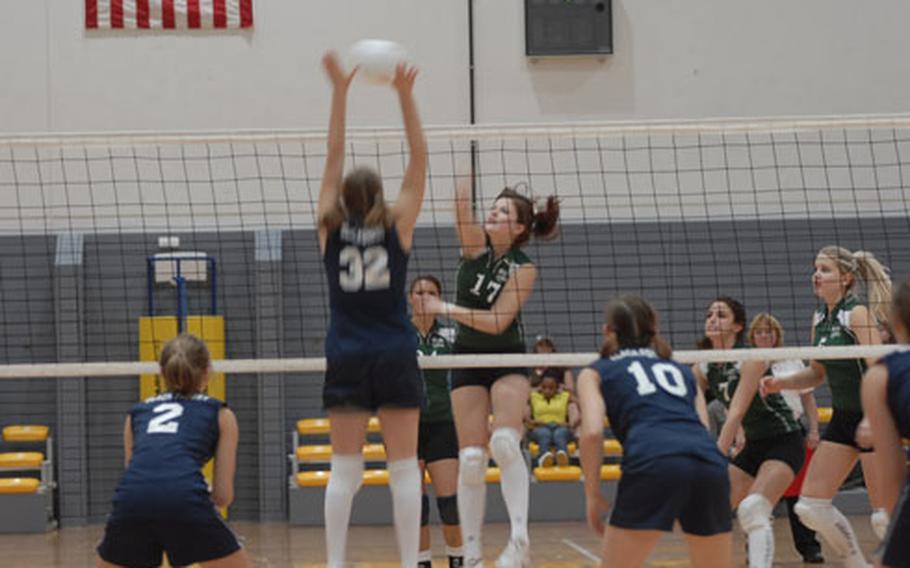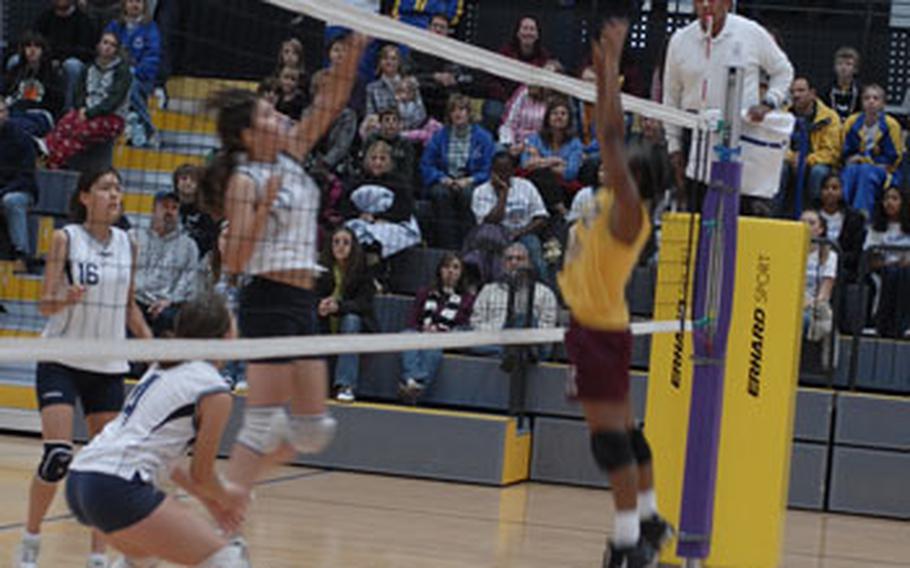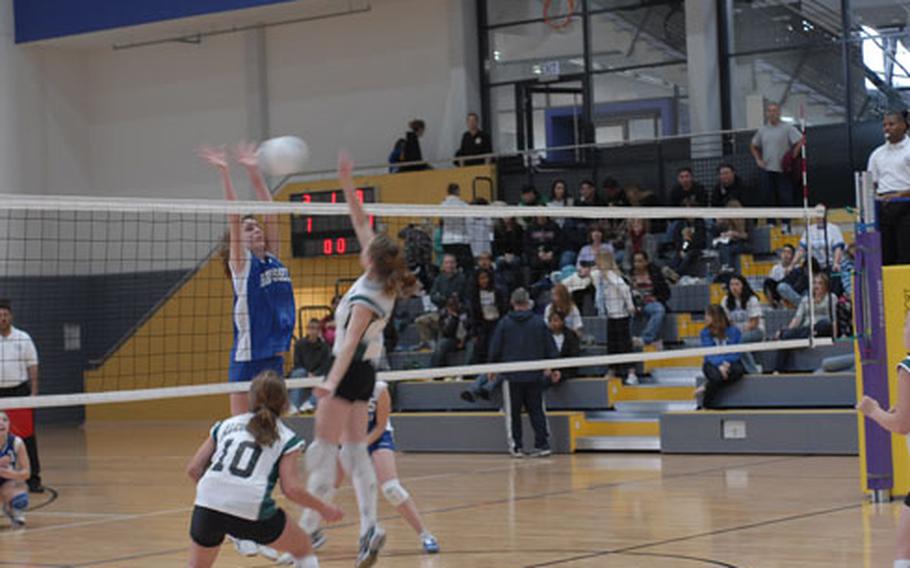 RAMSTEIN AIR BASE, Germany — A raucous crowd cheered their teams to victory in four championship matches, often in a seemingly deafening frenzy as this year's DODDS-Europe girls volleyball tournament was filled with nailbiters and a few upsets in Ramstein's Southside Gym.
The Heidelberg Lady Lions roared to victory over Ramstein in the day's finale, a match that ended the Lady Royals' bid for a Division I championship four-peat.
In Division II, SHAPE fell short for a second year a row in the finals. In D-III Baumholder knocked off defending division champs, Marymount International School of Rome in three straight games, and in D-IV Brussels downed Alconbury in five games.
D-I: Heidelberg went from tournament doormat last year to dynasty killer this year in a spirited match against powerful Ramstein.
The match went the distance with Heidelberg pulling out a back-and-forth game five battle, winning 13-25, 25-17, 22-25, 25-21 and 16-14 after losing to to the same team Friday night in the tournament's final pool game.
The decisive game five seesawed with Heidelberg and Ramstein taking turns scoring points on several long volleys.
"We were able to see how they were going to play," Heidelberg coach Mike Rubino said. The key Rubino said was changing up the serve strategy to hit it to Ramstein's weaker passers.
"We believe in being a strong serving team," he said.
Heidelberg's 5-foot-10 senior Ashley Hicks, the D-I MVP, was dominant with several key spikes.
"It's kind of awesome," Hicks said after the match. "Last night I wanted to lose so we wouldn't be too confident. We meshed better (Saturday night)."
D-II: SHAPE dominated the first game of a hard-fought match but Black Forest Academy regained its composure and sent the Spartans to another heartbreaking championship game defeat, 12-25, 26-25, 21-25, 25-20 and 15-13.
Six-foot-1 SHAPE senior Liene Bauska was a monster at the net with block after block and several slams, but it wasn't enough against the Lady Falcons, who were led by Division II Tournament MVP Joanna Kelley.
SHAPE made it close several times throughout the match before BFA put the games away.
BFA was just one step faster, SHAPE assistant coach Tony Weatherly said.
But he vowed his team would return for another shot at the title. "We are coming back even better next year," he garanteed.
D-III: In a rematch of last year's final, Baumholder breezed to victory in three games over Marymount International School of Rome. But it was anything but easy for the Lady Bucs as they dispatched Marymount by scores of 27-25, 25-18 and 26-24.
Baumholder was led by D-II MVP Katrina Alsup, a 5-foot-5 setter and the daughter of coach Sam Alsup. The team had five returning players from last year. "It was kind of sweet," coach Alsup said. "Our defense was the key. "
Baumholder also beat Marymount Friday night, during which Marymount used its bench heavily.
Marymount made the third game interesting by going up 24-23 before Baumholder came storming back. Marymount freshman Nikki Gombar had several big slams and played beyond her years.
"I think we avenged (last year's finals loss) yesterday," Katrina Alsup said. And she said she was confident Baumholder would make short work of Marymount in three games.
D-IV: Brussels pulled out a hotly contested match against Alconbury. The Brigands blew Alconbury out 25-15 in the first game before Alconbury showed signs of life and took the second game 25-13. But the Brigands were too much for the Lady Dragons, and they won with scores of 25-18, 25-21 and 15-7.
Division IV MPV Kathleen Anderson and her 6-foot frame was a wall at the net with big block after block, and the Brigands went on several scoring spurts when Anderson served. Alconbury was plagued by several miscues that resulted in easy shots falling in for Brussels.
"They just wanted it really badly," Brigands coach Vicky Westland said of her team. She credited Alconbury's hard play for making the match closer than she would have liked.
"They played well," Westland said. "It wasn't looking too good."
At the end, however, it couldn't have looked any better.