Heavy rain forces another Osan soccer postponement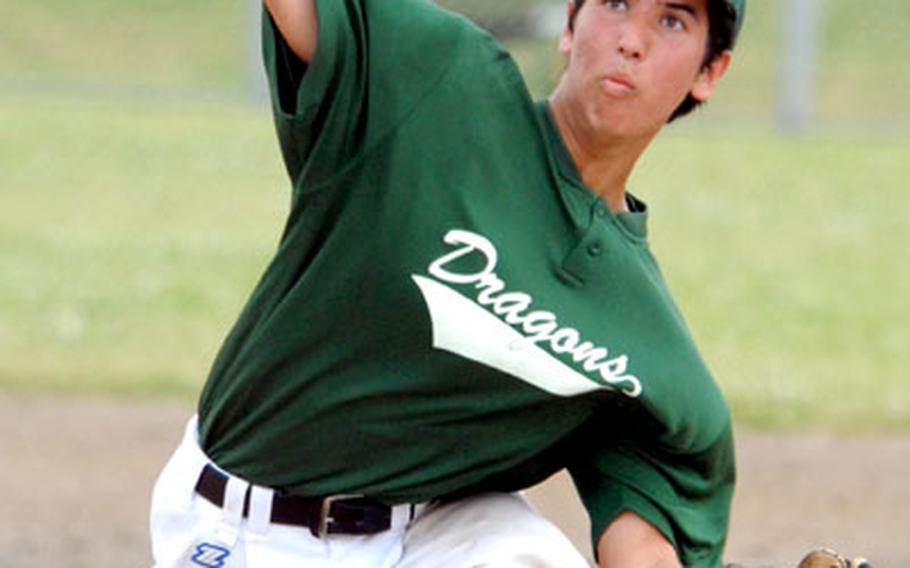 OSAN AIR BASE, South Korea — Mother Nature shows little favor toward Osan American's boys and girls soccer teams, at least at home.
Heavy overnight rain and wet grounds forced Osan to scrap Saturday's Korean-American Interscholastic Activities Conference twin bill against Seoul American.
Osan postponed season-opening "friendly" matches with Global Visions Christian on March 2 and KAIAC matches against Taegu American on March 24.
"It's killing us," Cougars boys coach Tony Alvarado said.
The Seoul American games were pushed to Tuesday, Alvarado said. With spring break next week and no room in the schedule before the KAIAC tournaments on April 27-28, the Taegu matches were rescheduled for Saturday at Taegu's Camp Walker, where the boys and girls will play twice. The GVCS matches will not be made up.
Seoul American coach Swink Patterson seemed somewhat relieved by the postponement — his team played a match the night before at Taegu, and pushing the Osan match to Tuesday will give his players a couple of days' rest.
"It works out better for me," Patterson said.
Not for the Cougars, who have four matches in four days: Tuesday vs. Seoul American, Wednesday at Seoul International and the doubleheader at Taegu.
"We seem to be the only ones postponing," Alvarado said. "I don't want to play one team and be tired and have to turn around and play against another tough team. You want to play them fresh."
Osan's boys have played five matches, compared to eight for Yongsan International-Seoul and nine for Seoul American. Complicating matters for the Cougars is the one-week spring break, after which Osan plays four regular-season matches before the KAIAC tournaments April 27-28.
Osan soccer wasn't the only victim of foul weather this weekend.
Four inches of snow fell Thursday at Misawa Air Base in northern Japan, and Nile C. Kinnick's boys baseball team didn't even board its bus at Yokosuka Naval Base for the 10-hour ride north to play Robert D. Edgren in its scheduled doubleheaders Friday and Saturday at Misawa.
Heavy rain, which drenched Edgren's girls soccer match with Zama and boys match with Kinnick on Friday, spared Misawa on Saturday and gave way to sunny skies with strong breezes.
Aubrey Ashliman's four goals rallied Zama to a 4-4 tie with Edgren's girls; Brandon Massie's three goals paced the Eagles boys over the Red Devils 3-1.
"She was on fire," Edgren girls coach Larry Allen said of Ashliman, a freshman striker whose 19 goals trail only Kadena's Jen Abel (34) in the region.
Of Saturday's field conditions, Allen said: "It was windy, chilly, muddy but not too bad."
Also scoring was Frances Zukowski of Kinnick's girls team, who paced the Red Devils past Matthew C. Perry 7-1 at Iwakuni Marine Corps Air Station, where bad weather was hardly a bother — the sun shone brightly, with temperatures pushing 80 degrees.
"You couldn't have asked for a prettier day to play soccer," said coach Nico Hindie of defending DODDS-Japan champion Kinnick (5-2-2). While the field was still somewhat soggy from heavy rain on Thursday, "we had great conditions. We were lucky."
Kubasaki softball riding three-game streak vs. KadenaCAMP FOSTER, Okinawa — After waiting five years and 32 games to get its first victory against Kadena, Kubasaki's girls softball team has a three-game winning streak against its archrival.
Chloe Freeman struck out five in five innings of relief, and catcher Michelle Acosta doubled in the tying and go-ahead runs in a three-run fifth as the Dragons rallied from a 4-3 deficit to edge the Panthers 6-4 at Foster Athletics Complex's Field 2.
"It is so good," Acosta said, adding that team chemistry and better players have contributed mightily to the winning streak. "We have very dedicated players who want to play hard and want to win."
The battery of Freeman and Acosta has also played a key part, Kadena coach Ken Hudson said.
"Fastpitch softball is about pitching and catching. And they've been doing it for them, no doubt about it. Good pitching beats good hitting. We've been stranding runners in scoring position because of her (Freeman's) pitching. We have to be able to execute. We're not bringing them in," he said.
ScoreboardBaseball
Saturday
At Camp FosterGame 1Kubasaki 17, Naha Spirit 16 (6) Naha..........020 176—16Kubasaki..........34(10) 00x—17Batting—Kubasaki, Boomer McCaw grand slam HR; Michael Bennett HR; Chris Workman HR.Game 2Naha Spirit 14, Kubasaki 10 Naha..........050 142 2—14Kubasaki..........002 206 0—10
Girls softball
Saturday
Kubasaki 6, Kadena 4 At Camp FosterKadena..........211 000 0—4Kubasaki..........201 030 x—6Pitching—Kubasaki, Chloe Freeman (WP) 5 IP, 5 K. Batting—Kubasaki, Michelle Acosta 2-run 2B in fifth drove in tying and go-ahead runs.
Boys soccer
Saturday
Mil United 5, Kadena 3 At Kadena Air BaseMil United..........2 3—5Kadena..........2 1—3Goals—Kadena, Alex Mierzejewski 1 (4), Sergio Gonzales 1 (4), Stanley Schrock 1 (3). Assists—Kadena, Jacob Bloom 1, Ryan Dang 1.
Peru 4, Kubasaki 3 At Camp FosterPeru..........2 2—4Kubasaki..........2 1—3Goals—Kubasaki, Corey Harter 2 (2), Sebastian Joseph 1 (1). Assists—Kubasaki, Sebastian Joseph 1, Jacob Hess 1, Jack Abate 1.
Edgren 3, Kinnick 1 Kinnick..........0 1—1Edgren..........3 0—3Goals—Edgren, Brandon Massie 3 (16); Kinnick, Sam McAvoy 1 (2). Assists—Edgren, Nathan Fine 1, Andrew Verbeek 1; Kinnick, Daniel Appleman 1.
Yokota 2, E.J. King 0 At Sasebo Naval BaseYokota..........1 1—2E.J. King..........0 0—0Goals—Yokota, Stefan Welch 2 (9). Assists—Yokota, Jason Stroup 2.
Yokota 3, Islands Club 0 At Sasebo Naval BaseYokota..........1 2—3Islands..........0 0—0Goals—Yokota, Stefan Welch 2 (11), Jason Stroup 1 (5). Assist-Yokota, Riki Byrnes 1.
Girls soccer
Saturday
Zama 4, Edgren 4 At Misawa Air BaseZama..........1 3—4Edgren..........3 1—4Goals—Zama, Aubrey Ashliman 4 (19); Edgren, Mia Angelella 2 (3), Audrey Haltli 1 (1), Heather Ortega 1 (1). Assists—Zama, Anna Park 1; Edgren, Thelia Vergera 1, Morgan Hines 1.
Kinnick 5, M.C. Perry 2 At Iwakuni Marine Corps Air StationKinnick..........4 3—7M.C. Perry..........0 1—1Goals—Kinnick, Frances Zukowski 4 (11), Tara Bartkowski 2 (12), Kelly May 1 (1); M.C. Perry, Heather Hyson 1 (6). Assists—Kinnick, Tara Bartkowski 2, Mariko Wood 1, Jessica McGee 1.