Harris hits game-winning HR in 7th
by
Dave Ornauer
October 21, 2003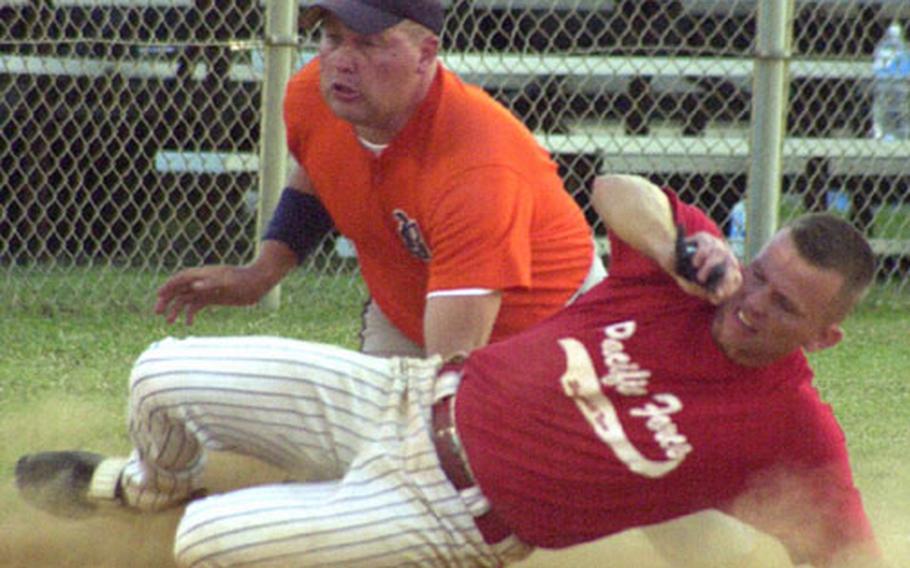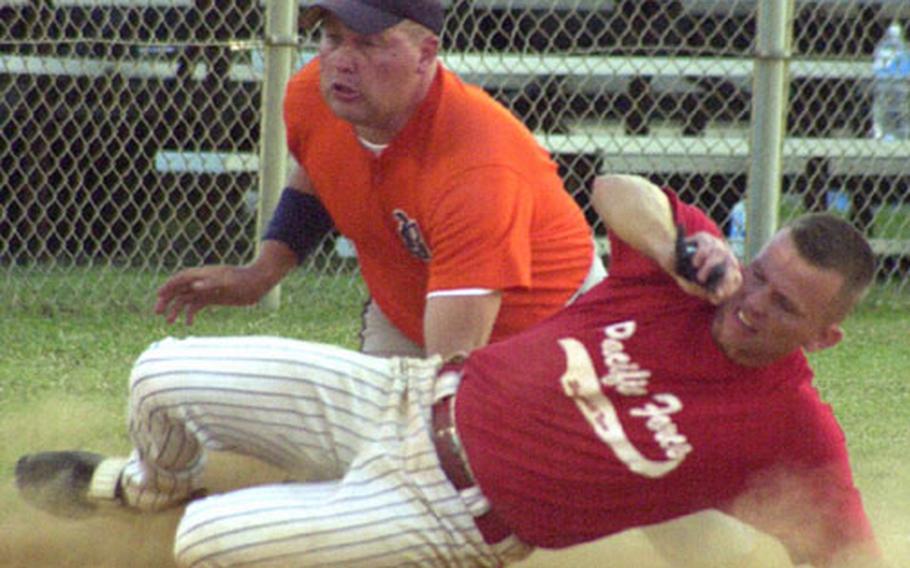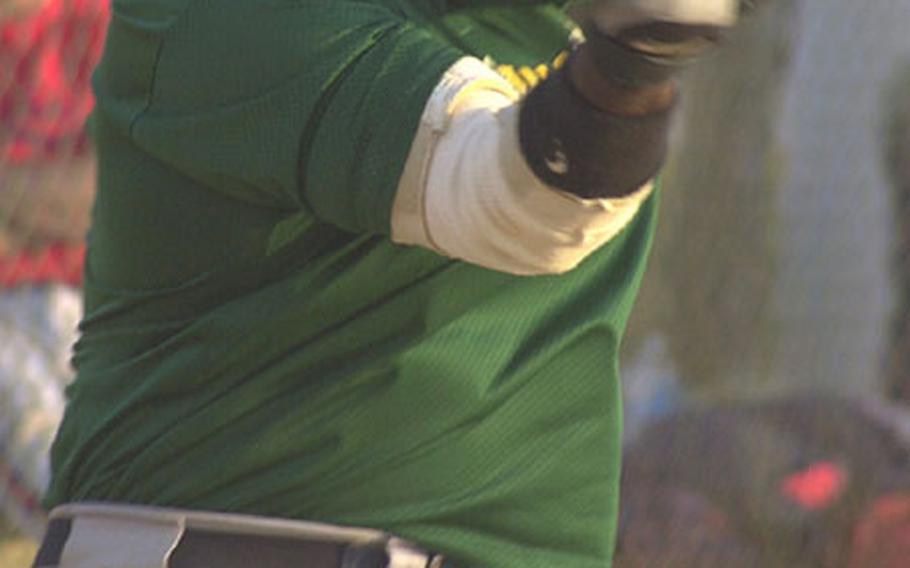 TORII STATION, Okinawa — Pacific Force veteran Mel Harris came through when the team needed him the most.
The five-time All-Armed Forces first baseman hit a three-run, two-out walkoff homer in the bottom of the seventh inning to rally Pacific Force past Yellow Box 25-23 in an all-Okinawa final in the Typhoon Classic Pacificwide Interservice Softball Tournament.
"That man, he leads by example," Pacific Force coach Don Field said of Harris, a chief petty officer assigned to U.S. Naval Hospital Camp Lester.
Harris went 3-for-5 with two homers and six RBIs, none more important than the last three that capped a comeback from a 22-6 fourth-inning deficit and gave Pacific Force its only lead.
"You never give up until your last out," Harris said after Pacific Force captured its 39th title in 59 Pacific interservice Grand Slam tournaments since the circuit's 1989 inception. "I can't say enough about the character of this ballclub."
"His first two at-bats, he didn't hit, but he comes through," Field said. "He's the man."
Yellow Box dominated the first four innings.
Just the second men's team to reach all four Grand Slam tournament finals in one calendar year, Yellow Box rode the white-hot bats of Dan Miller (6-for-6 with four homers and five RBIs) and Eric Rossignol (4-for-5, two homers, five RBIs) as the team burst out to a 22-6 lead.
But after reaching its tournament-imposed limit of 12 home runs per team in the fourth inning, Yellow Box managed one run the rest of the way.
"Running out of home runs hurt us," Yellow Box coach John O'Brien said. "They [Pacific Force] used theirs wisely."
Pacific Force then made its charge, scoring three runs in the fourth, five in the fifth and eight in the sixth to get within a run. Shortstop Carlo Aguon turned a double play to kill a potential Yellow Box rally in the top of the seventh, setting the stage for the victory.
Gary Chaney led off with a single through the box, then moved to third on successive fly outs. Keith Serrano, 3-for-4 with a homer and two RBIs, was walked intentionally to set up a force play.
Then Harris launched his blast deep to right-center field.
"Everybody had to do their part to get us to where Mel was," Field said. "It sure wasn't looking good but I have a team of veterans. We were down 16, they said, 'Hey, we're still in this.' Never-say-die attitude."
Chaney went 5-for-5 with a homer and two RBIs, Gerald Saunders went 4-for-5 with a homer and three RBIs, and Lee Burket and Scott Roe each went 3-for-4 with two homers and three RBIs.
Yellow Box's Joey Chastain went 5-for-6, homering twice and driving in four runs. All-Armed Forces outfielder Dexter High was 4-for-5 with a homer and two RBIs and Ron Tash went 3-for-4 with three RBIs.
It was the sixth straight time Yellow Box lost to Pacific Force in a Grand Slam final. Pacific Force won three of the four Grand Slam tournaments this season, with Yellow Box taking the first, the Pacificwide Invitational over Memorial Day weekend in Korea.