Hard work, extra miles pay off for Kubasaki's Crystal Sandness
by
Dave Ornauer
May 13, 2004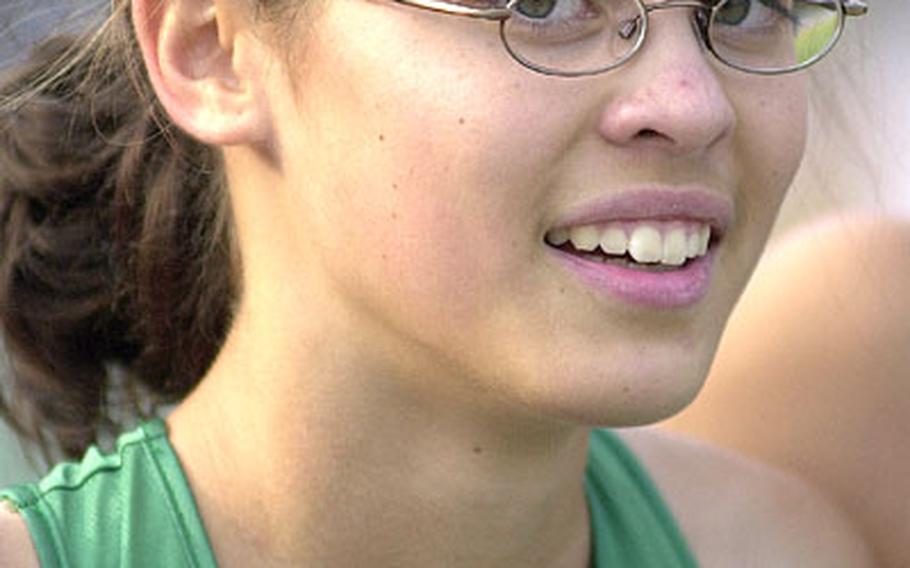 The record times alone are impressive enough.
Though Crystal Sandness has been at Okinawa's Kubasaki High School only since February, the sophomore transfer from Utah has rewritten the Okinawa Activities Council long-distance record book.
Never before had the island even seen a sub 12-minute time in the 3,200 meters, until she arrived. In the season's first meet, she posted an 11:51.
"That first meet, watching the competition, that did it," Kubasaki track coach Charles Burns said.
Then on April 2, in the Petty Memorial meet, she trimmed five seconds off that time. The grand finale came in Saturday's Kanto Plain Association of Secondary Schools meet, where she ran 11:43, best in the region this season.
Only once before on Okinawa had anybody run the mile in less than six minutes. Sandness didn't just nip the old island record of 5:50, she destroyed it, running a 5:34 that was just 12 seconds off the region record set in 1996.
But her success goes far beyond superb times. Dedication and hard work, Burns says, have made Sandness the Far East's distance running queen.
The night before Saturday's Kanto meet, Kubasaki's 15-member team traveled more than six hours by plane and bus from Okinawa to Atsugi Naval Air Facility.
Despite the long journey, and Burns' insistence that the team get something to eat, Sandness was eager to get in a run.
Only after practically leading Sandness by the arm into the eatery did Burns permit her to run Atsugi's streets, with teammate Andrea Roxas accompanying her.
"That's dedication," Burns said. "That makes her different. She puts in the extra time."
Another example came two days earlier, after practice had ended and the rest of the team left. "Most of them get out of Dodge when practice ends, but I sat there in the stands and watched Crystal run an extra 1,600 mile, as hard as she could go," Burns said.
Crystal and her twin sister, Candice, hit the track and cross-country courses for the first time as freshmen last year for West Jordan High, southwest of Salt Lake City.
Now the sisters routinely finish first and second or first and third, and they teamed to form the third and fourth legs of Kubasaki's island-champion 1,600-relay squad.
Their older brother ran cross country, "and we would go to his meets and I thought, 'Wow, this is really cool, that they could go at that speed over that distance,'" Crystal Sandness said.
West Jordan coach Kevin Fletcher said the sisters "were starting to come out of their shell as they became sophomores."
"Candice is more laid back. Crystal, you could see early that she was going to be a great one. She's very tenacious when it comes to competing."
"They're great kids. They have a great attitude," Burns said. "They make coaching easy. It's fun to coach athletes like that."
And the sisters stand a "very good chance," Burns said, of finishing 1-2 in the Far East Cross Country Meet, slated for Nov. 8-10 at Misawa Air Base, Japan.
In Utah's Region II cross-country championship last October, Crystal Sandness ran a 20:10 over 3.1 miles, 1:15 faster than the mark posted by Kadena's Kim Lyle in the 2002 Far East championship on Guam. Candice, at 21:45, was 20 seconds behind Lyle.
They "will be the ones who continue to train over the summer," Burns said. "They'll report in as just as good a shape as they are now, if not better."